SEO is a type of digital marketing that mainly focuses on making sure that the traffic to your site grows. It does this by making sure that your website ranks high in search engine results by using specific techniques like using proper keywords and phrases.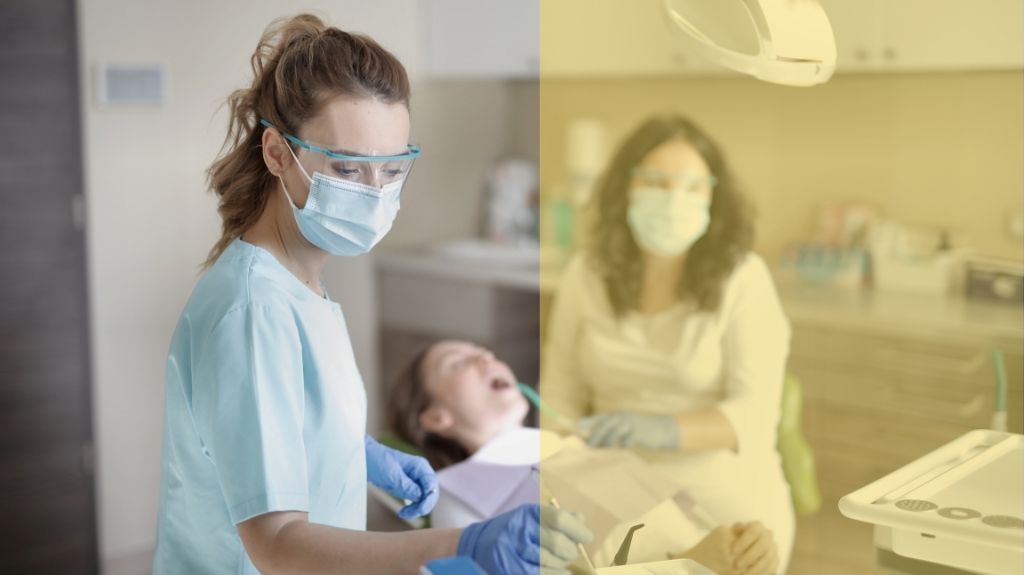 As the traffic to your website grows, it will also increase leads linking to your business. Leads guide the business toward growth by inspiring more patients to bring their business to you. Ignoring SEO strategies means missing the chance of optimum growth.
Dentists roam around in a competitive industry. As a dentist, if you want to succeed professionally, you cannot ignore the tactics that help you cope with the competition. People will find a dentist who can provide them with the best dental care. With the help of a solid dental search engine optimization (SEO) strategy, you can flaunt your expertise and bring patients to your door effectively.
How SEO Helps to Get More Potential Patients?
Proper Branding Equals Proper Visibility
In the competitive digital world, you need to have proper branding so people can find your services online easily. A higher ranking in search engines arms you with this visibility. A solid dental SEO strategy gives you a competitive edge over your competitors, creating exemplary branding for your business.
More Traffic
With proper search engine optimization, You will show up a lot higher in all search engine rankings getting more traffic than ever. Bringing organic traffic to your website is the ultimate goal of any digital marketing activity.
SEO assists you with proper keywording and proper meta descriptions. These things all show up on the results pages of search engines.
Brand Credibility
When you employ proper SEO tactics, you will automatically be enhancing the credibility of your brand and dental practice. Also, most consumers place a lot of trust in these search engine rankings. People will always tend to make some mental notes when they come across these rankings. The common consensus is, if Google is ranking your site favorably, then your entire dental practice must have credibility. Consumers will feel like they can trust you.
Increased ROI
When you employ effective SEO strategies, your ROI will also see a lot of positive impacts. Comparing SEO with other types of digital marketing, it has quite a competitive ROI advantage.
The ultimate reason behind this is that SEO is a type of inbound marketing technique. In essence, it can market your practice to potential clients when they are looking for dental services.
Cost-effectiveness
SEO marketing is very cost-effective, and it can directly target those who are already looking for similar services or products. When you design a proper SEO strategy, you will be able to save a lot of money. Compared to other types of marketing like cold calling, SEO is remarkably more cost-effective and less of a hassle to pull off.
Since SEO will make sure that you target people looking for similar products and services, it brings you effective traffic.
Why Investing In Digital Marketing is Beneficial for Dental professionals?
Getting to Know Your Target Market
Digital marketing is a lot more targeted compared to other types of traditional marketing techniques. The digital marketing journey starts with identifying prospective consumers. With proper identification, it is ensured you are putting money and effort exactly where it is needed.
SEO marketing for dentists allows you to gather precious data about the consumer's requirements. It creates a significant advantage for your business. A solid digital marketing strategy paves the way for the consumers to find you easily.
Competitive Advantage
Online marketing has traveled a long way. Many of your competitors are already enjoying the perks. With a well-made website, many smaller and larger dental practitioners are making themselves visible.
If you lack digital marketing policies, you are losing several prospective clients. You are not visible to them even if you are doing a great job. Your brand will not appear in search results, and you may have to change some things soon.
Properly Growing Your Reach
By employing proper digital marketing techniques, the results come fast and effective. Many younger dental professionals are now joining dental organizations rather than opening their dental clinics.
The fact is, it is difficult to establish a new online identity and presence. Therefore, if you want to venture into this domain on your own, make sure you have a solid digital marketing strategy.
You Can Track Everything Very Easily
Whether you employ regular promotional campaigns online or offline, analyzing the gathered data requires utmost importance. With digital marketing, you have a higher ground compared to traditional marketing forms.
In digital marketing, you can use various tools to track essential data in real-time. Evaluating data like referral sources, pages viewed by users, and devices used to access your site can create a vital difference in your marketing campaign.
Make Changes When Needed
It is crucial to be able to make changes in of marketing campaign when needed. Digital marketing is no different in this manner. As mentioned above, it is possible to gather important information from digital marketing techniques.
Therefore, you get to know what is working and what isn't, changing accordingly. For a successful marketing campaign, this can create a huge difference.
Tips for SEO Marketing for Dentists
Try to Focus on Local Search
There is an undeniable reason for focussing on local search. Most people do not want to travel a significant distance to get dental services. If you look at what people search for when looking for dental services, you will find that they often use the phrase "near me" to find a dental service close to them. Focusing on local searches can give you the best benefits precisely for this reason.
Make sure that your Google Business Profile is Properly Filled Out
A lot of dental practitioners make the mistake of not fully completing their Google My Business profile. They think that just having a site with your contact information is all that is needed.
Well, the thing here is that proper SEO tactics will put your business at the top of rankings. The only requirement is a filled-out Google Business Profile.
If you decide to conduct digital marketing, you need to make sure that you complete this profile with accurate information, including opening hours, business name, contact information, etc.
Forget old SEO Techniques
It is simply not enough to have just a good website anymore. It is an essential part of SEO for dental practices, but it is not everything. A lot more things need to be done.
Nowadays, people also expect you to be the best possible choice that they can get. They will actively search for reviews about your business, other recommendations, and your social media reputation.
Proper dental SEO marketing nowadays means having a wholly coordinated digital marketing plan. This includes a lot more than just having a website.
Get social
Social media is much more than just selfies and funny memes. Social media nowadays has the potential to start revolutions.
Social media projects an image of how people spend their time and money. People not using social media these days are rare to find. It is also an excellent place for projecting targeted advertisements.
One thing that must be mentioned is that social media does not directly relate to how well you will do on search engine rankings. Nonetheless, it enables you to present the authority and reputation your dental practice has.
Get mobile
Your dental practice website needs to be correctly optimized to work on mobile devices. If it's not, you will lose a lot of prospective patients.
These days more people are using their smartphones as their primary device than at any other time in history. These people expect to have the same user experience as they would on an actual computer. Therefore, optimizing your site for mobile devices is an absolute must.
The MonsterClaw Way of Doing Things
We are MonsterClaw and can help you with all of your SEO needs. Our team consists of highly qualified and experienced digital marketers who will be ready to handle all of your SEO needs. In the following few paragraphs, we will talk about how SEO is done at MonsterClaw and why your dental practice will benefit from the services of such a well-reputed agency.
Conduct Keyword Research & Mapping
In our approach to conducting SEO, keyword researching and mapping is the first step. When engaging in SEO marketing, we need to be aware of the keywords people are searching for in that particular industry.
Proper placement and usage of keywords are some of the main ways in which SEO is effective.
MonsterClaw does in-depth and diligent Keyword Research for every SEO client we have. This way, we can identify the main keywords people search for when looking for dental services in any particular location.
In-depth Competitor Analysis
As mentioned above, people looking for any dental service will always choose the one that looks and feels like the best to that particular customer.
Therefore, knowing your competitors in and out is a must. Ir would help if you had a very detailed analysis of the strengths and weaknesses of your competitors.
MonsterClaw can do this analysis. Our team of expert digital marketers is capable of figuring out what exactly separates you from your competitors. It will then be used to make sure that the uniqueness of your dental practice is well established online.
Best Optimization for Search
When we talk about optimization for search, we are referring to on-page SEO. We will be able to handle this part of the SEO process by ensuring that your site's contact has been properly optimized.
Some of the more common things of proper on-page SEO techniques include making sure that title tags, internal links, and URLs are all appropriately optimized.
Audit Current SEO Status
Another vital part of our overall SEO strategy is to ensure that the current SEO status has been appropriately examined. You may already have a website up and running for your dental practice, and your practice may also have a good presence on social media platforms. If this happens to apply to your dental practice, then the first thing we will need to do is to audit your current SEO status properly.
Auditing will help us understand exactly where your SEO strategies require improvement. It will also highlight the key areas you are lagging in and help us prepare a much better SEO strategy.
How Do We Measure ROI & Performance?
We follow some metrics to measure how our SEO strategies are doing and what can improve them further. These metrics will also help us better understand how much return on investment we are getting. Let us take a closer look at these metrics.
Site traffic
The primary purpose of any digital marketing activity is to increase the total traffic of the business's website. This will lead to a lot more desired actions being taken by prospective customers and will improve the overall volume of your business.
Domain rating
Domain rating is the leading indicator of the strength of a particular website's backlink profile. This metric is measured by using a logarithmic scale that goes from one to a hundred.
The term logarithmic specifies that the gap between higher numbers is much more significant than lower scores. It means that the higher your rating is, the more difficult it is to improve that score.
Domain authority
Domain Authority is often also referred to as thought leadership. This particular metric is used to describe how relevant a particular website is in terms of the chosen industry or subject area. Moz developed this ranking system.
Traffic Conversion
Traffic conversion is literally what the name suggests. This metric is used to define the group of people who come to your website AND then take the desired action.
SEO performance
Brand KW position
When we talk about Brand KW's position in the context of SEO, we are essentially talking about having the ability to design, set up, and optimize any site we are working on. The desired result is to elevate the site in the ranking of search engines.
The higher quality websites will have much better KW positioning, and the lower quality ones will have lower KW positioning.
Site ranking
Ranking in the context of SEO is the position a particular site has in the results pages of search engines. Several factors are influencing this ranking.
These factors include the relevance of the content within search terms and the quality of the backlinks directed back to the site we are working on.
Bounce rate
Bounce rate is a significant indicator of just how well an SEO or any digital marketing campaign is going. Bounce rate refers to how many people navigate away from the website after seeing just one page.
Site growth over the last 3/6/12 month
When proper SEO techniques and strategies are used, the site will experience a lot of growth. We will take a look at how well the site is growing over specific periods.
Typically, the growth is reviewed after 3 months, 6 months, and finally over 12 month period.
Online Reputation Management
When we talk about online reputation management, we mean the entire online presence that your dental practice has. Every aspect of your online presence has to be carefully curated.
Here is how we do it at MonsterClaw:
Improving impression
Impressions in the context of SEO refer to a particular user who has been to "see" a link that drives traffic to your website. This can be in Search, News, or even Discover. The main idea here is if a click has been made to see more, an impression will be counted.
Personal branding
Another crucial part of maintaining the reputation your business has online is how well you are branded online. If you were to look up any service handed out by an individual, you would want to make sure that the person is trustworthy and reliable.
The question is, how do you convey this message online? Making your business a reputed online brand answers the question effectively.
Customer engagement via multichannel marketing
If you were to look for any service online, you would probably ensure that the business's reputation is well established across multiple platforms. MonsterClaw, make sure that our SEO efforts are customer-centric and are made across multiple channels. It is one of the best ways to make sure that your online presence is well established.
Increase their local influence
As we have already mentioned above, people do not want to travel far to avail of these services when it comes to getting dental services.
Therefore, you must have a strong presence in the community you are operating in. We make sure that local SEO has been done correctly.
Conversion Optimization
Since we are optimizing your dental practice, we can consider an appointment being booked as the desired action being taken. Hence that action will count as a conversion. If we can get the analytics of the appointment bookings, we will gather a lot of valuable data and can hence help drive up conversions.
We optimize conversion by using a three-step model. Firstly, if you offer any new services, we will see how well that service is doing and how many bookings you are getting. We can then gather essential data regarding which of our SEO strategies are working and which ones are not.
Secondly, we will also engage in mail marketing, which will help us target those who may not have taken the desired action. Finally, we will gather the contact information of all those who have performed the desired action. We will apply our revised strategies for making them recurring customers.