Whether you're running a brick-or-mortar business or an established eCommerce store applying effective strategies to your Black Friday campaign can massively increase your sales. 
Black Friday is one of the most hyped-up annual events. Since the past few decades, it has become a global trend for customers to anticipate redeeming exclusive offers and discounts. Typically it is a one-day event that's supposed to be held on 25th November. 
But in the past couple of years, businesses have made it a common practice to start much earlier. A lot of businesses run their Black Friday campaigns all throughout November. 
If you look into the recent trends, the total amount of Black Friday Sales increased from $6.9 billion in 2018 to $8.9 billion in 2021.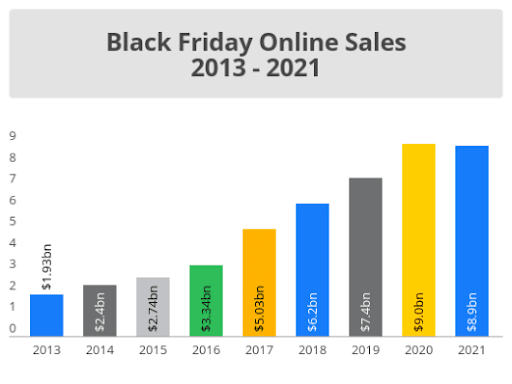 If you apply the right strategies this Black Friday, you can even leverage the opportunity to maximize your sales, perhaps double or even triple your revenue. 
In this article, I shall discuss the Top 10 Effective Tips to Skyrocket Sales on Black Friday. 
10 Effective Tips to Skyrocket Black Friday Sales
1. Offer Exclusive Discounts
This is one of the oldest strategies in the book to entice and encourage increased sales. The best part is, this strategy still works as a charm.
Not to mention as customers await the annual Black Friday sales to leverage discounted prices, you must prioritize providing discounts to maximize your sales revenue.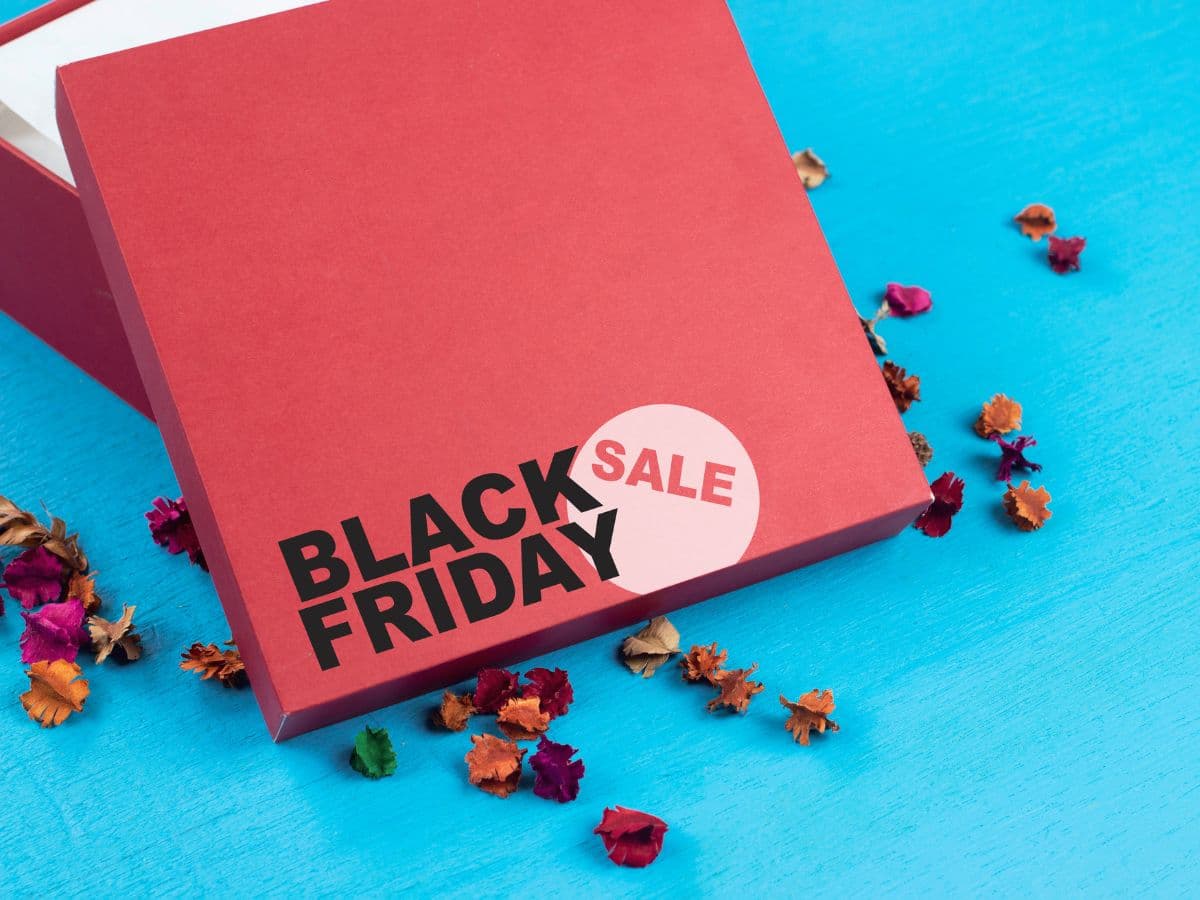 This is especially super effective in rapidly clearing out your inventory and selling out saturated products/services. But you should also provide discounts on the latest version of your products/services to influence higher customer demand.
If you just sell specific products/services without any changes or updates then you can provide uniform discounts.
Despite the fact you've complete liberty to dictate your own pricing and discount offers, you should also check on your competitors, whether they are making better offers. This is because 88% of shoppers compare discounted prices before making a purchase decision. 
2. Offer Buy One Get One Free
You should definitely consider giving out Buy 1 Get 1 Free offer on your Black Friday campaign. Similarly like discounts, customers love the feeling of paying half the price for a certain product or service.
This is a proven promotional strategy to spike up sales, it's not just limited to the reduced price factor that comes to play here but it is also the satisfaction of reserving the free offer for later or passing it down to a friend or acquaintance.
Some customers also split the payment, 50-50, as it leads to mutual interest with the satisfaction of a win-win situation.
So, make sure to keep the Buy One Get One Free offer a high priority as a key strategy of your Black Friday campaign.
3. Create a Sense of Urgency: Add a Countdown Timer
Creating a sense of urgency can trigger a much faster customer response. Psychologically the fear of losing a terrific opportunity entices customers to make fast purchases.
You can use terms such as 'Limited Time offer', or 'availability of the last few pieces' to iterate increased urge for faster sales conversion.
You can even display the exact number of products/services that are available for purchase during the Black Friday campaign. Adding a timer will create time pressure on customers to purchase ASAP!
4. Strategically Segment & Target Potential Buyers
You should divide your customer base into specific groups. It'll be much easier to persuade customers to purchase if you target them based on their actual interests.
You can segment and target your customers based on their purchase history, products/services they often view, wishlists, or items piled up in the abandoned cart.
Targeting your customers specifically will massively increase the scope of guaranteed sales conversion, as you're actively focused on the right audience.
5. Send Personalized Emails
Once you are done segmenting your target audience you can send them personalized emails to entice customer demand.
These emails will act as instant reminders to prospective customers to purchase their desired products or services. So, the chance of sales conversion will immensely increase.
Sending personalized emails increases customer demand by 80%. And, 72% of customers prefer to engage with a business when the message is personalized catering to their needs. 
6. Create the Social Media Hype 
The social media user base is massive, which makes it mandatory to run any marketing campaign on social media if you want to create that hype. As of October 2022, almost 60% of the global population is currently active on different social media platforms. That makes up to 4.74 billion social media users. 
So, as you are planning out your Black Friday campaign, it puts you steps ahead to navigate social media hype toward your business. All you need to do is, create personalized social media campaigns for Black Friday and execute them tactfully.
In a nutshell, you can create enticing posts, engage with your target audience in comments and over direct messages and encourage your customers to post user-based content.
If you execute the right social media strategies, it is possible to create a record-breaking customer response most likely leading to massive sales.
7. Use Referral Codes
One of the most effective marketing strategies is to encourage your customers to participate in your marketing campaigns. Using reward-centric marketing strategies is a very effective way to persuade your customers to promote increased purchases.
This is where referral codes come into play, you can distribute referral codes to your customers upon the completion of a purchase. So, when the referral code is availed by the customer's friend, family member, or acquaintance they both get rewarded; either with a discount or any other lucrative offer.
This strategy will be twice or thrice as effective as customers anticipate to exclusive offers during Black Friday sales. So, passing referral codes along with a mix of other strategies will seamlessly boost your Black Friday sales.
8. Collaborate with Top Affiliates to Launch the Black Friday Campaign
If you want your Black Friday sales to skyrocket then you should collaborate with top affiliates to spread the word about your massive campaign. This is a super effective strategy to spike up your sales by at least 2-3 times because top affiliates have a strong presence and are very well known in the industry.
The biggest advantage of relying on top affiliates is they will only be entitled to a percentage commission for each unit of sales conversion. It's up to you to determine the percentage commission that you'd like to provide but it's best to provide up to 20% sales commission to encourage the top affiliates to work with you.
You can set up an affiliate page on your website and broadcast it on your social media channels to attract top affiliates to collaborate with you on your Black Friday campaign.
I hate to be the bearer of bad news here though but it's not easy to source top affiliates so fast, as you need them in the nick of time for the upcoming Black Friday campaign. So, it'd be wise to sign up with a Top Rated Affiliate Management Agency that will help you source the best affiliates for your Black Friday campaign. You can even book a free consultation if you have certain queries before getting started. 
9. Optimize Your Website using Effective SEO Strategies
Your business's virtual presence heavily depends on how effectively it is optimized to appear on the top search engine results page. This is especially crucial because 81% of online customers refer to search engines prior to making a purchase decision. 
So, if you want your Black Friday campaign to skyrocket or at least triple your sales then prioritizing SEO should be your top priority. The biggest advantage of using effective SEO strategies is, it has a very long-lasting effect, so even several months after your Black Friday campaign the implementation of effective SEO strategies will drive search traffic to your website.
But using the right SEO strategies can be challenging and it takes years of specialization to master this skill. Plus, it's very technical and mistakes are likely that can even cause negative impacts on search traffic.
So, if you are not an expert in SEO, then I'd highly recommend you hire a Top Rated SEO Agency. If you have certain queries you can even book a Free Consultation before getting started.
 10. Encourage the Process of Availing Gift Cards & Vouchers
It's almost the end of the year and the holiday season is just around the corner. Thanksgiving is celebrated just the day before Black Friday, and then there's Christmas and New Year's Eve around the horizon.
All these festivals encourage people to shower their loved ones with gifts. So, you can make it easier for your customers by handing out special gift cards and vouchers on your website. This will help you spike up your sales as those who intend to purchase gifts will specifically purchase gift cards and vouchers.
You can even include a detailed guide to avail of the gift cards, and vouchers along with instructions on how to redeem them.
Make it or Break it — Are you Ready to Skyrocket Your Black Friday Sales This Year?
The ten strategies that I have suggested are some of the simplest and the most common sets of strategies but they are still super effective. If you can implement them effectively then your Black Friday Sales will undoubtedly skyrocket this year.
So, shower your customers with attractive and irresistible offers and make them so tempting that it feels like a once-in-a-lifetime opportunity.
Apart from all the strategies that I've suggested I'd highly recommend you prioritize focusing on collaborating with the top affiliates and improvising your SEO strategies.
If you need help sourcing the Top Affiliates and applying effective SEO strategies, you can get in touch with us.