We have worked with multiple SaaS B2B / B2C.
We love working with SME services.
We have worked with top trainers around the world.
We know the US health & wellness market very well.
We have vast experience in FinTech ventures.
Make Money Online industry is our core strength.
Shopify or WordPress based e-com.
Don't see your industry? Get In Touch.
Back in 2007, Rifat Ahmed, the founder of MonsterClaw, decided that his years of experience in digital marketing should get a bigger platform to help promising businesses all over the world. Hence, MonsterClaw was born.
Today MonsterClaw is a team of 50+ in-house digital marketing professionals, along with a large remote team working from different parts of the world.
MonsterClaw has received numerous awards and accolades for providing its clients with world-class digital marketing services. We have been recognized as one of the best B2B marketing and advertising agencies in the world by multiple platforms. On top of that, MonsterClaw ranks among the top 3 Affiliate Marketing Agencies worldwide.
We love helping authentic businesses to grow. We understand that an experienced and reliable team is the heart of any company. We become a part of the team to grow the business to its potential.
Even though our initial plans were to focus more on affiliate marketing and management, we were kind of forced to become a full-fledged digital marketing agency. Our clients love us and they kept asking, "What else do you guys do?"
We wanted our clients and other promising businesses to find every digital marketing service they need under one roof. Gradually we introduced Search Engine Optimization, Content Marketing, IT Solutions, and so on.
A very important thing about MonsterClaw is – we are not money-driven. We are challenge-driven and we do marketing because we love it. Every single person in the team is someone who loves and enjoys marketing, and sees their career in it.
The dedicated team allowed us to grow over 300% in 2021, and we are just getting warmed up to crush it in 2022.
We are committed to delivering quality marketing services on time that add real value to grow beyond expectation. Our policy of work is "It has to be the absolute best result".
When it comes to serving our clients, we aim to deliver the absolute best results. Clients may have high expectations, but we want to go even beyond. So far, we have been highly successful in achieving that.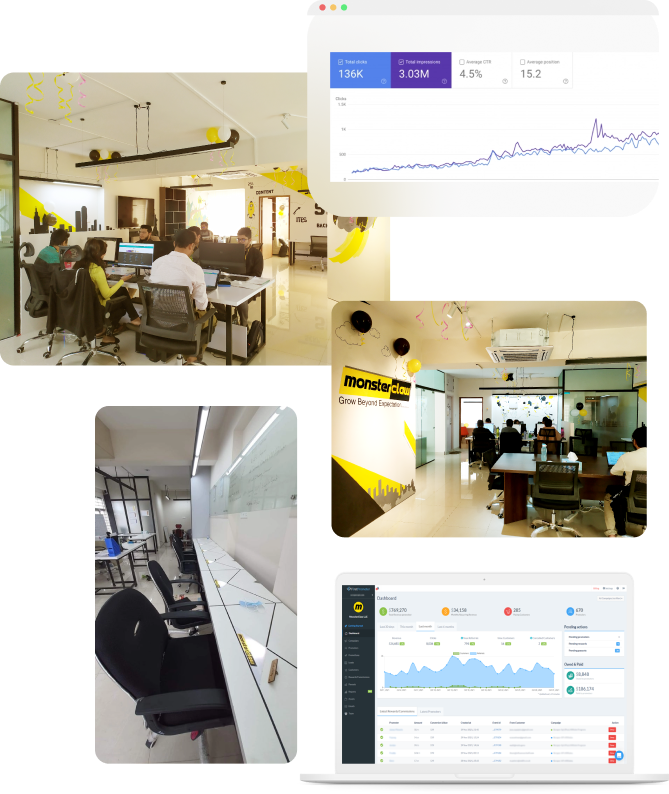 Hear Our CEO, Rifat Ahmed in PAYONEER STORIES
Rifat Ahmed is a digital marketing industry veteran. With more than 15 years of experience, Rifat is one of the finest digital marketing professionals you'll come across.
Having served as the Business Development Head at Payoneer Bangladesh, Rifat has an extraordinary story to share.
Hear Rifat's story and learn how he became a digital marketing maestro from the scratch!
2007
Founded
Founded a local company MonsterClaw. We stepped into the online marketing world and started acquiring clients via oDesk.
2011
100K USD Milestone
Crossed the first 100K USD milestone. We were unsure about are we learning faster or growing faster. But whatever it was we were growing rapidly.
2013
Official Website
Launched Official MonsterClaw site and started to offer our marketing service globally, and more professionally.
2014
Community
We started a community called Affiliate Marketers BD where we train Affiliate Marketing for free, and we were able to grow the community quickly to over 38,000 + members. It's our own Affiliate Marketers database.
2015
Several Awards & Recognition
We received several awards & recognition, including IT Icon, Top IT Exporter and more.
2018
Heavy Weight Clients
We acquired some heavy weight clients that took our company to a new hight. MonsterClaw Got invited to be part of prestigious Las Vegas based Elite Marketers Group to lead its marketing efforts.
2019
Affiliate Marketing Agency
Re-Launched as a full fledge Affiliate Marketing Agency. Partnered up with few top companies around the world for more more productivity.
2020
Rank 3 Affiliate Agency
In order to determine the amount of effort you will need to hit your revenue target, we'll perform a very detailed SEO health analysis. All technical SEO details will also be taken into account. To ensure we use the most accurate data, we test the website using different industry-leading tools, as well as manually check the results.
Where most of the digital marketing agencies are after profit, we are after growing the industry itself. Our philosophy is simple- we grow when the industry grows. Everyone at MonsterClaw is passionate about digital marketing and is very deeply connected to this industry. Being one of the pioneers in affiliate marketing, we want to become trendsetters in other aspects of digital marketing as well.
Our mission is to help make businesses receive the highest ROI. We want to help companies market their products and services successfully in highly competitive industries. We believe our growth depends on how much our clients grow and we treat their businesses as our own to ensure maximum growth.
At MonsterClaw what we do is as important as knowing why we do. We believe Affiliate Marketing is the next big thing for online marketing. We believe over time more and more companies will go online, and the online space will be immensely big, and to do something recognizable in this arena, companies need to push the limit, they need to have the top marketers with them to succeed which will require our expertise.
Rifat Ahmed
Managing Director
Taibur Rahman
Executive Director
Samia A. Samanta
Head of Marketing
Farzana M. Tunni
Head Of Sales
Tasnim Abedeen
Head of Content Marketing
Abdullah Mahmud
Head of SEO
Raju Ahmed Rocky
Head of Affiliate Management
Khalid Mahmud
Head of Affiliate Recruitment
Picchu
Head of Scratching
Appreciation by Bank Asia for being in the Jury Board for nominating Top IT Experts in Bangladesh.