Nobody likes feeling undervalued especially when they have been sincere, dedicated, and hardworking. One of the main reasons that many employees quit their jobs is because they feel like their efforts have not been recognized and appreciated by the management.
According to a survey conducted by OnePoll, it was found that 46% of Americans have left their jobs for feeling unappreciated at work, and in another survey, 65% of employees have agreed to give more effort into their work if they wouldn't go unrecognized by the management.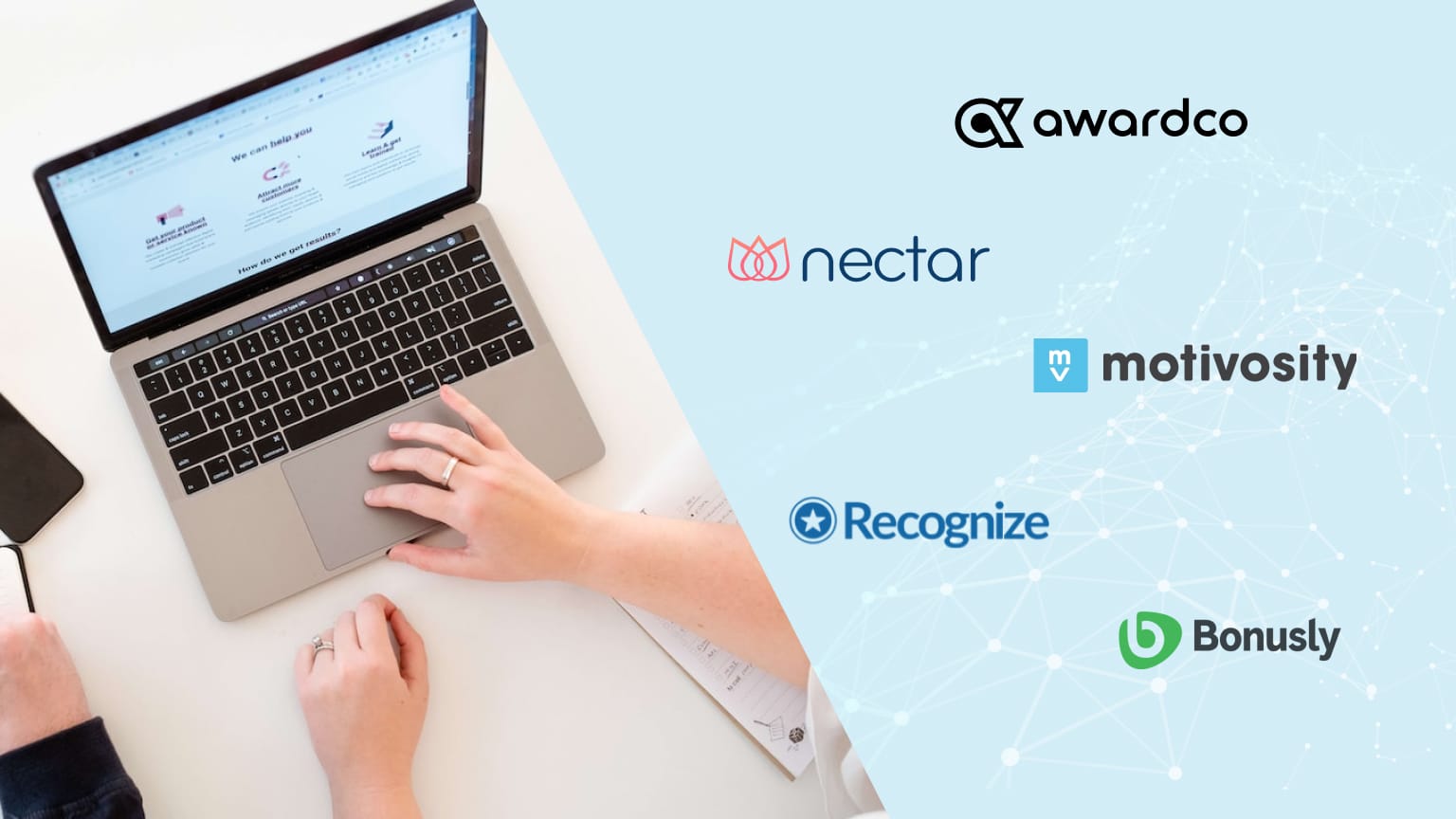 Increased employee turnover isn't good for any business, in fact replacing employees is much more expensive than retaining the existing ones. 
The average cost of replacing an employee costs 1.5x to 2x the salary of the existing employee, as it involves the cost of recruitment and training; in monetary figures, it can be around $1500 or more.
The replacement cost is significantly much higher for replacing technical and C-level executives; the cost for replacing technical executives can spike up to 100% to 150% of their salary, whereas for C-level executives it can cost 213% of their salary. 
It's not just the cost of turnover that's a threat here, lack of appreciation and recognition of employees can negatively affect employee morale in many ways which can significantly hinder their productivity. And the drop in employee productivity can lead to serious financial loss for any business.
All of this can be prevented simply by integrating employee recognition programs. Even if you have a functional employee recognition program, it can be difficult to maintain it manually.
So if you have all that automated, it will be much easier and cost-effective for the company's HR to run proper employee recognition programs. 
By integrating employee recognition software the management can seamlessly improve the company's workplace culture by sending personalized emails, messages, and gifts to employees based on performance merits. 
Plus special days like birthdays and work anniversaries won't go unrecognized either, the HR can either set notifications to have them reminded or they can automate sending personalized greetings and gifts to employees.
There are many employee recognition software online, depending on your budget and requirements you can choose an employee recognition software that's most suitable for your business needs. 
If you're reluctant to invest, you can initially try freemium options or use free trials to assess whether it's effective your employee recognition program.
In this article, we will review the Best 5 Employee Recognition Software Programs to help you decide which one's the best option for your business based on their features, usability, and subscription costs, along with the pros and cons of each option. 
Review of the Top 5 Employee Recognition Software Platforms
Recognize is the ultimate online tool to seamlessly automate and foster an active employee recognition and reward system within an organization for both centralized and remote employees.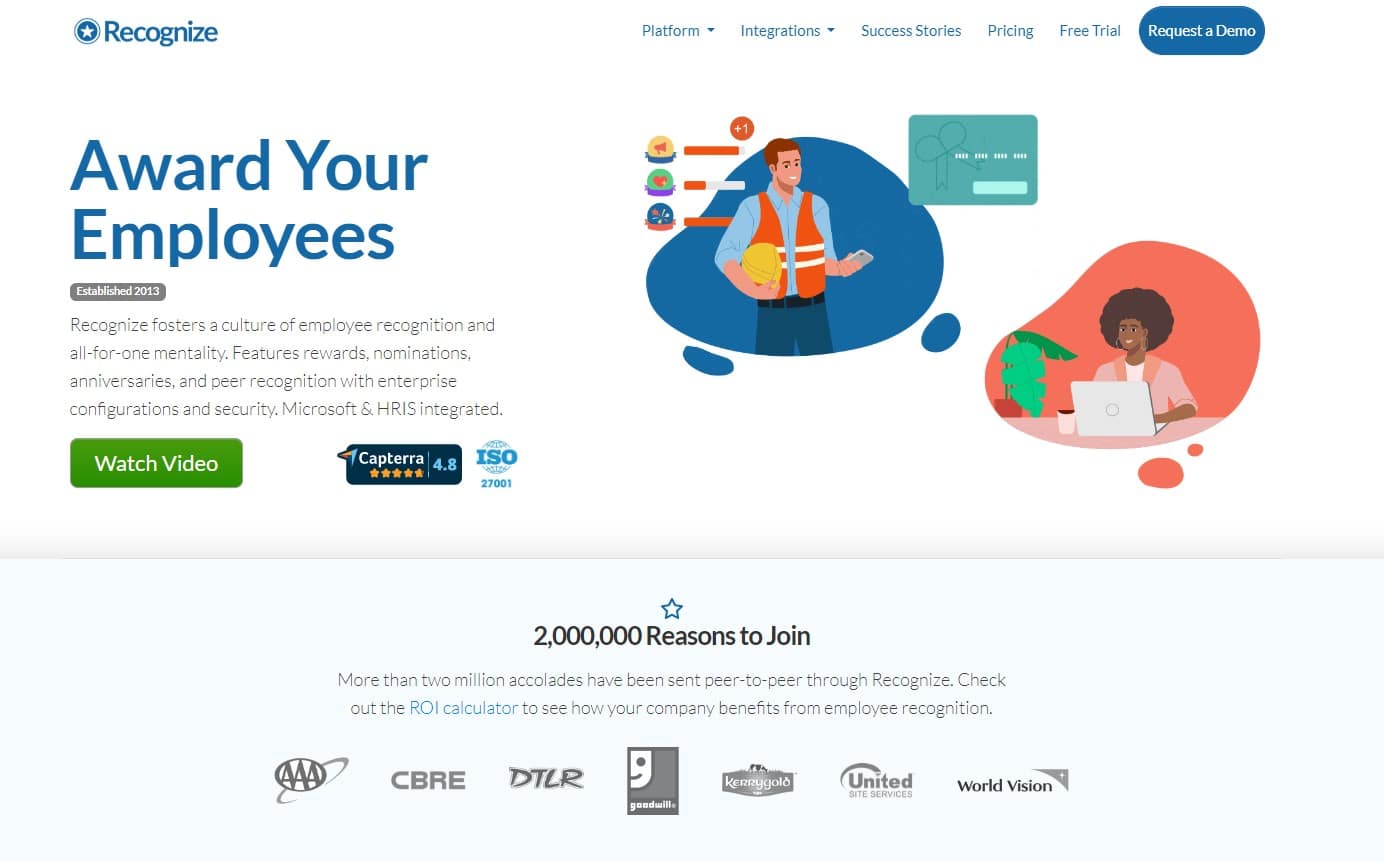 The online tool is an all-in-one employee recognition program that comes with comprehensive solutions to make your employee recognition process easy, efficient, engaging, and an enjoyable experience for your employees. 
Features:
Social Employee Recognition
Whether it's the management, executives, or staff, every employee of the organization can recognize, reward, and validate each other's contributions by awarding them badges and reward points.
Employees can make posts within the built-in social platform or integrate it with popular workspace social sites such as Office 365 (Yammer), Sharepoint, Workplace by Meta, Outlook, Microsoft Teams, & Zapier to acknowledge and celebrate achievements and career opportunities of their peers.
Employees can redeem their desired rewards by using the reward points that they have earned from their peers and the management for outstanding achievements.
Organizations have the flexibility to customize their own rewards catalog with more than 3000 staff reward choices consisting of both monetary, and non-monetary rewards along with company-branded swags. 
So, this will give employees several options to choose from, whether they want gift cards and vouchers or a few days off from work. So, depending on the specific needs employees can redeem rewards of their choice.
You don't necessarily need to create an account on Recognize to use it, instead, you can use your Google, Microsoft, Amazon, or Okta account to sign in to Recognize.
Recognize is integrated with AWS, Azure, Okta, One Login, Amazon Web Services, and more to allow seamless sign-ins with a single click. 
Teammates and peers can be nominated for career milestones and exceptional achievements by employees and managers. These nominations can include categories such as employee of the month, innovation award, efficiency award, risk taker award, and more.
The nominations will be voted on by all members of the organization, and the nominee with the most votes will receive the prestigious title and recognition.
It's not just individuals who can be nominated for certain titles, recognitions, and awards, groups or teams can also be nominated as a whole. 
Service Anniversaries & Birthdays
Automate work anniversaries and birthday reminders for every employee in your organization, and never miss the opportunity to wish and send them gifts on these special occasions. 
There are options to schedule personalized text messages and emails in advance to greet them on birthdays and work anniversaries.
Managers can create certain tasks by specifying the reward points for achieving them. So, once an employee completes the task and claims the reward points, they can claim the offered incentives. 
The manager can review the incentive claim and decide whether to accept or reject it. 
The incentives program can be used to encourage employees to push their productivity levels, encourage skill development, and motivate participation in social events organized by the management.
The company admin dashboard provides the management full control over its employee recognition program. The management can customize and design its own recognition and reward system aligned with the company goals. 
The dashboard provides detailed analytics and reporting on recognition activity and program performance. Admins can track recognition trends, monitor participation rates, and identify top performers. 
For proper trend analysis, the management dashboard also has the option to generate and download periodic reports.
Integrations:
Recognize integrates with the top communication tools, HRIS, and IT development platforms to provide a comprehensive employee recognition program, which includes the following below.
Communications: Sharepoint, Yammer, Gmail, Workplace by Meta, Microsoft Teams, Outlook.
HRIS: BambooHR, Microsoft Azure AD
Project Management: Asana, Jira, Trello, Google Spreadsheet
IT Development: Github, iOS & Android
Usability:
Even with all these features and integration, Recognize has made a very simple and beginner-friendly user interface that's easy to understand, navigate and control. 
Although the tool's design does have much room for improvement to make it more lucrative and appealing to its users. However, judging by its usability Recognize has certainly set a high benchmark in terms of usefulness and ease of use.
Pros & Cons:
Pros:
Highly Customizable Reward Program
Option to Choose Among Multiple Rewards
Easy to Manage, Control, and Use
Smooth User-Interface
Multiple Options to Automate Reward Programs
Boosts Social Engagement to Create a Sense of Belonging & Unity within the Organization
Cons:
Organizations that don't require active social engagement may not find it useful
Financing these reward programs will require investments, so it may not be feasible for startups
Subscription Cost:
The subscription cost is $3 per month or $32.40 per year for each user. By availing of the yearly subscription you basically save 10% of the total cost. 
Depending on your requirement, you can get a price quote for medium and large enterprises.
Nectar is a top-rated online employee recognition tool designed to establish and enhance a positive workspace culture of appreciation and recognition. It has peer to peer social networking system to unify employees of all levels in an organization to actively recognize, appreciate and reward each other's efforts. 

Along with that, it has various automated features to make your employee recognition and reward system simpler and more efficient. 
Features:
Nectar has a nice sophisticated social platform that everyone in an organization can use to express their appreciation towards their peers.
They can give a social media shoutout to their peers by mentioning them on posts and using hashtags to highlight their achievements based on core values like 'leadership, team player, growth mindset' etc.
Apart from the social recognition itself, they can even gift points to their peers, coworkers, and supervisors to express their appreciation in terms of value. If they want can also choose to acknowledge their peers privately by sending them instant messages or personalized emails. 
Nectar includes 5 varieties of reward options such as a direct Amazon integration, a diverse category of gift cards, company-branded swags, donations, and custom rewards designed by the management. 
Based on the options mentioned above employees have the liberty to spend their points by redeeming rewards from several options provided by the management. 
So, it's up to the employees whether they want to acquire certain products from Amazon, gift cards/vouchers, or enjoy non-monetary benefits like taking a day off or enjoying lunch at a restaurant with a coworker or CEO. 
Employees also have the option to donate their reward points to charity programs such as the American Cancer Society, Red Cross, Clean Water Fund, etc.
There's a bonus offer which is free of all costs and doesn't require the use of any points either. Employees can also enjoy discounts at business outlets that their business is affiliated with. All they need to do is type in the zip code to find them. 
Automate the Acknowledgement of Important Milestones
Simply your HR processes by automating important milestones like birthdays, work anniversaries, or celebrations of outstanding achievements made by certain employees. 
Schedule them beforehand, and leverage the full potential of technology to make posts, send emails and messages to greet them on their special days. You can also automate reminders to give managers a quick heads-up beforehand. 
To enhance the productivity of your employees you can create challenging tasks and incentivize them to motivate increased participation. 
By accomplishing those tasks within the due time they will earn the privilege to earn higher reward points, exclusive gifts, or even an increment. 
This will boost healthy competition within your workforce and encourage employees to give their optimal performance, and even improve their skills to perform better. 
Integrations:
Nectar is integrated with multiple other platforms to enhance effectiveness in cross-syncing data and scale up the convenience of signing from other workspace platforms.
HRIS integrations include: BambooHR, ADP, Namely, Paylocity, Zenefits, Workday, Paycom, Paycor, Rippling, Gusto, Netsuite, and more. 
Single Sign On (SSO) include: G Suite, Okta, OneLogin, Azure, ADFS, Ping Identity, OpenID, SAML, VMware, and more.
Chat & Collaboration Platforms include: Slack & Microsoft Teams
Usability:
Nectar has created a user interface that is simple and easy for beginners to comprehend, navigate and manage, despite having many features and integrations. 
While there is still room for improvement in terms of its design to increase its attractiveness to users, the tool has set a high standard for convenience and usability.
Pros & Cons:
Pros:
Easy to Use
Appealing User Interface Design
Multiple Reward Programs
Automation of Milestone Reminders
Easy Distribution of Points & Rewards
Customizable Reward Programs 
Enhances Social Engagement
Cons:
Mostly suitable for businesses employing 50 or more employees 
Subscription Cost:
They have two separate price plans which include; the standard and plus plans.
The standard plan is priced at $3/month per user, or $2.75/month per user if it's acquired annually. The standard plan includes the following facilities,
Real-time Activity Feed

Peer-to-Peer Recognition

Manager-to-Employee Recognition

Centralized Company Incentives & Awards

Birthday & Years of Service Automation

Custom Core Values

Upload Company-Specific Rewards

Global Reward Options

Corporate Discounts

Mobile App & Desktop Access

Slack Integration

Microsoft Teams Integration

Intranet Integration

Powerful Analytics
The plus plan is priced at $4.5/month per user, or $4/month per user if it's acquired annually. The plus plan includes everything in the standard plan, and the following,
Company Branding

Amazon Reward Catalog

HRIS & SSO Integrations

Dedicated Account Manager

Swag Rewards/Management

Challenges
Motivosity is more than an online employee recognition software, it's more of a social platform to help organizations build a virtual workspace community.
By using this tool, organizations can create a virtual workspace culture in which every company employee is motivated to appreciate, reward, and acknowledge each other's efforts and contributions.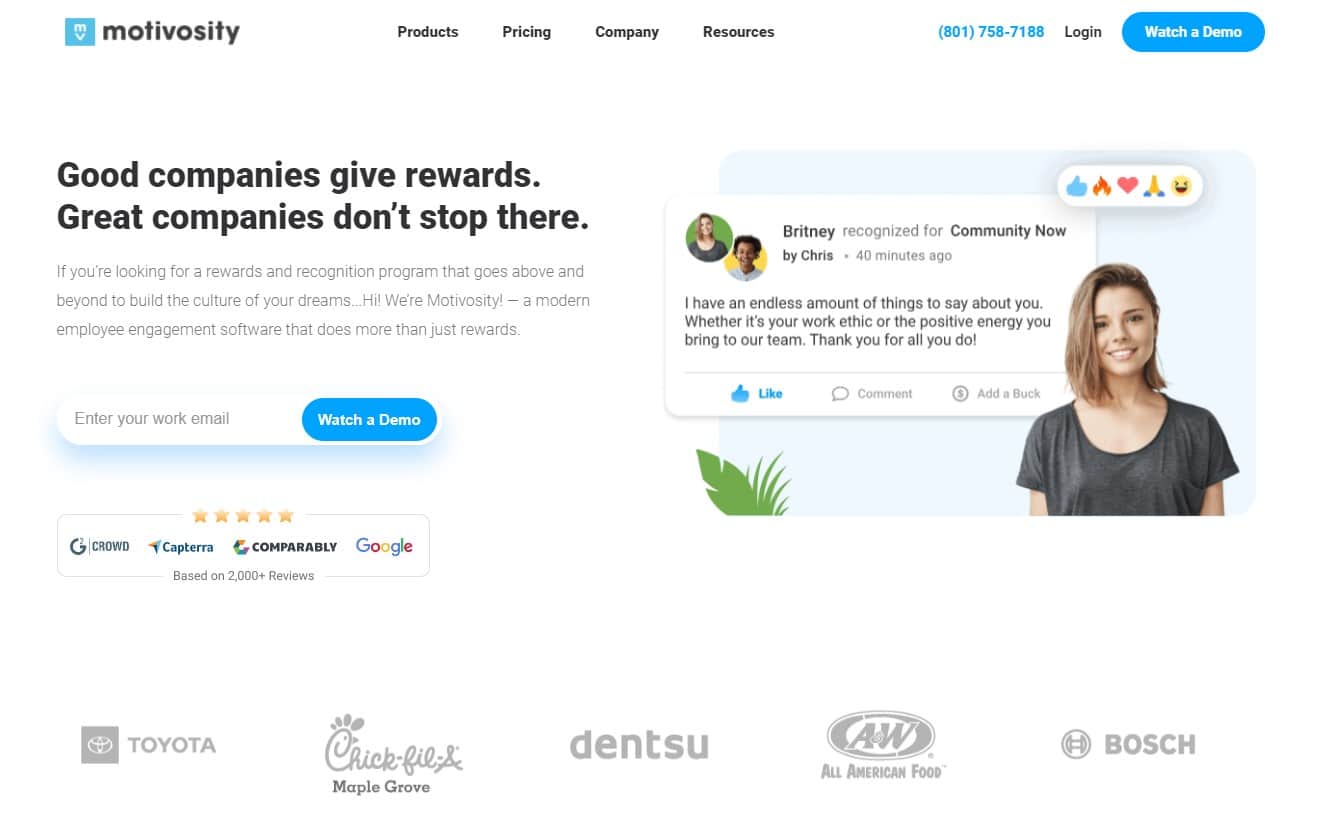 Building an online community within your organization can strengthen the bond between coworkers and the management, which can ultimately reinforce team spirit within the organization.
It's loaded with features driven to induce a more cooperative and collaborative work environment.
Features:
According to recent research, it was found that 94% of employees are more productive when they feel connected to their coworkers.
On this platform, employees can create personalized social profiles, interest groups, and personality maps. This will help employees showcase their true personality, preferences, and their interests. 
Connecting with coworkers and managers will not only evoke a better social experience but will also create a positive culture where colleagues are driven to appreciate one another.
Recognition & Reward Distribution & Tracking
The management will get to know the employees on a more personal level, which will help them understand how to appraise and reward each employee to upscale their productivity. 
They will also have a better idea of how to properly appreciate, acknowledge and reward employees precisely according to their preferences. 
With enhanced reward customization facilities, an automated reward distribution system, and the feature to track employee milestones you can recognize and reward your employees according to their likings. 
Plus, you can also make private and public posts to appreciate their contributions by awarding them badges to highlight certain achievements. 
The tool has a comprehensive user interface to effectively lead individual employees or teams for collaborative projects. 
You can create tasks, assign employees and provide specific instructions to properly communicate their roles and responsibilities. You even have the option to privately set instructions for individual employees. 
You can view the task accomplishments in real time to identify the top performers, you can acknowledge them with personalized posts, and messages, and also by rewarding them with points and gifts. 
This will entice other employees to enhance their productivity so that they can also enjoy these extra benefits. Plus, you can view automatically generated performance reports to appraise your employees more effectively. 
Integrations:
Motivosity is integrated with multiple SSO, HRIS, and Communication Platforms such as Bamboo HR, Microsoft Sharepoint, Microsoft Teams, Okta, Paylocity, and more. Learn more about their integrations here. 
Usability:
Motiviosity is designed with user-friendliness in mind, making it simple and straightforward to use for all individuals, regardless of their technical background. The platform features a clean and intuitive user interface, with easy-to-use navigation menus and tools that allow users to easily access and engage with the features they need.
Furthermore, Motiviosity offers personalized and customizable experiences for each user, allowing them to tailor the platform to their unique needs and preferences. Users can set goals, track progress, receive personalized recommendations, and connect with peers and mentors, all through a user-friendly interface.
Pros & Cons:
Pros:
Highly engaging social media-like user interface
Includes tons of social features to enhance engagement
Availability of advanced automation tools
Easy to use and navigate
Highly customizable reward system
Contains Freemium Option
Cons:
Users cannot edit posts and comments 
Reports are not accurate at times
Subscription Cost:
There are 4 subscription plans which include the following packages. Learn more about their price plans. 
Connect (Free)


Facilities:

Personality Profiles

Interest Groups

Visual Organization Chart

Peer-to-Peer Appreciation

Highlights & Announcements 

HRIS & API Integrations

Recognize – $4 per user as a monthly retainer


Facilities:

Includes everything in Connect and,

Influence Currency

Spot On Recognition Program

Service Awards & Milestones

Rewards

ThanksMatterCard

Lead – $5 per user as a monthly retainer
Facilities:

Includes everything in Connect and,

1 on 1s 

Continuous Feedback

Performance Coaching

Priorities

Succession Planning

Listen – $2 per user as a monthly retainer
Facilities:

Employee Satisfaction Survey

eNPS Tracking

Pulse Surveys

Turnover Tracking & Analysis

Scheduled Insight Delivery 
Awardco is an advanced employee recognition and reward software platform designed to automate and enhance various HR validation processes to improve employee retention and productivity.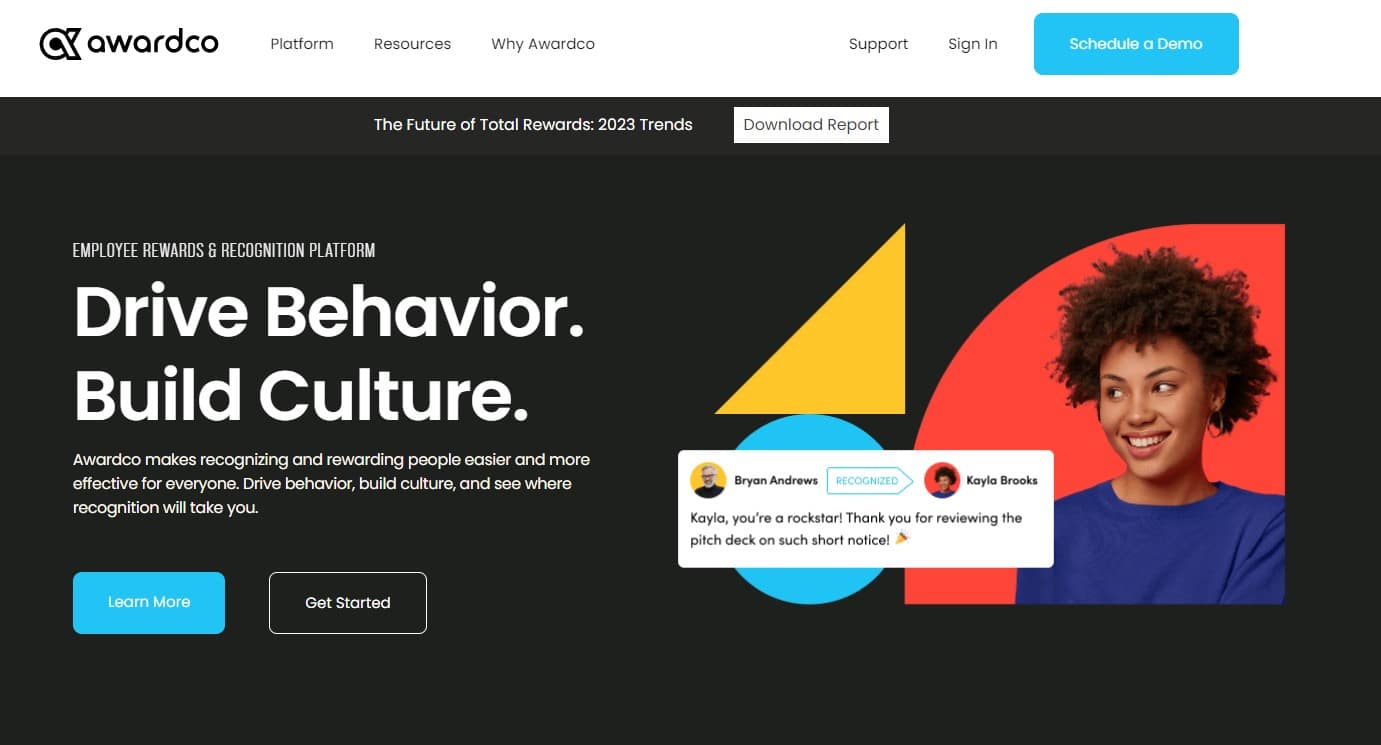 It's a robust modern online tool with many attractive features for effectively tracking, recognizing, and rewarding deserving employees. It's also packed with social features to boost employee engagement to enhance workspace culture, job satisfaction, and employee cooperation.
Features:
Social Recognition Program
Everyone loves social recognition, especially when it's done in a public setting. With Awardco's built-in social networking system managers and peers can make visible appreciation posts within the workspace's virtual network. 
Awardco is integrated with popular workspace social platforms like Slack and Microsoft Teams. So, organizations also have the option to actively use these social platforms to express their gratitude and appreciation. 
You can take the power of automation one step further, by automating the distribution of service awards.
You can send your employees an eCertificate just to let them know that you appreciate their service on work anniversaries, to make things more interesting you send a personalized email or message along with gift cards, vouchers, and reward points. 
Highly Customizable Rewards Catalog
Awardco has a broad range of reward customization options, so you can design your very own customized rewards catalog.
This will grant employees the opportunity to avail the reward of their choice, whether it's their favorite product from Amazon, a gift card or simply extending holidays. 
Everyone likes being in control, so with so many options and rewards to choose from your employees are bound to feel valued and truly appreciated. 
Create Attractive Incentive Programs
By setting up an attractive incentive program you can motivate employees to enhance their productivity benchmarks and accomplish difficult tasks effectively.
The biggest advantage of offering high-value incentives is that it will drive employees to earn the reward by getting the projects done effectively. 
Offer them 10, 50, or 100 reward points for successfully completing certain tasks or for getting involved in certain projects, programs, etc. 
Your employees will automatically earn the offered reward points by accomplishing the projects successfully based on the requirements. 
Integrations:
Awardco is integrated with a range of HRIS and collaboration tools that includes BambooHR, Workday, Namely, Paylocity, Slack, Microsoft Teams, and more.
Usability:
Awardco has a very user-friendly interface and offers a simple and intuitive navigation system, making it easy for users to access the platform's features and functionalities, even users with zero technical knowledge can seamlessly use the tool and smoothly navigate the tool. 
Pros & Cons:
Pros:
Easy-to-Use Platform
Highly Customizable Rewards Program
Intuitive Data Analytics Dashboard
Ease of Setting Up Incentive Programs
Integration with Social Platforms for Enhanced Engagement
Cons:
Subscription prices are not mentioned on the website
Requires to sign up for a demo for creating an account
Subscription Cost:
Subscription prices have not been specified, you need to book a meeting or sign up for a demo to get a price quote. 
Bonusly is an online employee recognition and rewards software platform designed to enrich a company's workspace culture with its comprehensive solutions to acknowledge and appreciate employees for their contributions. 
The name Bonusly signifies its robust reward system in which employees are entitled to reward points, which are in fact 'bonuses' to boost employee morale, motivation, and productivity.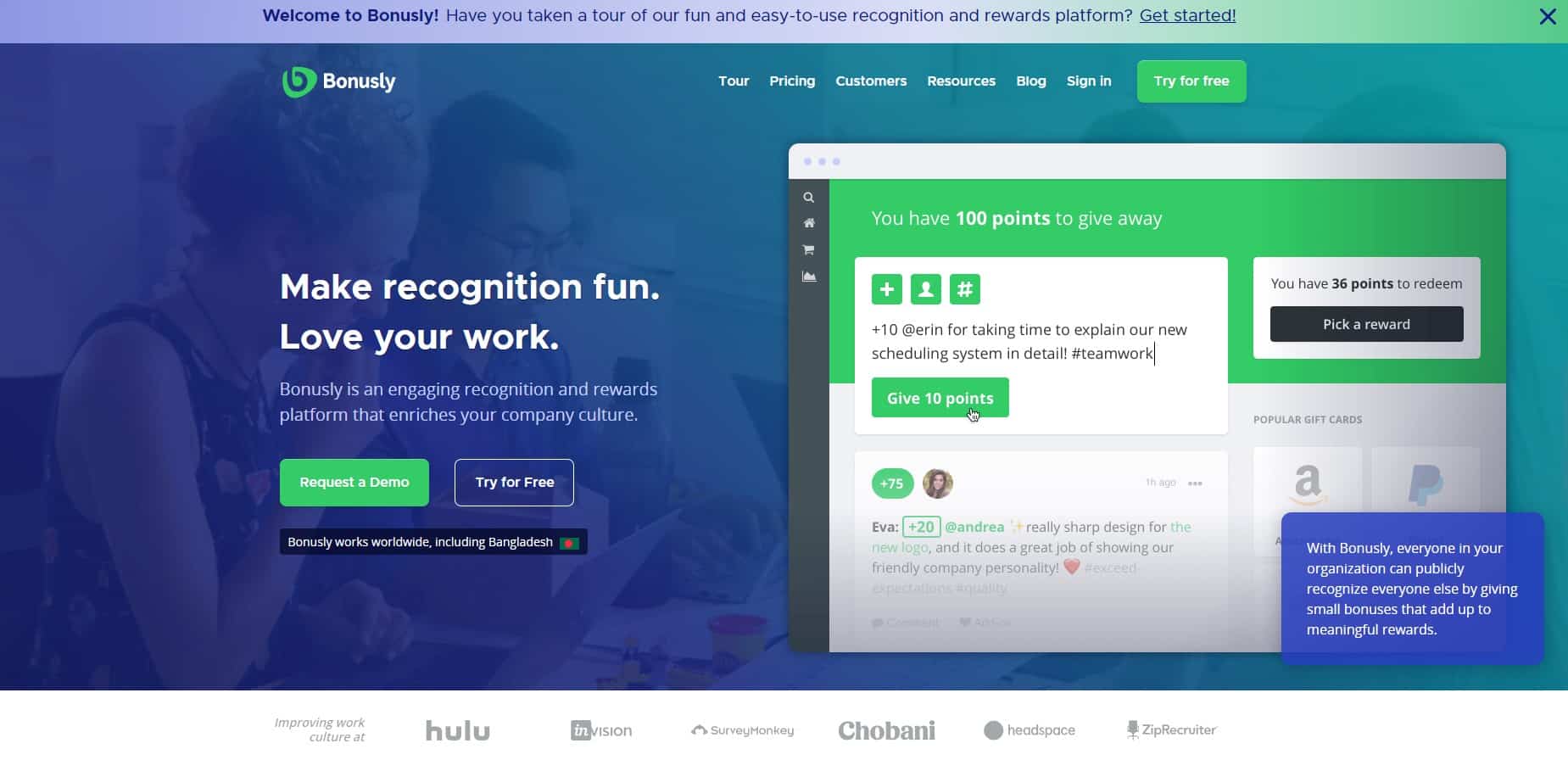 It comes packed with a combination of automated features and a full-fledged peer-to-peer system to effectively facilitate a robust employee recognition program.
Features:
Scalable Social Recognition Program
Bonusly has a modern and intuitive built-in social media interface that employees and managers can use to actively show their appreciation to each other. 
They can make public posts by mentioning the points that employees in the organization are rewarding one another. 
Plus, to make the recognition more noticeable, users also have the option to use company value hashtags such as 'innovation', 'leadership', 'collaboration', and more to highlight the specific reason for the reward. 
Moreover, the platform is already integrated with commonly used workspace communication tools like Google Chat, Slack, Microsoft Teams, etc. so that employees can seamlessly access and use Bonusly from other platforms that they are familiar with. 
Bonusly has a unique reward system as it has the option to send a small monthly bonus to every employee so that they can give bonuses to their colleagues. 
The implementation of such practices can enhance mutual cooperation, collaboration, and a higher sense of gratitude within the workspace. 
Moreover, Bonusly has a diverse global rewards catalog, employees have the opportunity to redeem their reward points from various outlets all over the world, as well as the option to cash rewards or donate them to charity programs. 
This is especially beneficial for multinational companies operating in many countries. Also, for those companies that hire remote employees from different parts of the world.
Managers also have the option to create their own custom reward system which can include many monetary and non-monetary rewards like company swag items, club memberships, gift cards, premium Spotify or Netflix subscriptions, a day off from work, and much more. 
Robust Analytics & Reporting System
Bonusly has a real-time analytics dashboard, which allows managers to actively monitor employee engagement, and analyze employee recognition trends and patterns.
It can also generate reports at both team and individual levels, allowing managers to understand how recognition and rewards are distributed across their teams and how individual employees are performing.
Plus, as it's integrated with useful HR and people management tools, managers can use it effectively to gather from different sources to gain a more comprehensive view of their employees' behaviors and engagement.
Integrations:
Bonusly includes many useful integrations to improve your company's employee recognition program, such as the following, 
Chat & Collaboration: Slack, Microsoft Teams, Google Chat, Yammer, Zapier, Igloo, Jostle, Zoho, and more. 
Single Sign-on (SSO): Okta, OneLogin, Centrify, Open ID, PingOne, Office365, Google, LinkedIn, Chatter, and more. 
HRIS: Bamboo HR, Workday, Paycom, Namely, Zenefits, Gusto, ADP, Ultripro, iSolved, Ascentis, Paylocity, SAP, Sage, Rippling, IntelliHR, Self Serve Sftp, and more.  
Usability:
Whether you're a manager or an employee Bonusly has a very intuitive user interface that's easy to understand and use. 
In fact, the platform is so user-friendly that even a beginner can effortlessly navigate through the options and seamlessly utilize it to it's fullest potential. 
Pros & Cons:
Pros:
Diverse & Highly Customizable Rewards Catalog
Easy to Use
Vibrant Userinterace to Pop Recognitions & Rewards
Robust Analytics & Reporting System
Seamless Automation of Many HR Validation Processes
Cons:
Privacy settings still have lackings; certain aspects of the reward dashboard should be strictly limited to admins. 
Subscription Cost:
There are 3 subscription plans which include the following packages. Learn more about their price plans.
Core: $2.7/month for each user per month, or $3/month per user for an annual subscription.
Facilities:

Fun social recognition and achievements

Engaging chat tool and intranet integrations

Easy-to-use mobile apps

Actionable analytics

Detailed reporting

Effortless global rewards

Automated recognition for work anniversaries and birthdays

Legendary customer support

Pro: $4.5month for each user per month, or $5/month per user for an annual subscription.
Facilities:
Includes all the facilities in the Core plan and,

Centralized Company Incentives and Awards

Turnkey HRIS and Single Sign-on Integrations

Configurable Admin Permissions

Advanced Reporting
The core plan is for small businesses and the pro plan is targeted for mid sized companies, large enterprises may need more comprehensive solutions which can be acquired in their custom plan.
Which Employee Recognition Software Should I Choose?
The five best employee recognition software listed above have comprehensive features and solutions to rapidly improve your employee recognition program. 
To help you choose the right platform for your business, we have provided an in-depth review so that you can determine which tool offers the best solutions for your business. 
Each of these tools have extensive peer to peer communication features, analytics, reporting and various automation facilities to recognize and reward deserving employees. 
You should choose an employee recognition software by determining the one that adds the highest value for money. As most of these tools require premium subscription, you should thoroughly analyze their standout features to pick out the one that's most suitable for your business.