Regardless of the business's size, SEO is a very complex process, especially for large enterprises. Google, Bing, and other conventional search engines don't rank websites but particular web pages in their search listings. 
Conducting SEO for large enterprises is relatively a lot more difficult as they usually have several web pages containing various informational content and numerous product pages.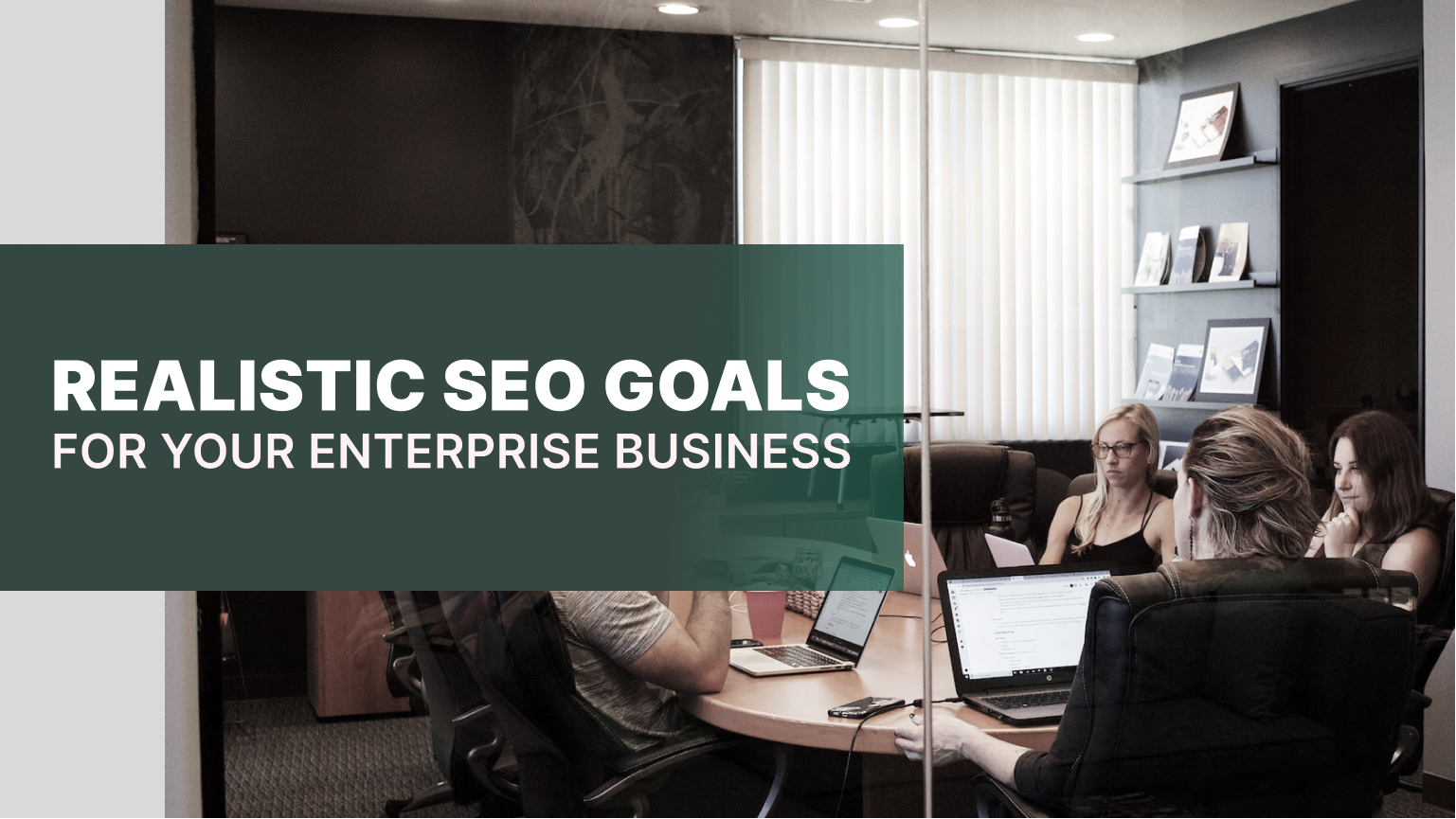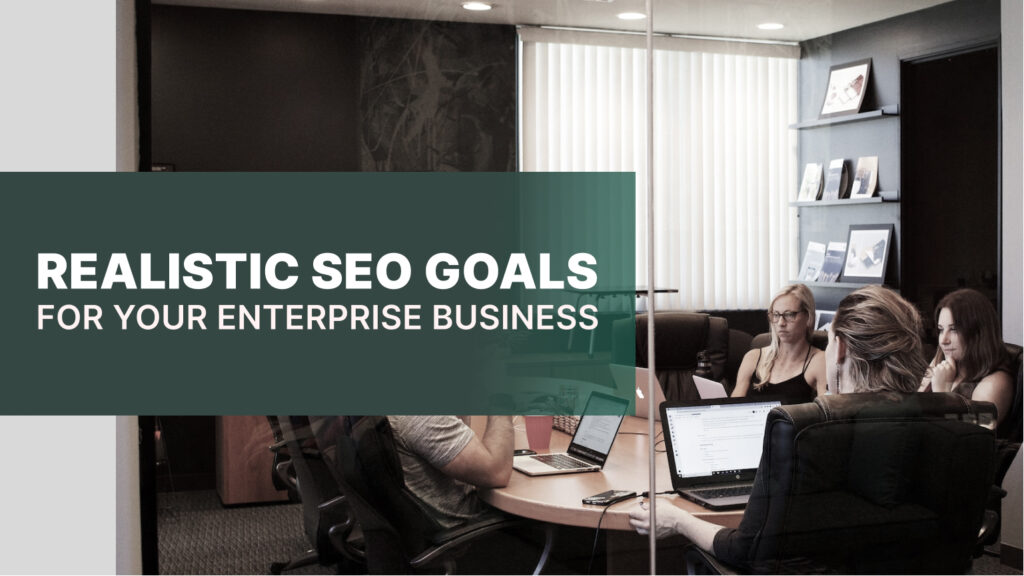 Among all the pages on an enterprise website, it is crucial to ensure that the right pages are properly indexed and well-optimized to boost your search rankings.
Just ranking on the top search results isn't enough, you need to apply sustainable SEO strategies that will help you dominate the top search rankings in the long run. 
The most challenging aspect for large enterprises is, the cut-throat competition to dominate the top search rankings, especially to withhold the #1 search ranking. 
SEO is a very tedious process with lots of complex technicalities. So, to prevail among the top search rankings, enterprises must have realistic SEO goals. 
This is essentially important because the implementation of all your SEO strategies solely depends on your goals and objectives. 
In this article, we will discuss why SEO goals are important and useful tips for setting realistic SEO goals for your enterprise business. 
Why is it Important for Enterprises to Have SEO Goals? 
Without having clear and well-defined goals, it won't be possible for you to consistently dominate the top search rankings and enhance business opportunities to greater heights. The main advantage of SEO is, it has no limit.
The better you optimize your web pages the more inbound organic traffic and conversion you can expect. But SEO is not just about optimizing your website to rank on the top search results, it's much more than that. 
Yes, ranking on the top search rankings is very important, but at the end of the day, the main reason you're investing in SEO is to enhance your brand awareness and increase conversions across all your digital touchpoints. The ultimate goal of every enterprise is to rapidly expand the business and scale up sales revenue. 
So, you need to have specific goals and objectives, depending on what you want to achieve from SEO. For instance, do you want to scale up your brand awareness? Or, do you want to boost website traffic, have more consultations, or increase the sale of certain products? Or do you want all of it? 
You need to define SEO goals aligned with the goals of your enterprise, remember SEO is a powerful marketing strategy to take your business to new heights. But just setting goals won't work, unless they're realistic. 
Whether you're getting your enterprise SEO done by in-house professionals, or by an Enterprise SEO Agency, either way, you're investing a lot of money here. So, to make the most of your investment and minimize risks, it is important to set realistic SEO goals for your enterprise business. 
We can't set your SEO goals but what we can do is, we can help you with the entire process. If you're here to learn how to set realistic SEO goals, then you may find our tips very helpful.  
Useful Tips for Setting Realistic SEO Goals for Your Enterprise Business
Businesses need to maintain a proper framework especially when it comes to setting goals and creating strategies around them. 
Here are 6 useful tips that you can follow to set realistic goals for your enterprise business. 
    1. Identify Your SEO Needs
In order to set realistic SEO goals, you need to determine the exact reasons your enterprise needs SEO. The easiest and most effective way to identify your SEO needs is to look into your business goals.
If it's a business goal to achieve a revenue target within a year, then set SEO goals for enhancing your sales revenue. Or, if you are planning a domestic or international business expansion, then you need clearly defined SEO goals to create effective SEO strategies. 
In a nutshell, simply start by redefining your business goals into SEO goals. In that way, you will have precise SEO goals that perfectly align with your business goals. 
    2. Trend Analysis
To identify your SEO needs more precisely, it is vital to analyze your business trends and past SEO metrics. Based on that, you can determine proper SEO goals and brainstorm strategies to boost your competitive advantage. 
One of the biggest advantages of running a trend analysis is, you can set realistic SEO goals based on a proper risk assessment. This will bring clarity to your plans, and help you set realistic SEO goals which are likely to minimize the scope of potential bottlenecks and failures.
And, it will also help you set contingency plans in the event of unexpected situations. But as you will be well aware of past mistakes and how you could've achieved better results, it will help you come up with more realistic SEO goals. 
There are SEO tools that you can use to analyze your business trends, digital touchpoints, and your SEO metrics which include,
Google Analytics

Google Search Console 

Bing Webmaster 

Ahrefs 

SEMRush

And more 
Google Search Console, Ahrefs, and SEMRush will help you monitor your website's performance in search engine results, mainly stats about impressions, conversions, bounce rates, number of clicks, website traffic, backlinks, keyword rankings, and other SEO metrics. 
A crucial part of trend analysis is also to track keywords, as the keyword rankings tend to vary over time, so staying consistent with relevant keywords with a high potential to boost your search rankings is necessary. It will help you understand which web pages and content need to be optimized to enhance your search rankings.
Whereas on Google Analytics, you can monitor the interaction of website visitors which includes how they have discovered your website, whether it's from search results or it's direct website traffic. 
Plus, you can specifically track which links they click on, the forms they sign up for, and how they pass through each digital touchpoint until the final conversion. It can also help you track pages where conversions are dropping.
By conducting a proper SEO analysis, you can start planning your realistic SEO goals based on proper data and information. You can even generate reports to analyze trends over certain time periods.
3. Use the SEO Pyramid
Now that you're done with the basics and have acquired enough data and information to set realistic SEO goals, it's time to get on with the process. 
You need to consider multiple factors and variables when you're setting SEO goals. We understand how enterprise businesses have a diverse range of business goals, and to make sure you can properly align them with your SEO goals, it is recommended that you use the SEO pyramid.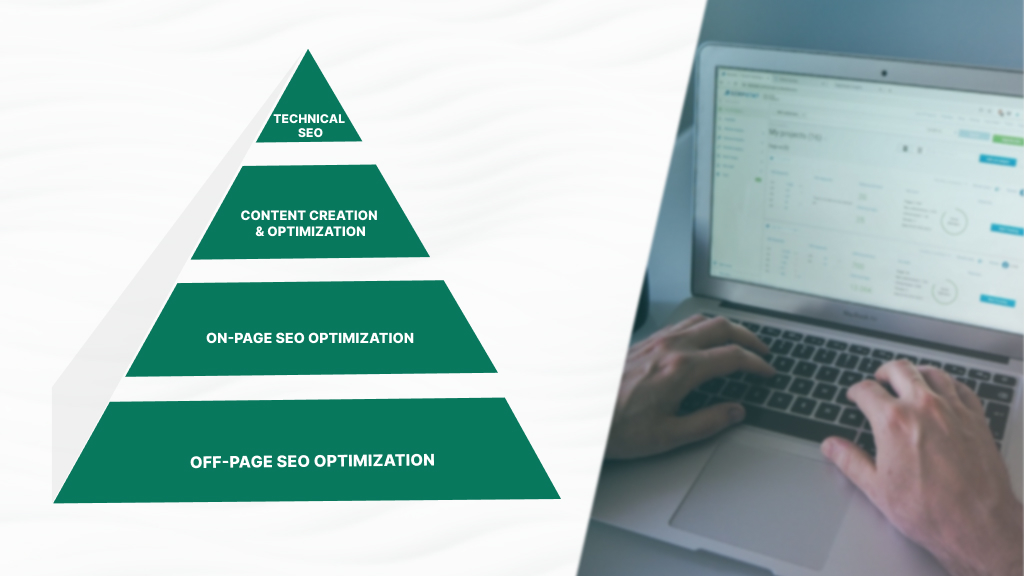 The SEO Pyramid is typically divided into 4 levels such as
The technical stage covers SEO aspects such as website speed, security, index status, mobile friendliness, and site structure. 
If you want your website to rank on the top search results, it is mandatory to make sure it meets all the technical website requirements. As the aforementioned technical SEO aspects are crucial search engine ranking factors. 
So it is necessary to ensure that you have these technical aspects covered in your SEO goal, as they directly associate with your website's user experience. 
If your website has technical issues, there is a high chance that your website won't rank on the top search results. It'll also have a negative impact on user experience, which will ultimately trigger signals of poor user experience leading your website ranking to scale downwards. 
You should be extra careful about technical issues, as they directly affect the user experience, search engines are very strict about ensuring that web pages in their top search rankings don't have any technical issues. 
It can be more challenging for big enterprises as they tend to have large websites with many web pages. As search engines index individual web pages into their search listings, having technical issues can be a major obstacle in getting your web pages indexed in the search engine database. 
If search engines can't crawl and index them into their database then the web pages won't rank either. So, you should be extra careful in ensuring that none of your important web pages have any technical issues, especially the ones that violate the search engine guidelines. 
To learn more about the technical issues and how to resolve them, read our technical guide to set your Technical SEO goals. 
Content Creation & Optimization
Content is the most important search engine ranking factor, as content is what drives the search engine results. 
Whenever someone searches for a particular information, product, or service, the search engine generates results on its search listings that are most relevant to its user's search intent. 
The top search results are the most relevant, meaning that the content on the top 5 search listings is deemed most relevant by search engines. 
So, if you want your website to rank on the top search results, it is crucial to have specific goals for generating high-quality content. 
On-page SEO includes all the SEO elements on your website that you've full control over, which includes content, headlines, headers, image optimization, title tags, meta descriptions, structured data, alt text, and more. 
Here are some tips to help you get started with on-page SEO,
Conduct keyword research to determine the phrases you want to rank for.

Optimize the page title and meta description to include your keywords and entice clicks.

Use header tags (H1, H2, etc.) to structure the content and highlight important sections.

Include internal links to provide additional context and improve navigation.

Optimize images and videos with descriptive file names, alt tags, and captions.

Ensure the page has sufficient, high-quality content that is relevant and useful to the user.

Ensure the page is easily accessible to search engine bots and has a fast loading speed.

Make sure the URL structure is clean and descriptive, using keywords where appropriate.

Monitor and track your progress using tools like Google Search Console.
On-page SEO helps search engines understand the content of a web page and its relevance to a particular search query. It also helps to improve the user experience of the website. 
Conducting effective on-page SEO will help the search engine understand your website better, so the search engine can generate the most relevant search result according to the user's search query.
Usually, potential customers search for particular products or services, so by conducting effective on-page SEO, the search engine will be able to determine and generate the specific web page containing the product or information around it in its search listings. 
According to BrightEdge's Research on Organic Traffic, it was found that 68% of all online experiences begin on search engines. And, 81% of online shoppers refer to search engines before making a purchase decision. 
Moreover, according to Hubspot's recent study, 75% of online searchers never scroll past the first page of search results, and most of them refer to the top 5 search listings. 
The competition for the top search rankings is usually severe among competitive enterprises, so if you want your brand to stay consistent, and competitive as a key player in your industry then it is crucial for you to set on-page SEO goals to amplify your scope of ranking on the top search results. 
Off-Page SEO Optimization
Off-page SEO involves activities and strategies to influence and entice other websites to create inbound links to your website to enhance your website traffic and improve your search rankings. 
These are basically third-party websites that specify your enterprise and include clickable inbound links to your website, often this practice is also referred to as link building and backlinking. 
Search engines see backlinks as votes on the internet as they are one of the top ranking factors in determining a website's search relevance, credibility, and authority. 
It is important to ensure that you've backlinks from trustworthy sites which have a healthy website score with positive SEO metrics. 
Websites that don't abide by search engine guidelines are more likely to have negative scores and poor search rankings. So, backlinks are low-quality or toxic backlinks. 
Your prime objective here is to ensure that you've high-quality backlinks from credible websites in your industry. This is likely to rapidly boost your search relevance and guide search engines to showcase your website to your target audience in its search listings. 
Plus, having a strong backlink profile will rapidly increase your chances of ranking on the top search results. Hence, we'd recommend you make it one of your SEO goals to acquire high-quality backlinks and take steps to remove toxic backlinks.
To enhance your backlink profile, you can consider applying the following steps,
Create high-quality, original content that people will want to link to.

Guest posts on reputable websites in your industry.

Reach out to websites and ask for a link back after you have cited their work or used their resources.

Request other website owners to consistently optimize and update their content to enhance mutual benefits in search rankings.

Collaborate with other websites to create valuable resources and link to each other.

Get active in online communities and add value by sharing your knowledge and expertise.

Run contests and offer rewards for linking back to your website.

Participate in industry events and get coverage from journalists to earn backlinks.
And, you should also take steps to remove your toxic backlinks as they can hinder your organic search rankings and bottleneck your SEO efforts. 
You can reach out to the website owners and request them to remove the backlinks. If they don't comply with your request, then you can take steps by disavowing backlinks on Google. Learn more about disavowing backlinks here.
Disclaimer: You should refrain from disavowing backlinks unless you're an SEO expert. This is an advanced feature, and using it inappropriately can hamper your search rankings. 
Double Check Your Goals With the SMART Framework
If you already have your SEO goals set and structured, that's great! But before finalizing your goals it is better to have them verified to ensure that they're realistic in terms of success. 
There are so many metrics to identify whether your SEO goals are realistic, but it is better to have them verified using a proven framework. This will help you avoid vital mistakes which can hamper your organic rankings and even save you from high recovery costs.
Not to mention, if you're setting SEO goals based on how others in your industry do it, then it might not be so realistic for you, especially if you're scaling the likelihood of success. The SEO goals that work best for others, even your competitors may be unfit for you. 
So, to stay on the safe side, it is recommended that you double-check your SEO goals by using the SMART Framework.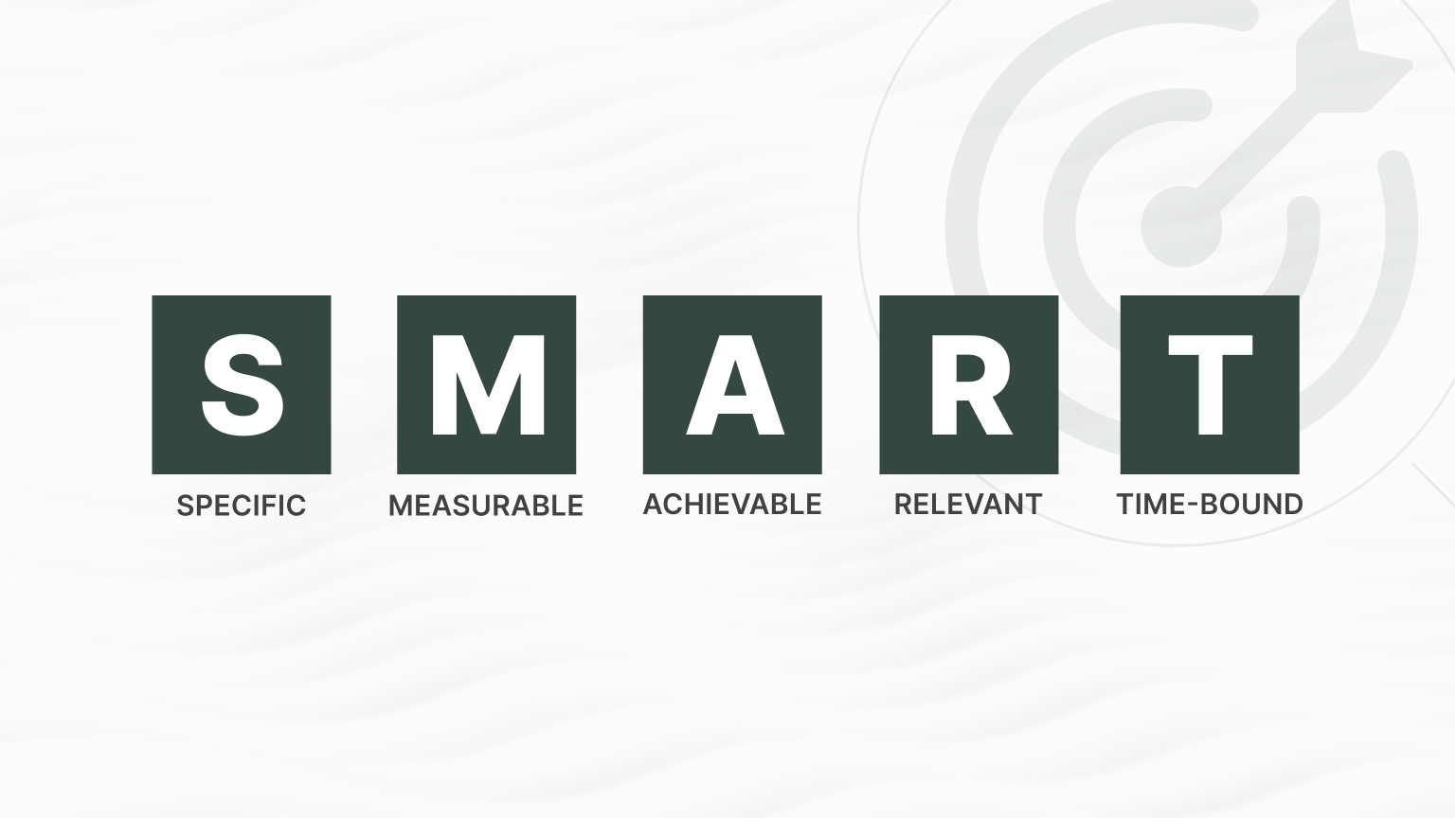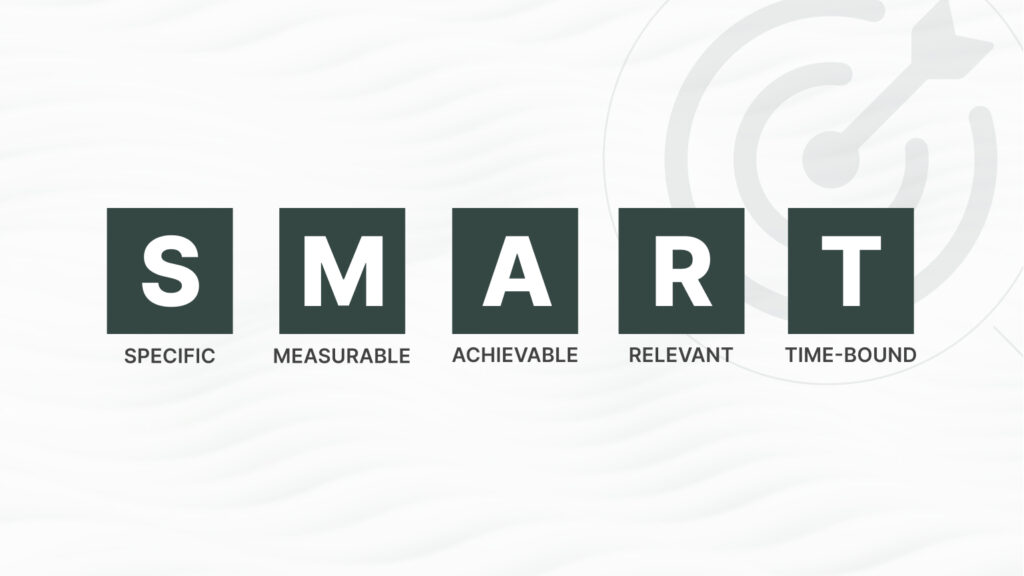 How to Use the SMART Framework to Evaluate Your SEO Goals?
Your SEO goal is something that should be specific, precise, and clear. It should be stated in a way that it's easy to understand and does not lead to any sort of confusion. 
Whether you're looking forward to increasing your impressions, the number of clicks, conversions, or sales revenue, it should be specifically stated. 
For example, if you're setting a goal to increase your conversion rate, then the specific SEO goal should be something like 'increase your conversion rate by 30% in 6 months.' 
Additionally, to make your SEO goals more specific, you can consider focusing on enhancing your organic share of voice; it shows the percentage of your organic search presence compared to your top competitors. 
It represents the proportion of an audience that a brand can reach through its organic efforts compared to the overall market share. It is used to measure the success of a brand's organic marketing efforts and to compare its visibility with key competitors. 
To make sure that the SEO goal is realistic, it is important to make sure that it is measurable. You can use SEO tools like Google Search Console, Ahrefs, or SEMRush to track and measure SEO metrics such as the number of backlinks, impressions, conversions, click-through rates, and more. 
To set realistic SEO goals you can consider doing a trend analysis as we've suggested earlier in this article. Based on this you can calculate and determine the scope of your SEO goals being a success. 
It is crucial to set realistic SEO goals by making sure that you can achieve them with your available resources. Evaluate all your resources which include the capabilities of your workforce, and all the digital tools at your disposal. 
Sometimes, we like to rely on the benefit of the doubt and assume that stretching our resource limitation might allow us to hit a higher benchmark. However, you cannot set SEO goals based on mere assumptions. You need to be extremely specific about setting a realistic target. 
Ensure that the goal aligns with your overall business objectives and is relevant to your target audience. Search engines rank web pages that are most relevant to the user's search intent. 
So, if you prioritize search relevance as a part of your SEO goal then you can precisely guide search engines to understand who your target audience is, and what they intend to find on your website. 
Ultimately, the more relevant your website's content is, the higher its chance of ranking in the top search results. 
To maintain relevance, you should do proper keyword research by targeting relevant keywords and creating content that aligns with the search intent of your target audience.
Time is something that's highly sensitive when it comes to setting realistic goals. You need to be absolutely precise and specific about the deadlines of your SEO goals. 
If you rush your goals, then you may not be able to hit the certain level of productivity required to produce quality results. Ultimately all your efforts will go in vain and your SEO investments won't be worthwhile.
So, evaluate your resources and capabilities to set realistic deadlines that you can actually meet. Once you've determined specific time frames to achieve particular SEO goals, set deadlines to create a sense of urgency and accountability. 
When you're setting your SEO goal, you should keep in mind that SEO takes time, especially for large websites, as search engines need to crawl and index several web pages and newly created content which can be very time-consuming. So, you need to be patient and consistently apply SEO techniques to optimize your website. 
Evaluate Your SEO Goals to Avoid Tunnel Vision
The SMART goal framework will help you set realistic goals only if it's applied properly, that's why it is necessary to evaluate the SEO goals that you're about to set using the SMART framework. 
The SMART goal framework itself is quite rigid which can lead to tunnel vision, due to incorrect calculations or making decisions based on assumptions.
SEO depends on several factors, and some of them are dynamic. Such as shifts in market trends, and sudden changes in search engine policies which often happens due to major updates. Given the fact that the SMART framework isn't designed to adjust to uncertainties, that's why it is important to thoroughly evaluate your SEO goals. 
Setting SEO goals have considerable risks but you should take countermeasures by doing extensive research before setting your SEO goals, only then you can come up with realistic SEO goals.
Should I Consider Consulting SEO Experts to Determine Whether My Goals are Realistic or Not? 
If you follow our guidelines, it will certainly help you set realistic goals but it entirely depends on how you are carrying out the entire goal-setting process. 
So, if you're not an SEO expert then you should consider consulting with one to come up with realistic SEO goals. 
We've more than 10 years of extensive experience in SEO, so if you need help setting realistic SEO goals or determining whether your SEO goals are on point then you can consider booking a Free SEO Consultation and one of our experts will get in touch with you soon.
Apart from setting realistic goals for your enterprise business, it is also necessary to ensure that you're applying the right SEO strategies. So, if you need help boosting the search rankings of your enterprise then you can consider checking out our Enterprise SEO services.