Email marketing is at its highest peak in recent years, From small businesses to big-name brands use email marketing to increase sales. Email marketing is also used by affiliate marketers around the world to build lists and generate traffic.
Marketing automation is the future; It saves tons of time and we all know time is money. You will find a few popular email marketing services online. In this article, we are sharing the top 5 email marketing platforms for 2021. To select the best marketing software you need to watch out for a few things.
Cost: Several email marketing platforms cost a lot. You need an affordable service that suits best for your business.
Managing contacts: You need to be able to control your contacts and to customize it the way you want.
Engaging emails: A good email marketing service will let you create highly engaging emails, providing resourceful information.
Tracking Options: Able to keep tracking your campaigns is a critical part of email marketing. You have to monitor your campaigns to understand your customer behavior. This is where all the money is.
Automation system, Autoresponder: A powerful email automation system is crucial; This is why most people use email marketing.
Inbox rate: If your email doesn't hit the inbox then there is no business.
Check Top Email Marketing Services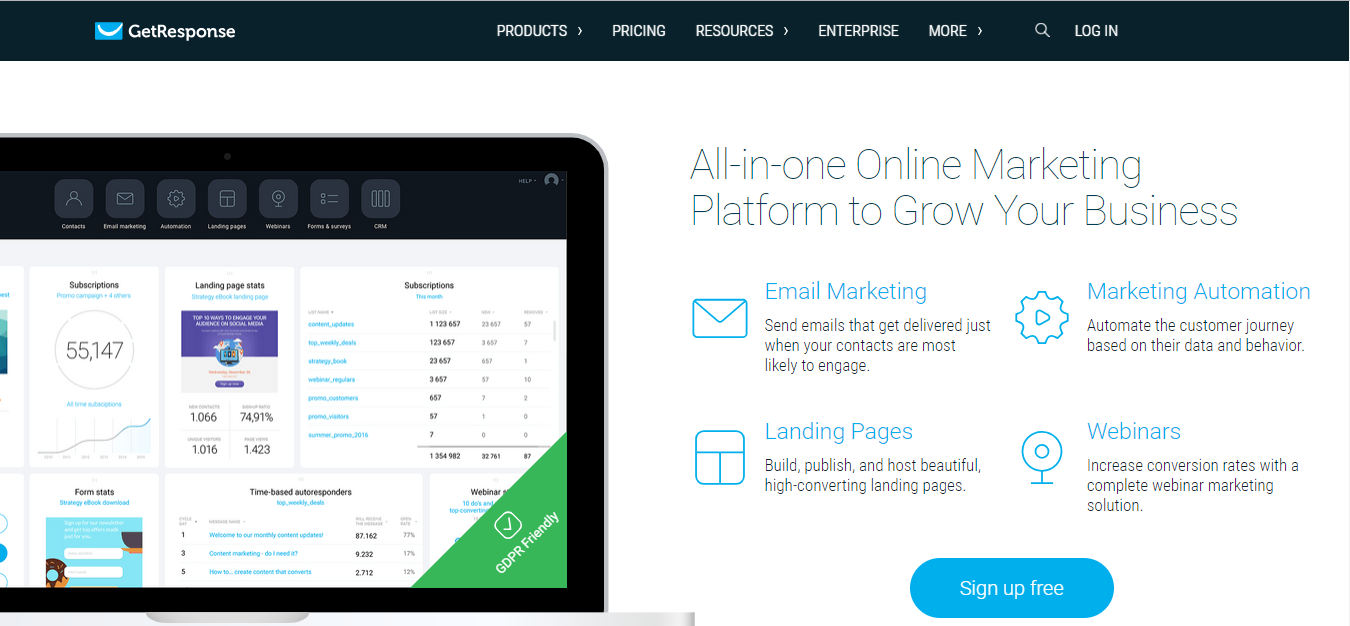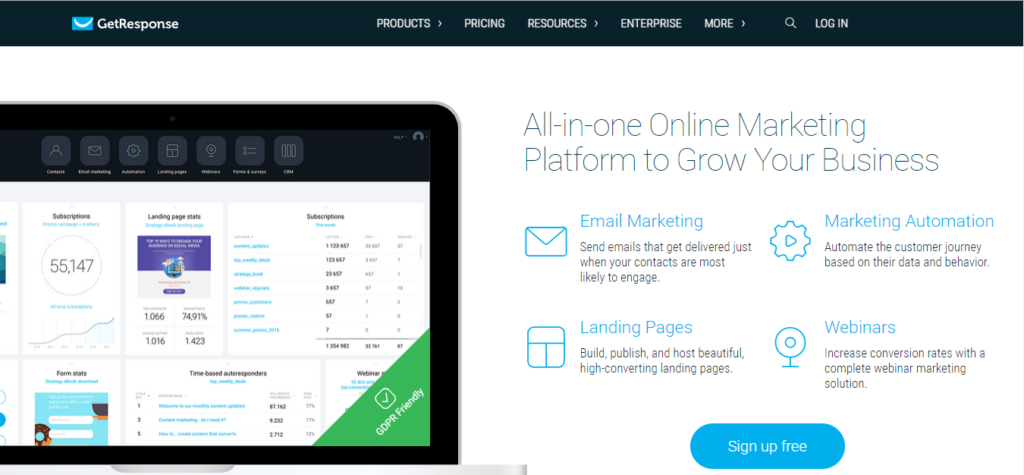 Getresponse allows you to create highly engaging emails with their professional-looking email templates. Their interface is beginner-friendly, so it is not going to consume a lot of time to get used to. They have a fantastic tracking system with some advanced features like One-click segment, Email ROI, Metrics Over Time, Per User Information.

Getresponse is one of the best email marketing platforms for small business owners; you can get started as little as a $15 per month/1000 list. Getresponse is also popular in the affiliate marketing industry.

Getresponse is beginner-friendly software with good knowledge base resources for their users. You can customize the getresponse package the way you want depending on your budget.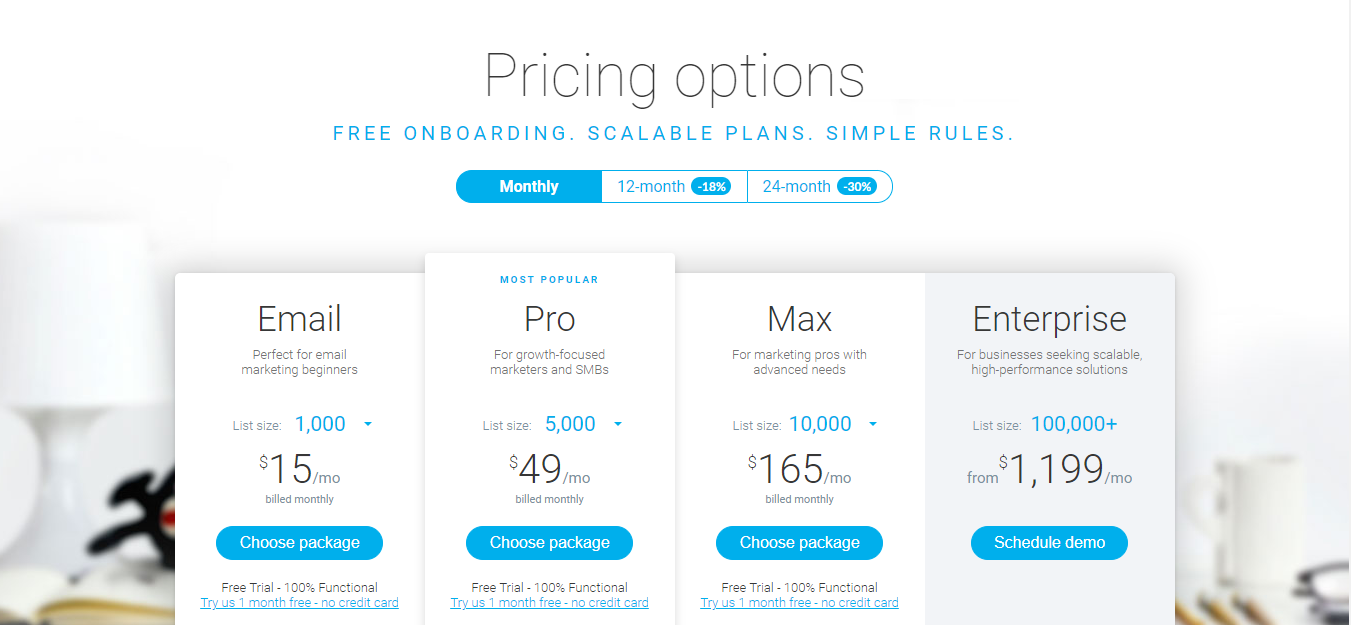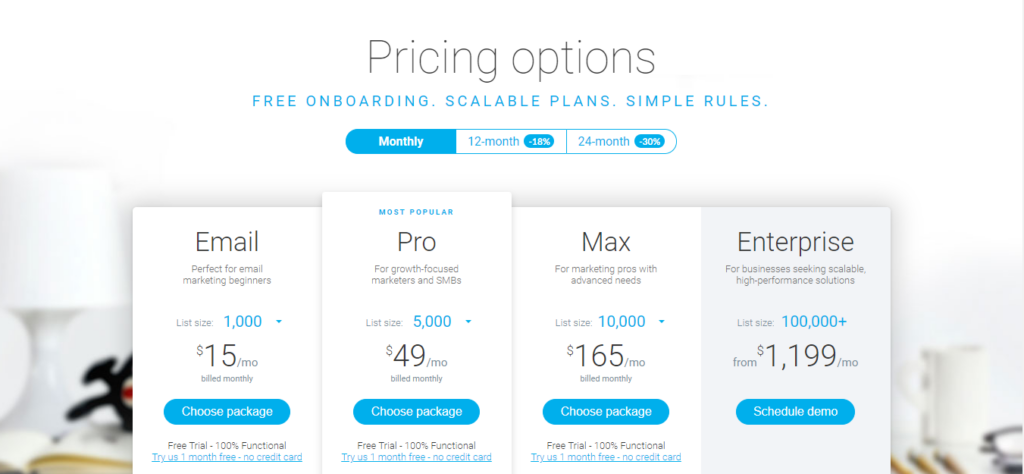 With their basic "Email" package you will get, Autoresponders, Landing pages (Basic) Marketing automation, Workflows, Tags up to 1 user for $15/month with a 1k list, you can increase the size of the limit by adding some extra money. This package is targeted for starters.

With their "Pro" package you get, Autoresponders, Landing pages (Advanced), Webinars 100 attendees, Marketing automation, Workflows, Tags, Scoring, Abandoned cart, Web event, tracking, Automation segmentation, three users, CRM, Ecommerce for $49/month with 5k list. This package is mainly targeted at small businesses and eCommerce owners.

They offer a free 30 days trial, Visit this link to know more details about their pricing: Getresponse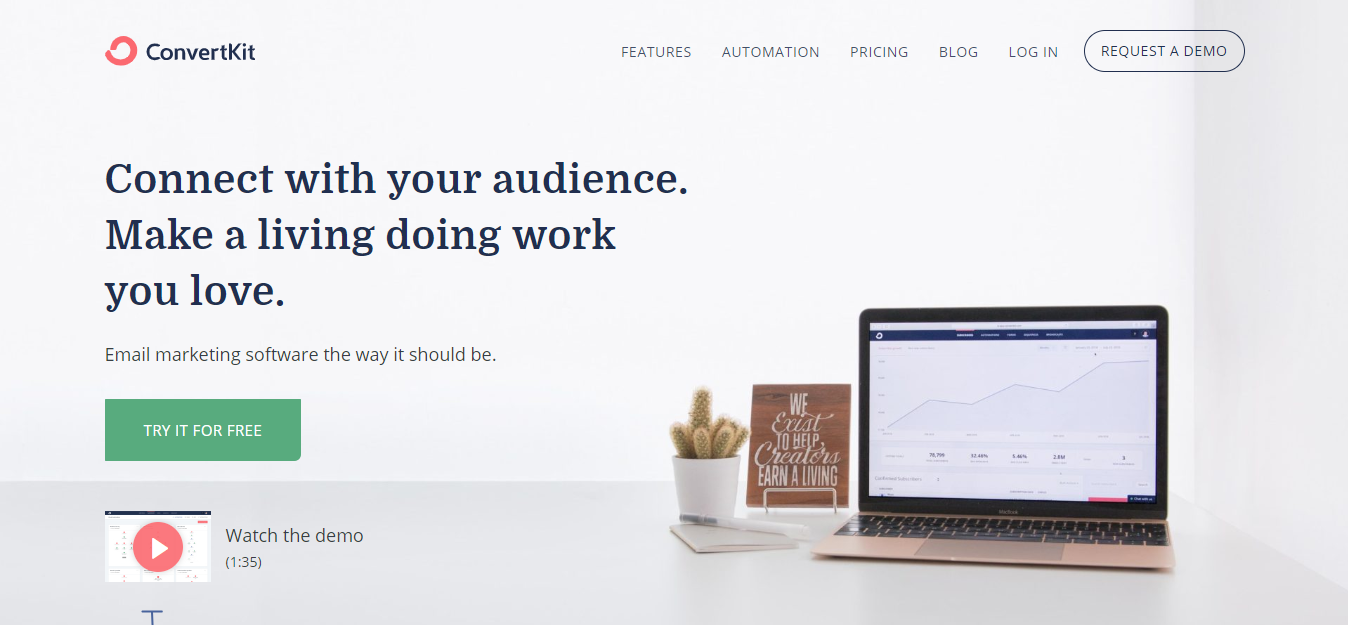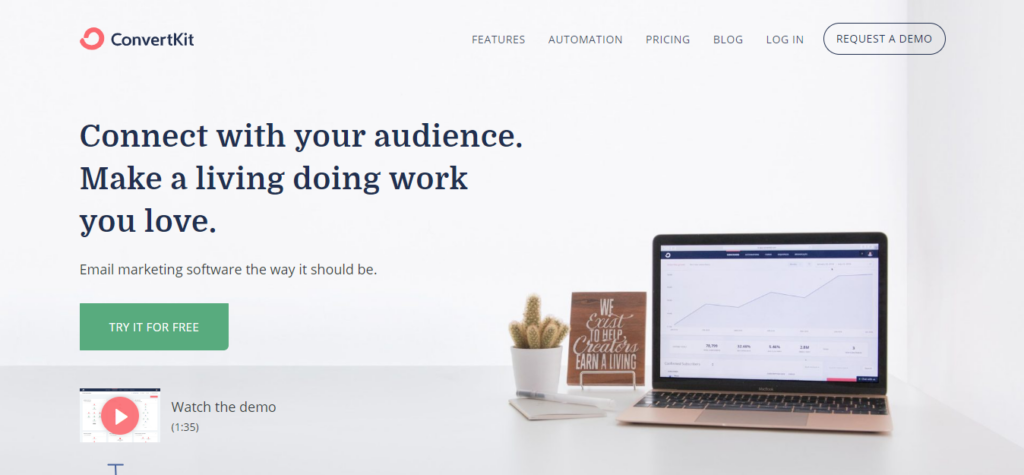 ConvertKit is excellent for website owners or bloggers. They have a beginner-friendly interface with lots of options. ConvertKit is a bit expensive than Getresponse with the base price starting from $29/month for up to 1k list.

ConvertKit offers you to easily organize your subscribers and tag them based on their activities. They have simple visual email automation tools.

They offer useful integration tools, Using these tools you can easily connect with a landing page, e-commerce, membership sites, and more.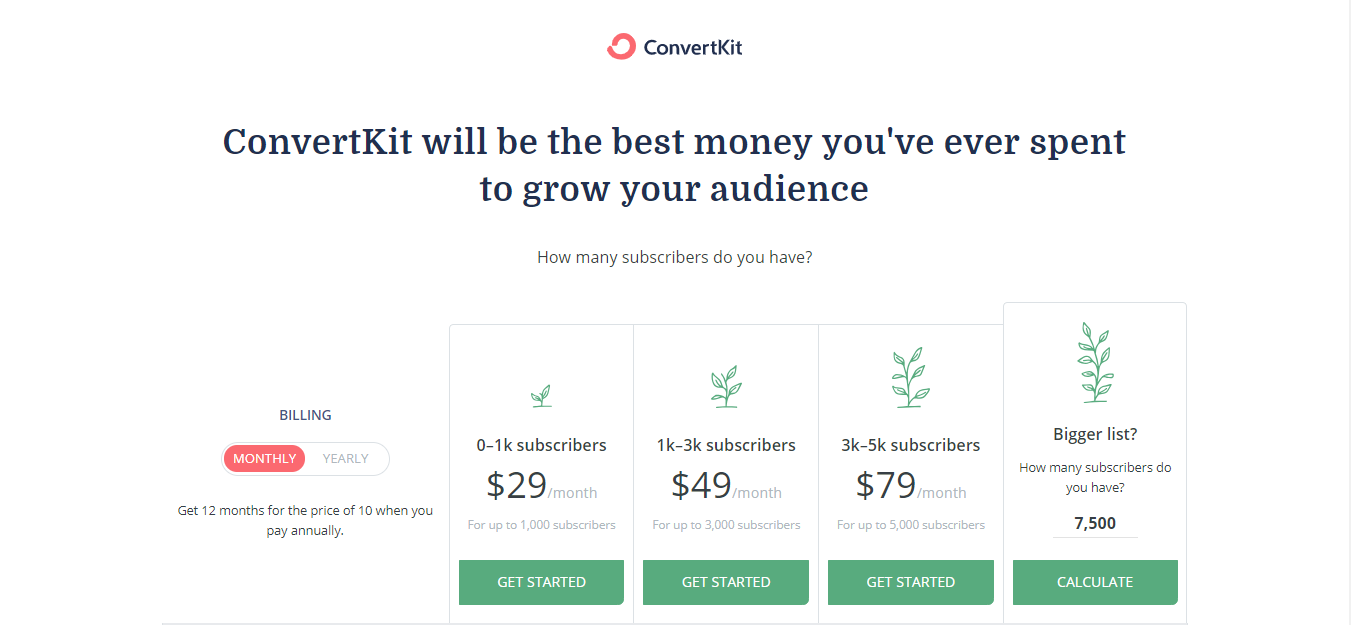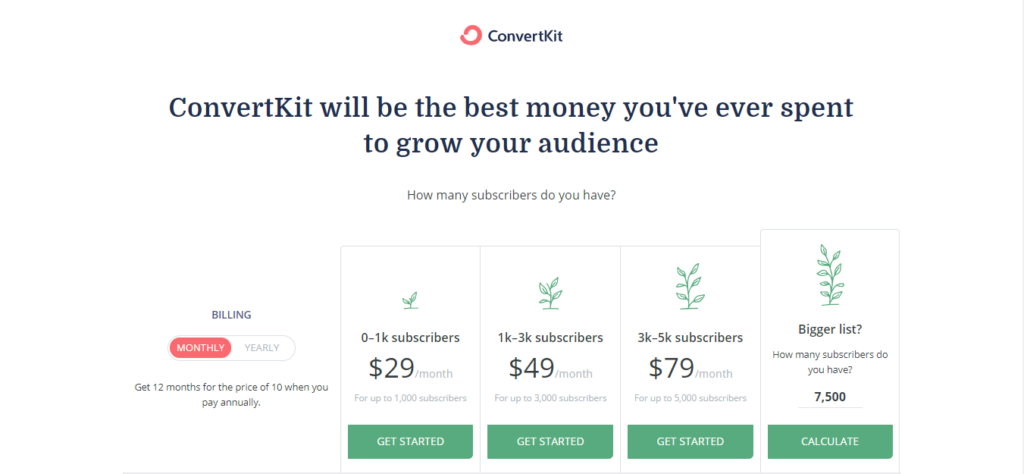 With their base starting price of $29/m, you will get, Visual Automation
Customizable forms, Unlimited Email sends Industry-leading deliverability, Subscriber tagging, Reporting, INTEGRATIONS, and more. You can create a custom package depending on the size of your list.

Visit this link to know about their pricing and features: ConvertKit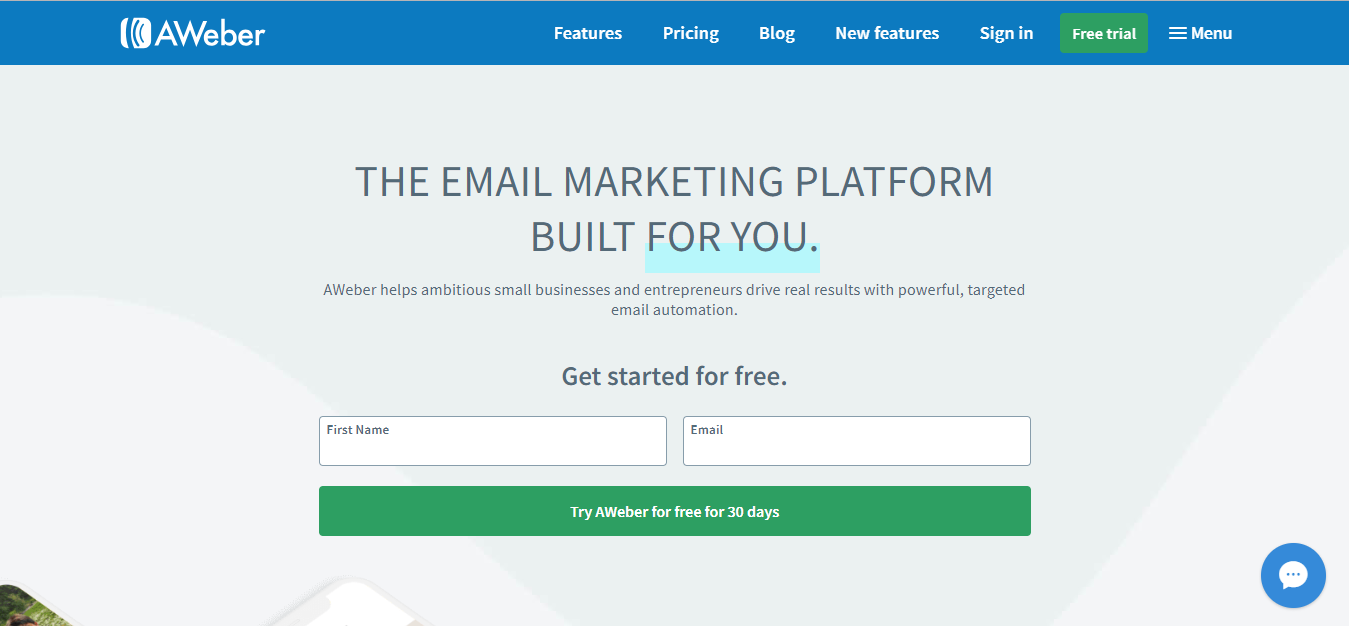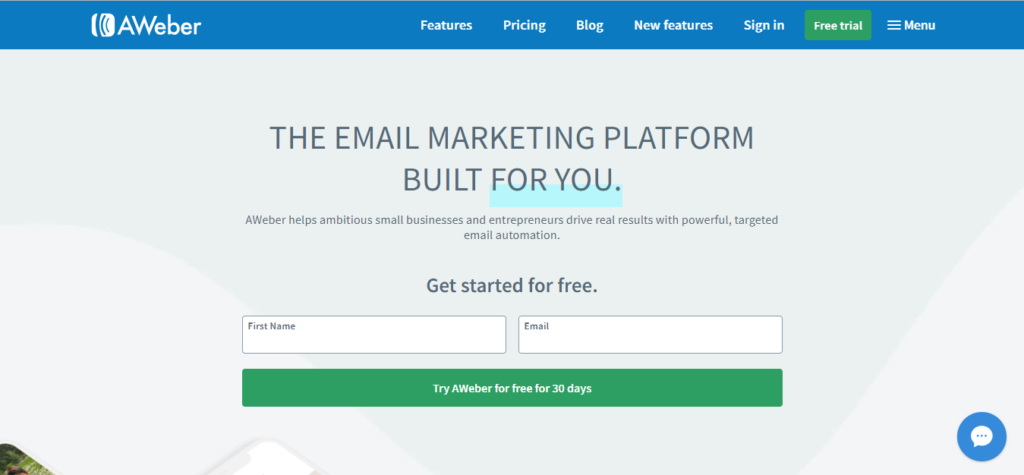 Aweber has been used by marketers and business owners for a long time. It provides a similar kind of service comparing to getresponse, but it is a little bit more expensive than getresponse.

The user interface is easy to understand so not a problem for starters. Aweber offers services like autoresponders, importing and hosting a list, responsive email designs, a good collection of email templates, integrations, reporting marketing automation, segment options, etc..

They provide live support, phone support, email support, and a good collection of resources and tutorials.

Aweber has a free 30 trial, and their base price starts from $19/m with 500 lists while getresponse offers less than them for 1k list. You can create a custom package as you need with their "get a quote" option. You can sign up for quarterly, annually, monthly.

With the base price you will get features like Sending Unlimited Emails, Automation, Segmenting, Analysing, 700+ templates, split testing, Tracking, and more useful options…

We prefer getresponse from medium-size business owners and professional marketers. Visit this link to know more about their prices and details: Aweber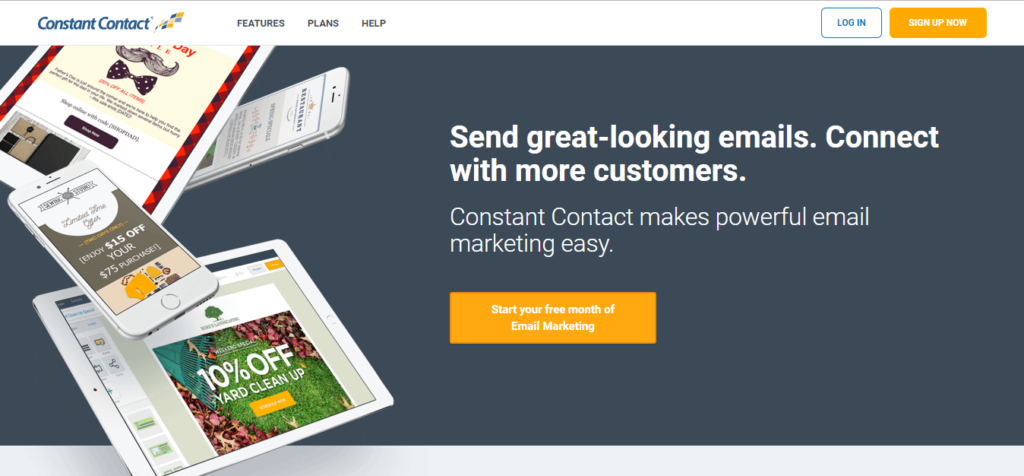 Constant Contact is one of the most powerful marketing platforms for marketers offering easy-to-use options. They have a variety of tools you can use to boost your business.

Constant Contact offers a free 30 days trial and base starting price from $20/m with 500 lists. You can increase the size of the list by creating a custom package. The cost of constant contact is slightly higher than other email marketing platforms.

They are one of the fastest-growing email marketing platforms. Their base price package is limited to 1 user and it offers you unlimited emails, 500 list/m, List-Building Tools, email templates, autoresponders, responsive email designs, reporting, integrations, marketing automation, etc…

Constant contact "EMAIL PLUS" offers you more advanced options like Subject Line A/B Testing, Event Marketing, Surveys & Polls, up to 10 users for $45/m. Visit this link to know more about their price plans.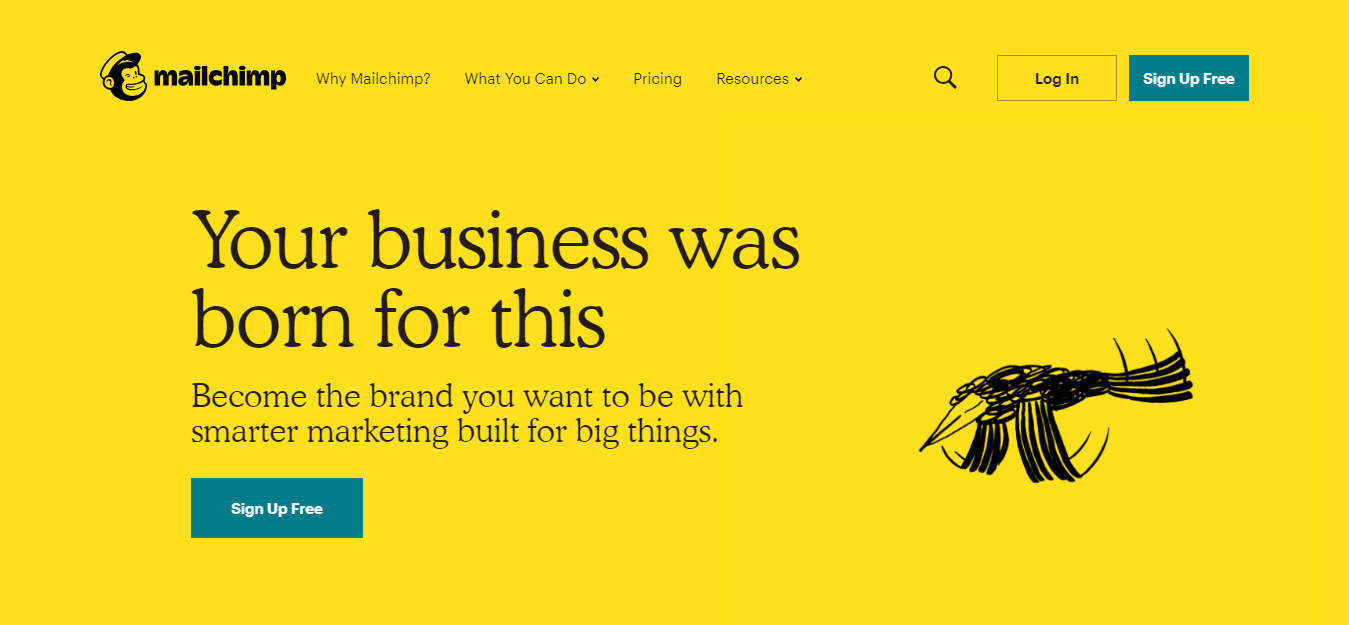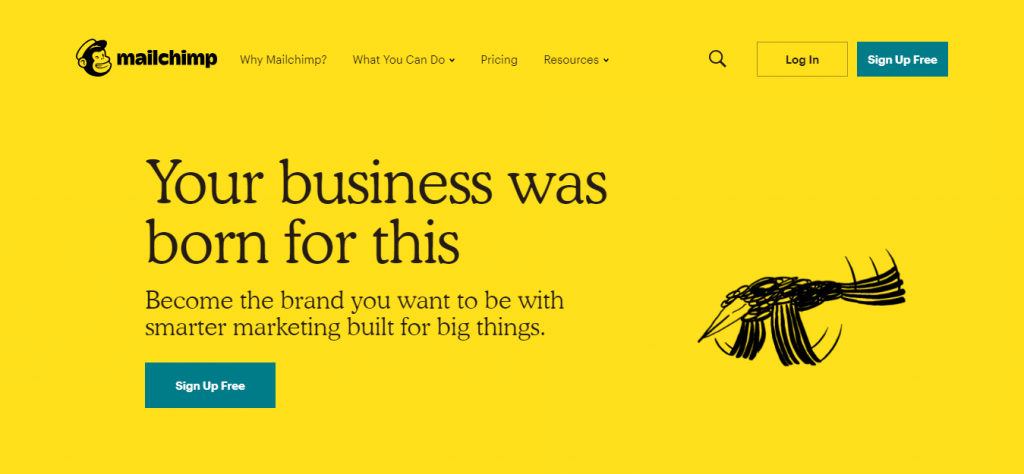 Mailchimp is the best email marketing platform for small business owners and starters. They have a forever-free service with a 2k list/m. That's why it is best for beginners who want to start email marketing but are short on budget.

MailChimp is really cheap compared to other big-name email marketing services. With their "grow" package you can host an unlimited list for $10/m, You will get services like sending Unlimited Emails per Month, autoresponders, responsive email designs, email templates, reporting, integrations, and more..

They also provide a pro package for $199 for advanced options like Comparative Reports, Multivariate Testing, Advanced Segmentation.
Because of their package price and uses we prefer MailChimp for starters and newbies. That doesn't mean their service is terrible. You get what you pay for. Visit this link to know more about their service.

Choose one email marketing software that goes with your plan and budget. Let us know in the comment which one you like most. You can read my more articles here.