The only way to attract potential customers and convince them to buy your product or service is to make them feel that you understand precisely what they want. Direct response copywriting is an effective marketing strategy to compel readers that your business offers the best option in the market. 
The objective here is to resonate with your target audience till they feel the urge to acquire your product or service. Your copies need to be influential, backed up by logic, relevant data, and emotions, so it becomes a driving force to show them that your product or service is necessary. 
Understandably, it is easier said than done. First, you need to properly understand what Direct Response Marketing is, and then focus on the detailed step-by-step guideline on 5 easy ways to create copies that sell like crazy. 
According to Global Web Index's research statistics, an average individual owns 3 digital devices. This makes Direct Response Copywriting the perfect marketing approach. Wondering why? Continue reading, and you'll get to know soon enough!
What is Direct Response Copywriting?
Direct Response Copywriting is all about creating marketing content and messages to attract, persuade, convince and compel your target audience to respond immediately. If you think about the perspective of time, Direct Response Copywriting is done to trigger responses from your target audience in the present. 
The primary purpose of Direct Response Copywriting is to typically influence: 
Buying decision 
Subscribing to email newsletters or updates
Availing offers, free trials, downloadable content such as guides, e-books, etc.
Interaction with the brand on Social Media
5 Easy Ways to Create Copies that Sell like Crazy
Get to know your market – To create compelling copies for your target audience, you need to ensure that you understand their needs, wants, and demands. It would be best to make your potential customers feel you are aware of the market gap and your marketing efforts are solely to deliver customer satisfaction. Your content's clear reflection of this aspect will increase customer appeal, driving higher sales conversion. 
In contrast, you need to make them realize that you understand their pain points and offer immediate solutions to their problems. 
Create a headline that grabs the reader's attention – According to David Ogilvy, the British Advertising Tycoon and a renowned master copywriter, 80% of people only read the article's headline. Moreover, further research suggests that 70% of Americans only read the headlines of the articles before sharing. 59% of people share article links without even clicking them on social media platforms. 
So, it is crucial to make eye-catching headlines to attract the attention of the remaining 41% of the users who at least open the articles. For Instance, your article contains quality information, compelling enough to create numerous conversions. Still, just because your headline isn't 'interesting' enough, most of your target audience do not bother to read the article. This will result in a negative impact on your ROI, and of course, the time spent preparing these copies will be wasted.
Create content appealing to your target audience – If your headline is appealing, it gets a lot of clicks, but has zero impact on sales conversion. Then, the content was not convincing enough to create the sales appeal you wanted. Why? It could be for some of these reasons:
It is not interesting enough.
It lacked credible information such as facts, statistics, or supporting data.
The language was not easy to understand.
The article was too long, making readers reluctant to go through the content.
It lacked lucrative content – visuals or pictures.
Aside from this, there could be more reasons. You need to understand the kind of information your target audience wants, and what drives them to keep reading your article. Is it emotions, opinions, or logical and factual information? Or perhaps, a combination of all. Before writing your content, it is essential to make sure that it goes along with the context of your brand, including the kind of audience you are targeting, whether it's a broad audience or a particular group. 
Did you know that 61% of consumers are influenced by custom content?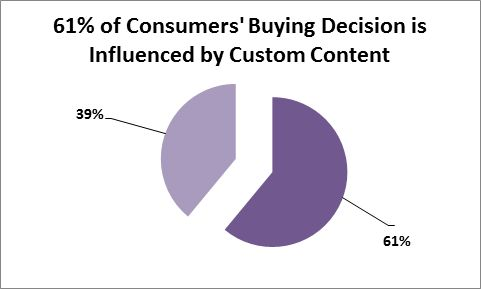 Statistical image collected from Neil Patel's site.
If your content is customer-centric, then you can expect a direct response from your copies. 
Prioritize Product Value Proposition and Call-To-Action (CTA) – Product Value Proposition is the benefit a customer would get by using your product or service in exchange for the price they will pay for it. According to research statistics, focusing on the product's value proposition effectively encourages conversions. 69% of B2B businesses have established value propositions, and 70% of B2B benefit by emphasizing the product value proposition.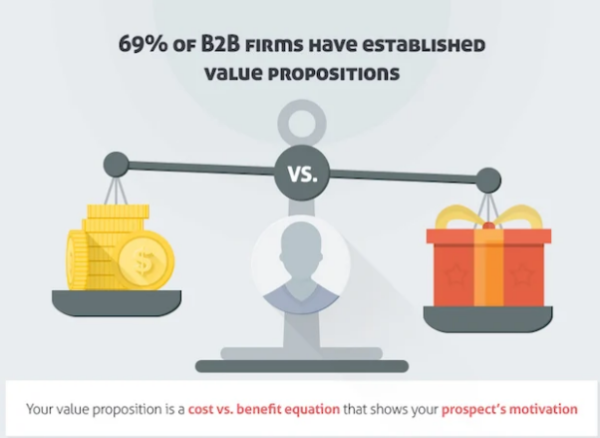 By focusing on the value proposition, you know what your customers want and in turn, can get higher conversion rates, by promising that you can deliver better value than your competitors.
According to further studies conducted by Hubspot, you can create superior value proposition as follows,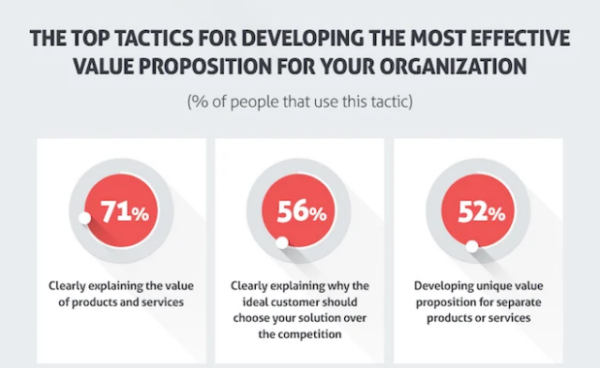 Sourced from Business 2 Community 
Just convince your customers that the benefit of your products and services outweigh the costs, and your business offers the best option in the market. Create a realistic Call-to-Action (CTA) that reflects your brand has the perfect solution to the customers' pain points. Then, your sales conversion is bound to increase. 
Prioritize Your Customer Journey – It is vital to understand how this works. Essentially, there are 4 main stages of the customer journey which includes: 
Awareness 
Consideration
Decision 
Purchase
Your potential customer will know little or nothing about your business in the awareness stage. So, when it comes to creating marketing content, you need to make sure that the information provided is precise, concise, and easily relates to the context of your brand value. Here, you essentially need to educate your customers about what your products and services are for.
When they are in the consideration stage, now they are aware of your business. It is time to enlighten them with more detailed information. As your customers progress deeper into the marketing funnel, they are on the verge of deciding between your products and services and that of your competitors'. This is the time to provide them with heavily detailed content. And as a result, you will successfully convince them to purchase your product or service. 
According to SEMRush's research, the statistics below show the standard content length per Customer Journey.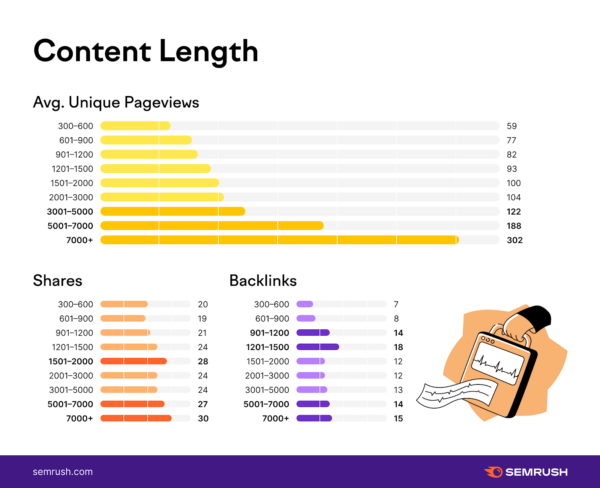 Remarks
If you want to appeal to your customers, then direct response copywriting is one of the most effective methods. It can seamlessly persuade and compel potential customers to reach a buying decision that will ultimately create higher conversions for your business. 
If you follow the 5 tips suggested in this article, you will achieve measurable results in a short time.
Do you need help creating copies that sell like crazy? Our experts are ready to help. You can book a Free Content Marketing Consultation with us.