There are so many processes in digital marketing that are very difficult to accomplish without the use of automation. The rapid development of Artificial Intelligence, more commonly abbreviated as AI has made it easier, faster, and more efficient for businesses to carry out all forms of digital marketing activities. 
AI development has been scaling up for the last couple of years, but for the first time, we've stumbled around generative AI that can actively interact and engage. The best part is, all you have to do is input prompts and it will instantly generate content like blogs, articles, case studies, eBooks, images, videos, audibles, and more.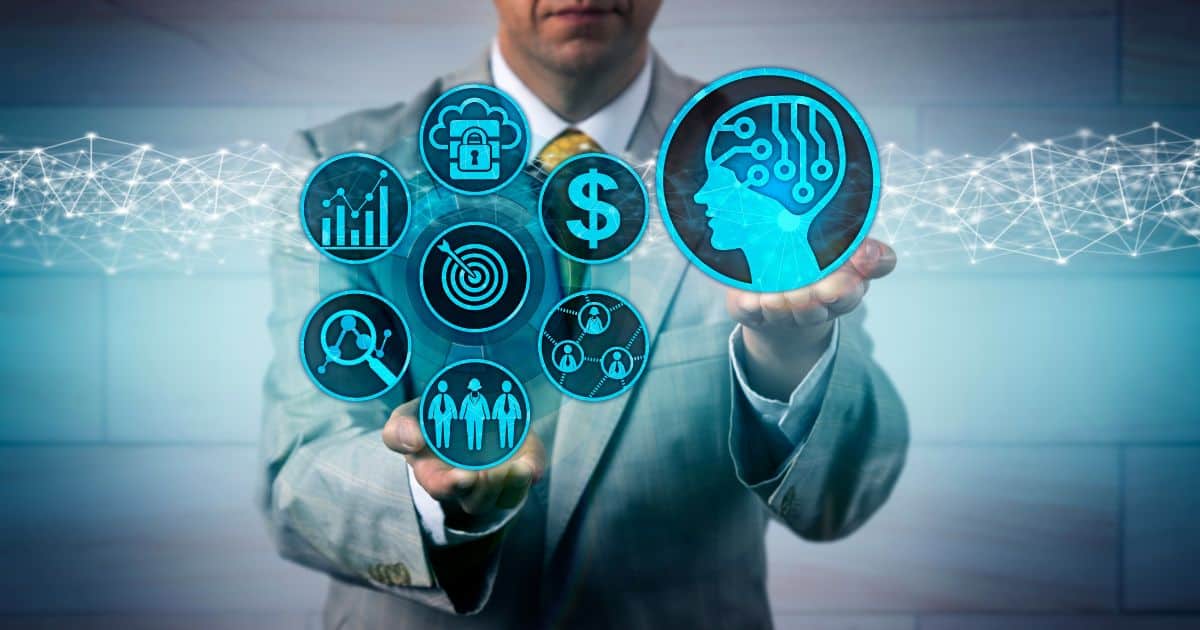 You just need to tell the AI in plain simple words and bam it will generate ideas and content from scratch within seconds. Not just that, you can also integrate AI on your website, social media, and other digital channels to automate various marketing tasks. 
AI can also help you generate fresh ideas, and create structured plans, social media posts, and even video scripts. Plus you can leverage the immense benefits of automating customer communication, especially the ones that don't require human interaction. 
Speaking of which, AI can now also write personalized emails and messages on its own, so by setting it up properly you can even automate interactive and engaging communication with your customers. 
Moreover, there are so many repetitive marketing tasks that require AI automation to improve operational efficiency. If you're running an eCommerce business, it'd be very difficult and costly to email the customer an invoice right after their purchase, whereas AI can automatically process it and send it immediately within seconds without any delay.
By setting up an AI-powered email automation program you can seamlessly have that done instantly. Unlike old times, modern AI tools can create personalized emails and effectively communicate with customers, prospects, and other key stakeholders.
AI has also been super effective in automating real-time tracking of various digital marketing metrics like impressions, conversions, traffic, revenue, and more. It also has robust analytics features that generate effective trend analysis and structured reports. 
Modern AI has also made it a smooth breeze to automate inventory management, which plays a key role in the delivery and distribution of your products and services. 
What's even more amazing is that generative AI like the GPT model has machine learning capabilities which means it can learn, acquire and improve itself based on user input. So, this means that modern AI can apparently learn from billions of people and drastically improve itself in the future. 
According to a recent study by Accenture, it was found that AI can increase productivity by up to 40%, and it's likely to double by the year 2035. 
AI experts are predicting that 90% of online content is most likely to be generated using AI by the year 2025. 
82% of online marketers worldwide have already adopted and integrated AI into various marketing activities. So, if you're not leveraging the immense benefits of AI in your digital marketing efforts, you may already be at a competitive disadvantage, and in the future, it might cost you big time as your competitors will be way ahead of you. So, it's high time to prioritize including AI as a key part of your digital marketing strategy. 
In this article, you will discover the role and significance of AI, along with how you can use AI to effectively improve multiple aspects of your digital marketing strategies which include Content Marketing, SEO, PPC Management, Lead Generation, Customer Acquisition, Sales Prospecting, Social Media Automation, Email Marketing, Graphics & UI/UX Designing, Website Design & Development,eCommerce Development, and Predictive Analysis.
Role & Significance of AI in Digital Marketing
In recent years AI has become a significant part of various digital marketing activities. Without the application of AI, it's very difficult to effectively implement core digital marketing strategies such as content development, customer acquisition, communication, lead generation, sales prospecting, SEO, PPC management, retargeting, and real-time tracking of all your digital channels. 
One thing's already established here, almost all digital marketing activities are semi-automatic. So, AI tools are highly necessary to run digital marketing campaigns or execute effective strategies.  
Your digital marketing campaigns heavily depend on how effectively you can use AI tools to improve the productivity and operational efficiency of your digital marketing strategies.
So far we've discussed the importance of AI in Digital Marketing, in the next section you will get to learn how you can use AI to improve each aspect of your Digital Marketing strategies to rapidly scale up your business growth.
How to Leverage AI to Improve the Implementation of All Your Digital Marketing Processes?
To enhance the implementation of your Digital Marketing processes you will have to use AI in different ways for each aspect of your Digital Marketing strategies. This section is an effective guideline to help you understand the proper use of AI to rapidly improve all the core digital marketing processes. 
    1. Content Marketing
Let's face an ugly truth here, content marketing is tedious! Especially because you need to be creative to produce value-packed content to entice your target audience, which requires a lot of planning, research, and several hours of workload. 
Whether it's producing text-based content like blogs, articles, case studies, eBooks, or image, video, and audio content, it takes a significant amount of time, effort, and resources. 
The biggest bottleneck of manual content creation is human limitations, but with the help of AI tools, you can seamlessly automate many rigorous content marketing processes.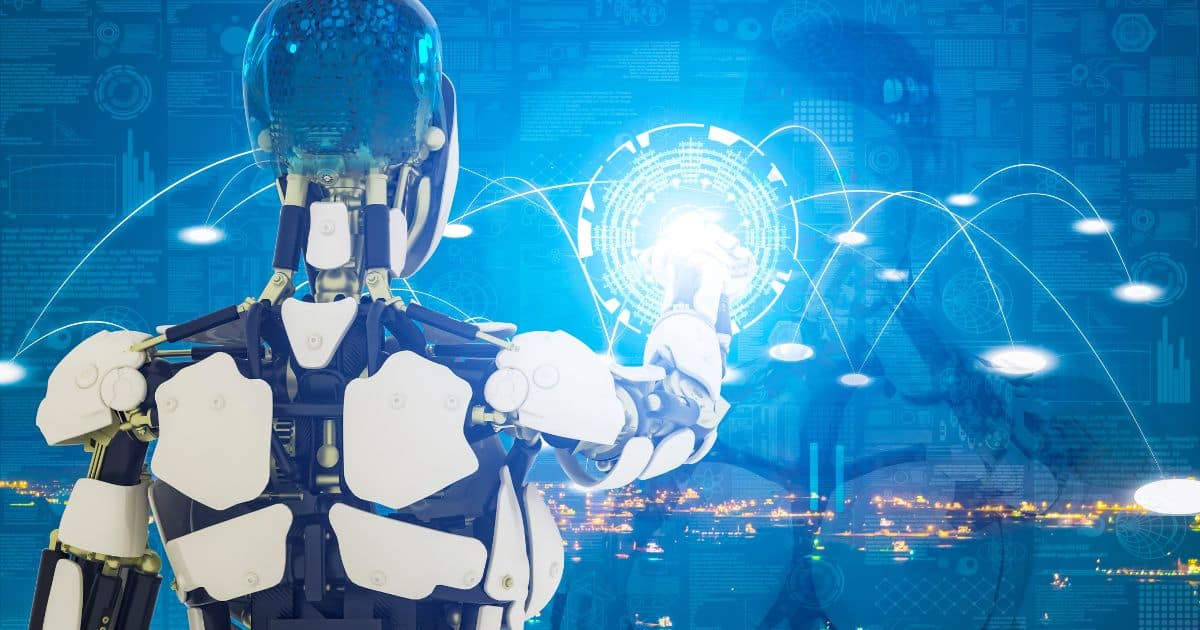 Starting from the process of generating a content plan to creating effective content drafts, all of it can be done using generative AI tools like ChatGPT and Bard. 
What's even more fascinating is that many digital marketing tools are integrating the GPT algorithm in their content marketing tools to effectively automate AI content creation and development. 
Apart from ChatGPT and Bard, there are other content marketing tools like Jasper.AI, Copy.AI, Anyword, and more. 
By using these AI tools you can automatically create full-fledged content from scratch, and you can even automate social media, email, digital ads, website, and sales copywriting, simply by inserting prompts to generate and develop content. 
To create impactful and captivating video and audio content you can use AI tools like Design.AI and Speechify. These tools can turn your written scripts into full-fledged videos and podcasts.
So, you can generate interesting scripts using ChatGPT or Bard and then simply copy-paste the script into tools like Design.AI and generate compelling marketing videos within 2 minutes. 
Of course, you can tweak, edit and optimize your content to make it more personalized for your audience, but the fact that you can create all forms by just inputting prompts is beyond amazing! 
Disclaimer: Be careful when you're generating and developing content using AI, it is important to review them thoroughly to make sure the information is accurate. However, it is highly recommended to take help from AI to generate content so it's best to have it properly tweaked and optimized by Professional Content Marketers to avoid consequences and penalties due to AI plagiarism.
    2. SEO
It is impossible to conduct SEO without automation, specifically because it requires in-depth website analysis, frequent site audits, real-time tracking of SEO metrics, keyword research, comprehensive backlink analysis, and technical optimization. 
All of these processes require the use of AI-powered SEO tools like Google Analytics, Google Search Console, Bing Webmasters, Ahrefs, SEMRush, Surfer SEO, Frase, and more. By using these tools you can automate keyword research processes with the help of AI. 
Plus, you can also generate relevant, compelling, and high-value meta tags, and image alt text using Surfer SEO, Frase, along with generative AI tools like ChatGPT, Bard, Jasper.ai, etc. 
Automating these SEO writing processes will increase productivity, and significantly boost the efficiency of your SEO campaigns. 
You need to use each of these SEO tools to analyze your website's SEO metrics and optimize your website accordingly to enhance its position in the search rankings. 
If you want to improve your website's organic search visibility, you must ensure that it ranks among the top listings on the first page of search results. 
According to Hubspot research, 75% of online users never scroll past the first page of search results, and among them, most of them consider visiting the top 5 search listings. 
In another study by BrightEdge, it was found that 68% of all online experience begins with a search engine, and 53% of all website traffic comes from organic search results. 
So, if you want to scale up your brand awareness, and attract more qualified leads then it is vital for you to highly prioritize SEO. And, the most effective way to conduct SEO is to leverage the benefits of specialized AI-powered SEO tools. 
Even though there are many AI-powered SEO tools, it is essential to hire Professional SEO experts to conduct effective SEO. Most AI-powered SEO tools are not beginner friendly, so it's best to hire specialized experts to take your SEO game to the next level with these AI-powered SEO tools. 
    3. PPC Management 
Running a PPC campaign isn't a walk in the park, it's not limited to just paying for higher sponsored visibility. There are so many things that you need to maintain here which involve creating highly targeted ad copies to guide search engines and social media algorithms.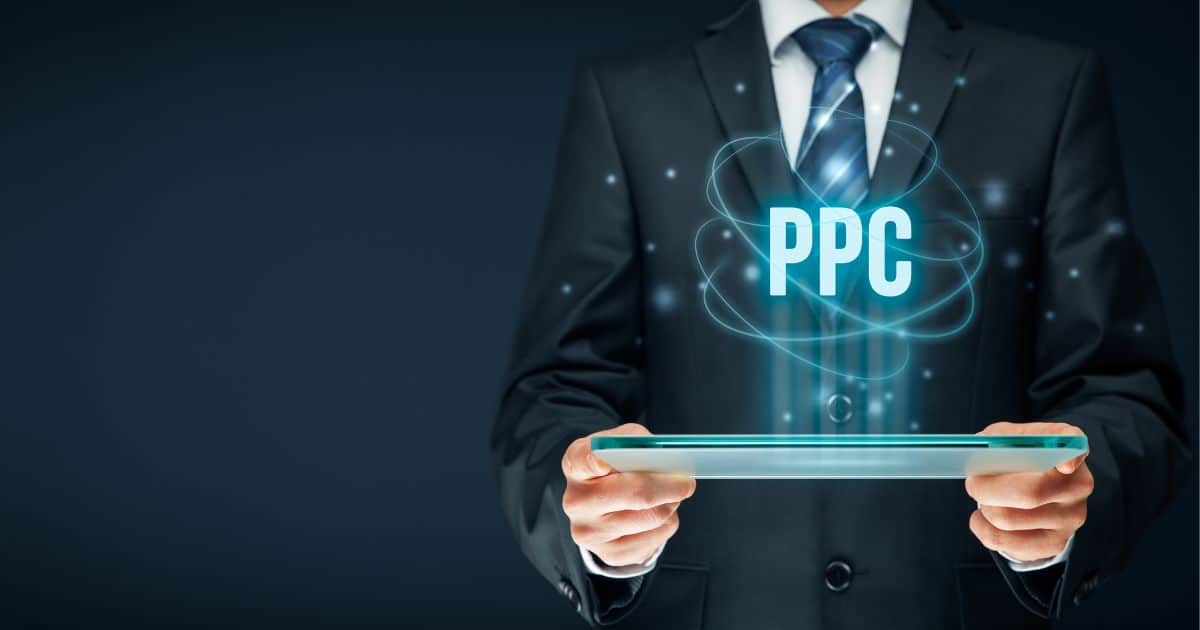 Not to mention, you also need to create high-quality content that adds value to your intended audience. Depending on the type of content, it also needs to have visual elements like images, GIFs or short videos to create customer appeal. 
It also requires consistent tracking, monitoring, and frequent optimizations, along with an effective retargeting setup to boost your online presence. 
To do all these tasks, it is necessary to use multiple AI tools. You can use content marketing tools like ChatGPT, Bard, Jasper.ai, Copy.ai, and Design.AI to automatically produce ad copies, headlines, descriptions, and custom scripts for PPC account optimization along with visual and audio content. 
It is not just enough to produce content, you will also have to optimize your ad copies using the right keywords. You can use SEMRush and Ahref's keyword tools to find potential keywords to optimize your ad content. 
You can even analyze keyword and content gaps to optimize and scale up your PPC marketing strategy. Alternatively, you can also use Google Keyword Planner which is highly effective for finding keywords for PPC marketing.
Automating keyword research processes using AI will significantly improve and scale up your ad optimization processes with enhanced productivity and operational efficiency. 
Recently Google has rapidly upgraded Google Ads and made them AI-powered. By using the newly AI-powered Google Ads you can track, monitor and run your PPC campaigns more effectively. 
PPC management isn't something that's fully automated, but the combined use of multiple AI tools can make your ad campaigns more effective, efficient, and profitable. 
    4. Lead Generation
There was once a time when generating leads was such a hassle as you would have to spend several hours browsing through the web and social media to find potential leads. 
On top of all that acquiring their contact information was extremely challenging. But now there are some robust AI tools to automate lead generation. All you have to do is provide some details and the AI tools will acquire thousands of highly potential leads within seconds.
You can use AI tools like Hunter and Reply.io to find numerous potential leads by simply inputting the industry, geographic location, and any other information available, and the tool will automatically generate tons of qualified leads, along with their website link, and contact information such as phone number and email address. 
By using these AI tools you can save an ample amount of time, and marketing budget on trivial tasks like lead generation and rather focus on more important matters that require the use of specialized skills and tactful decision-making.
Most AI lead-generation tools are not just limited to finding leads, you can also automatically create personalized email drafts and social media messages to convert them. 
    5. Customer Acquisition
By integrating AI you can drastically improve your business's customer acquisition model, and it can also bring down costs significantly. 
You can automate key digital touchpoints by integrating AI chatbots throughout your website to grab the attention of your target audience, especially important web pages like the home page, product page, and contact page. 
After setting up these chatbot bots using your customized inputs, they will be able to interactively engage with your target audience in a personalized style. 
You can include FAQs and problem-solving queries to help your target audience interact with the chatbot and instantly find the answers to their queries. If they need more information, they can also chat with the AI, and as it's integrated with the GPT 4 model, the AI can interact promptly and engage just like a human representative. 
You should also set up notifications so that your customer care executives can take over if the inquiries require more specialized and specific information. 
But on the bright side, there are many queries and concerns that AI can instantly solve, and for that, you don't need to involve your dedicated customer care representatives. 
Besides, it's very difficult to manage people to stay online 24/7, even if you have representatives present to interact with your customers in different shifts yet there's a risk of delayed response.
According to Hubspot Research, most customers expect businesses to respond within 48 seconds on live chat, which is less than a minute. If it's delayed more than that, it can annoy potential customers and motivate them to switch to other businesses. 
That's why it is super important to ensure that your customers get to actively engage without any delay, and the best solution here is to integrate AI chatbots like ChatSpot.ai or other similar AI tools. 
    6. Sales Prospecting 
Sales prospecting can be challenging at times. You need to engage with each potential customer using a personalized approach, specifically addressing their pain points and how you can help them. 
Whether you're reaching out to your potential customers via email, social media, public forums, marketplaces, or any networking site you need to have a strong and compelling sales pitch. 
Even if you're an expert or got this specialized sales team to carry out comprehensive sales prospecting, it can be difficult and time-consuming especially when your sales representatives have to deal with many prospects. 
But now that will no longer be an issue, thanks to generative AI like ChatGPT and Bard. All you have to do is, write a specific prompt and these AI tools will automatically generate a sales pitch or proposal for you.
Here's a screenshot below with an example of how you can generate an email template for your sales proposal using ChatGPT.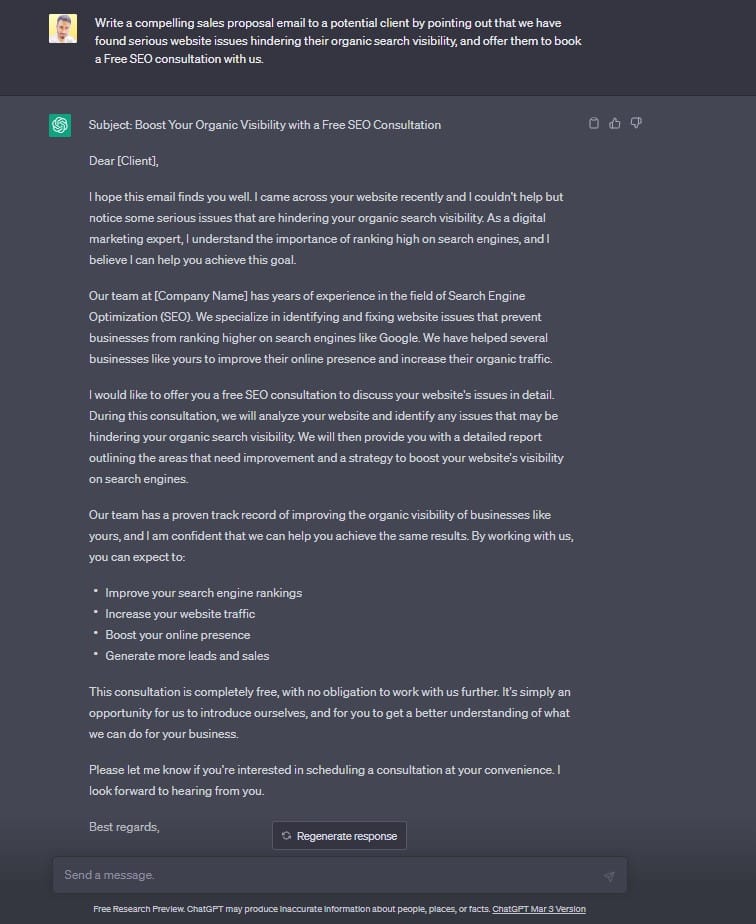 Screenshot of generating an email template using ChatGPT
Similarly, you can even generate social media messages using simple prompts, you can even generate personalized responses to emails or social media chats using ChatGPT. 
Simply copy-paste the original message on ChatGPT, and provide a prompt like "write a response". The prompt here's just a simple example, you can do it your way. 
But make sure to check whatever the AI tools like ChatGPT or Bard generates, so that you can tweak and edit necessary changes. 
Overall, generative  AI tools can make sales prospecting 10x faster, easier, and more efficient. If you want to try more comprehensive AI prospecting tools you can check out Sales Einstein. It's integrated with the GPT model, along with robust sales automation features. 
    7. Social Media Automation
If you look into the statistics of the total number of users on social media in 2023, it's over 4.9 billion, whereas the world population is 8 billion. And, it's increasing day by day, and by the year 2027, it is expected to reach 5.85 billion or more. 
Over 63% of customers expect businesses to actively engage over social media comments and chats, and 90% of social media users are already connected with businesses on social media. 
So, businesses must prioritize actively responding to their target audience on social media. And, the best solution here is to automate the core aspects of social media marketing to improve customer engagement and relationships.
It is also necessary to automate the tracking of customer behavior and engagement to improve your social media marketing efforts. 
You can use Sprout Social's AI automation features to integrate chatbots, message prioritization, automated post scheduling, and response, along with active tracking of various social media metrics.
In a nutshell, you can leverage the following benefits by using AI-Powered Social Media Automation. 
Increased Customer Engagement

Improved Customer Satisfaction

Increased Conversions 

Revenue Growth

Positive Brand Impression 
    8. Email Marketing
Email marketing is still one of the most widely used digital marketing practices globally, especially because it's to the point, structured, and contains specific information to effectively communicate, establish and build strong relationships. 
There are certain aspects of digital business where emails are irreplaceable, like sending an invoice to customers or reminding them to carry out a particular task like signing up for a particular event or booking a product/service in advance which they added to their wishlist. 
Email marketing is also very prominent for cold outreach, and it's also effective for sending newsletters, reports, brochures, and compelling offers like discounts, vouchers, free trials, and more. 
Especially when it comes to businesses, it is necessary to send bulk emails to many customers and key stakeholders on a regular basis. 
By using generative AI tools geared toward email automation, you can seamlessly create personalized drafts and send numerous emails within a few clicks. 
You can even generate email responses instantly within seconds. Plus, you can automate your email responses for multiple purposes like confirming orders, booking consultations, setting up meetings, and more. 
To automate your email marketing campaigns you use comprehensive AI email automation tools like Flowrite and Instantly.ai, or you can alternatively use ChatGPT and Bard to generate email templates, killer drafts, and epic responses. 
    9. Graphics & UI/UX Designing 
It's amazing how fast technology is evolving with the innovation of generative AI. Now with the help of AI Text to Image generation tools like Midjourney and Dall-E, you can seamlessly create logos, images, and even full-fledged UI/UX designs for websites and apps. 
All you need to do is, input specific prompts on these tools. It will automatically create high-quality visual elements that you can use on your website, app, social media, and other digital platforms. 
You can even instantly generate infographic content using AI tools like Beautiful.ai. It's amazing how you can instantly create designs in seconds using simple text prompts. 
By leveraging modern text-to-image AI tools it is possible to revolutionize your marketing strategy to a whole new level. Let's not forget one thing here, these designs might need editing, enhancement, and optimization using advanced graphics designing tools. 
But in a nutshell, it can save you time, budget, and a lot of effort which required complex use of various editing tools. You can even use these tools to generate sample designs and modify them aligned with your company's branding. 
    10. Website Design & Development
Website design and development involves a combination of different skill sets such as website copywriting, creating designs, and technical aspects which include coding.
With the help of generative AI tools like ChatGPT and Bard, you can write compelling website copies and even generate codes for website development.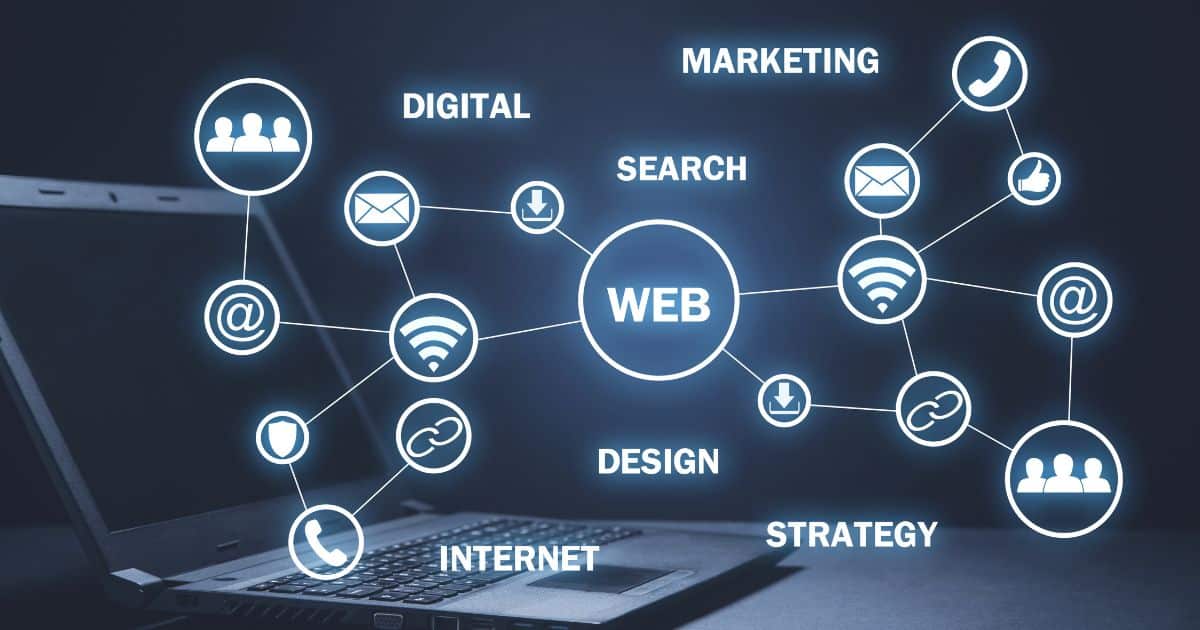 And for generating designs you can use MidJourney, Dall-E, and other text to image generative AI. 
The fact that you can create, develop and optimize a full-fledged website using a few generative AI tools is simply amazing. This will save you and your team a lot of time, and budget which you spend on more important and creative matters. 
However, these AI tools should only be used by marketing professionals, designers, web developers, and other technical experts. 
It's fascinating that generative AI can help us create, develop and optimize websites but then again only specialized experts can make the best use of these AI tools. 
The most amazing part here is that it can make your digital marketing strategy a lot more efficient, as you can optimize, update and improve your website at a much faster rate. 
    11. eCommerce Development
You can use a range of AI tools to rapidly improve your eCommerce development. You can integrate AI-powered Virtual Assistants into your websites to help customers find their desired products and services instead of having to go through different pages on your website. 
Unlike a regular search bar, customers can interact with the virtual assistant to suggest products and services that they're looking for. And, the virtual assistant will automatically suggest the most suitable products based on the inputs in the chatbox.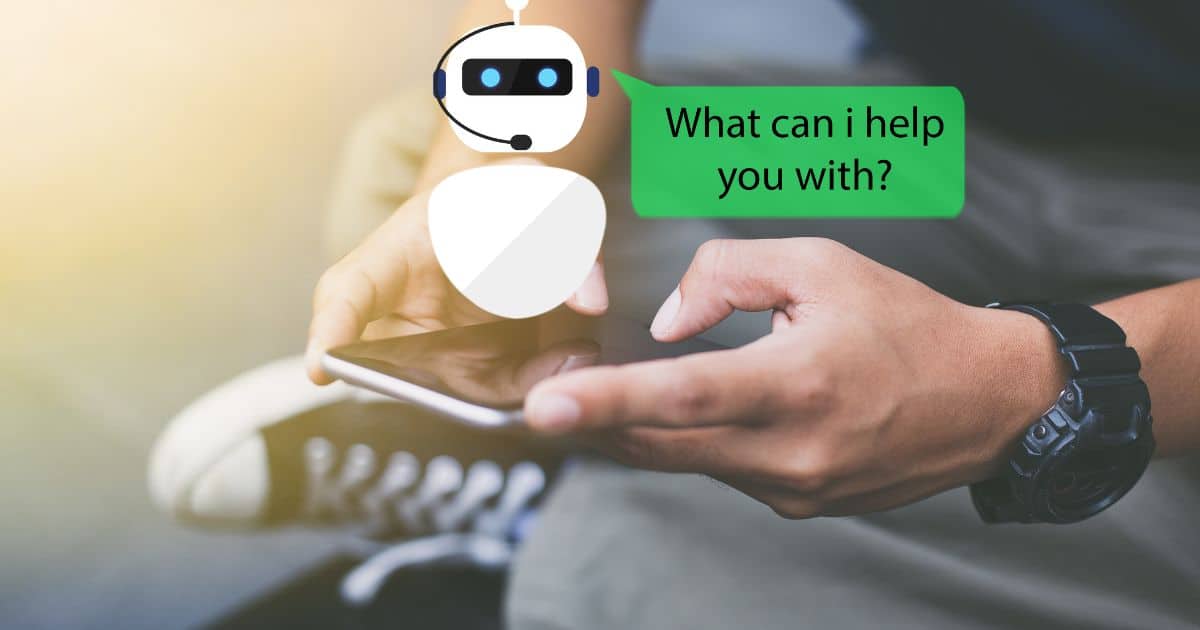 These virtual assistants like Tidio can even send images, videos, and relevant web page links to help customers pick the right products, along with information on the order delivery and shipping status. 
You can prompt these AI virtual assistants to offer discounts, vouchers, and other lucrative deals to encourage increased sales conversions.
Setting up a virtual assistant like Tidio is easy, just sign up on their website, and follow the steps to integrate it into your website using the website extension and plugin.
Here's another important suggestion for eCommerce businesses, the price of products can change due to various demand factors. Maintaining a dynamic pricing strategy is difficult especially if you do it manually, so to integrate automated dynamic pricing you can include AI dynamic pricing tools like Sniffie.io and the tool will automatically set data-driven pricing.
On another note, when it comes to robust eCommerce marketing it is crucial to make sure that you've unique, helpful, and value-packed product descriptions. To do that, you can use generative AI tools like Jasper.ai and ChatGPT. 
It's not possible to create numerous product descriptions within a short time but with these generative AI tools, you can do it in seconds. This will help you improve your organic search visibility and also attract more potential customers. 
    12. Predictive Analysis
Whether it's your website, social media, or any other digital conversion point it is vital to frequently optimize them to enhance your business's online presence and visibility. 
That's why it is important to conduct predictive analysis to determine particular aspects that need improvement,  especially based on your customer behavior and how they interact with your business's website, social media, and other digital touchpoints. 
By using AI predictive analytics tools like Google Analytics and Salesforce Einstein you can automatically analyze how your target audience is interacting with your digital channels. 
Based on the information, trendlines, and data sets provided by these AI-powered tools you can easily identify and forecast customer behavior patterns. 
This will help you take effective strategic decisions to determine how you can enhance your brand awareness, online visibility, conversions, and sales revenue. 
The biggest advantage of predictive analytics tools is that they will automatically generate all sorts of crucial insights to help you better understand your customer journey without any manual effort. 
Although these tools are user intuitive to an extent yet they're not entirely beginner friendly. So, we'd recommend hiring Digital Marketing experts who are familiar with these analytics tools. 
What are the Top AI Marketing Tools for Digital Marketing? 
There are many AI marketing tools available online, and each of them is designed for unique purposes. We have listed the Top 20 AI Digital Marketing Tools with detailed explanations of their uses, features, and benefits. 
Some of those tools have already been mentioned here in this article like ChatGPT, Bard, MidJourney, Dall-E, Salesforce Einstein, etc. 
To help you find the right AI tools required for your business's digital marketing we have listed the top 20 AI Digital Marketing tools in 10 different categories which include Text to Image AI Tools, Text Generation AI Tools, Language Processing AI Tools, Email Automation AI Tools, Social Media AI Tools and more. 
Finals Remarks 
The digital marketing landscape is drastically changing, and it's high time to adopt the comprehensive use of AI to significantly improve your digital marketing efforts. 
By following this AI Digital Marketing guide you will be able to determine how you can effectively use AI to rapidly scale up your business's digital marketing efficiency. 
Plus, it will help you enhance your competitive dominance, and establish your online presence on a whole new level.
Integrating useful AI tools can be an absolute game changer for all your digital marketing campaigns as it can lead to higher online visibility, increased conversions, and higher revenue growth. 
Regardless of the fact that AI has some major perks like machine learning capabilities, marketing automation features, and robust analytics functionalities yet they need human operators. 
No matter how well they can communicate, generate content or predict customer behavior patterns they still need to be properly used. That's why it is crucial to hire Digital Marketing Experts who can effectively use these tools in the right way to leverage their maximum potential. 
If you need help in automating your Digital Marketing campaigns using AI and growing your business to new heights then book a Free Digital Marketing Consultation, and one of our experts will get in touch with you soon!