Even though it's the 21st century the era of tech and AI revolution, many companies yet fail to ensure the job satisfaction of their employees. 
According to recent statistics, it was found that 60% of employees are detached and disengaged from their work and 19% happen to be miserable. The main reason behind this is, most employees feel that the management does not recognize and appreciate their efforts. 
In fact, 66% of employees are likely to quit their job due to feeling undervalued and unappreciated by the management.
Many managers fail to acknowledge that it is important to recognize and periodically reward sincere, hardworking, dedicated, and deserving employees. It is a psychological human requirement to feel appreciated and valued for any effort or contribution.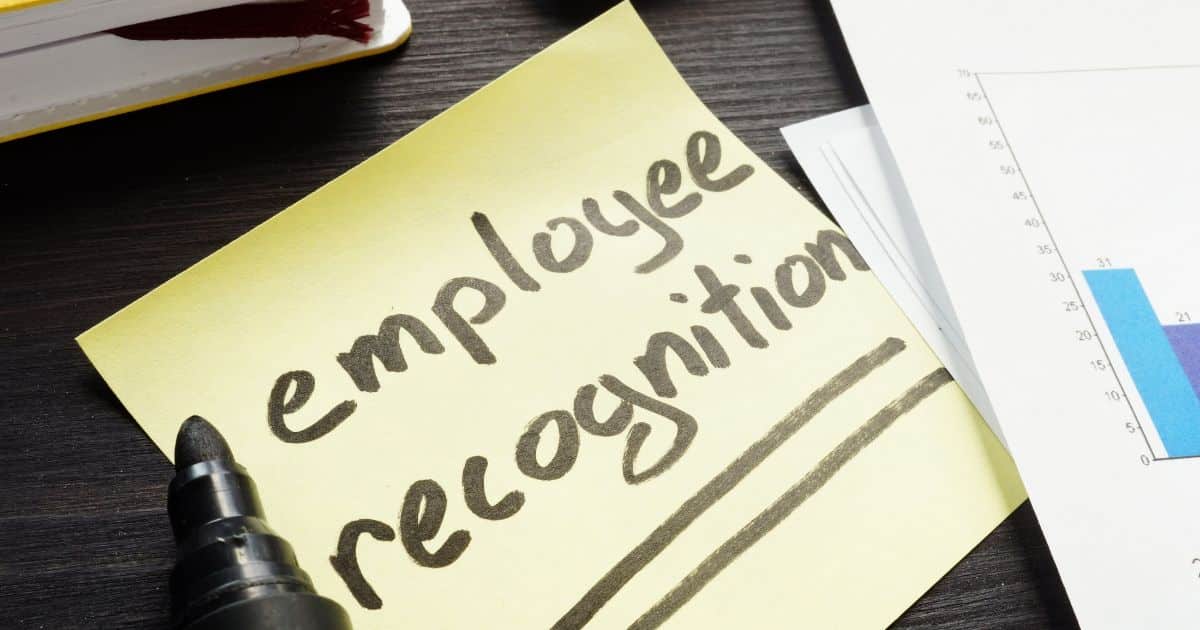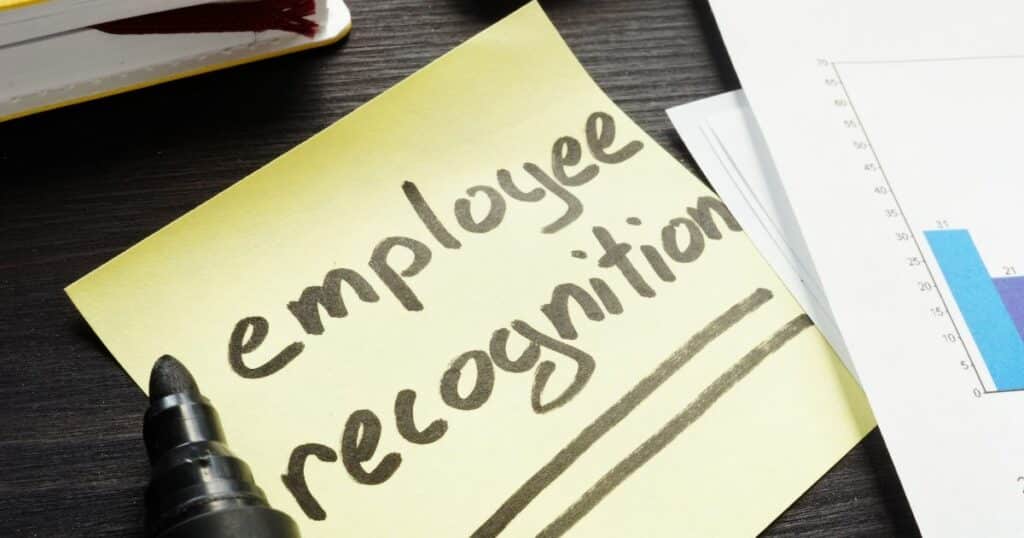 Although in recent years, a lot of senior managers are starting to realize that most employees quit due to a lack of recognition of their contributions. 
54% of senior managers have agreed that the leading cause of employee turnover is a lack of recognition and appreciation. And, 91% of HR professionals agree that employees are more likely to stay longer in a company where their contributions are well recognized and appreciated.
In another research, it was found that 65% of employees are willing to give more effort at work if their contributions are recognized by the management and their peers. 
Evidently, recognizing and rewarding employee contributions will significantly increase job satisfaction, employee retention, engagement, and productivity.
The most effective way to ensure and improve employee recognition is to have a proper employee recognition program to boost employee morale. 
It is crucial to have an active employee recognition program that delivers timely recognition and rewards to all deserving employees.
Many employees feel that managers only recognize and reward their favorite employees. It is vital to establish an employee recognition program that's transparent and represents an equal opportunity recognition culture. 
Integrating a full-fledged automated all-in-one peer-to-peer employee recognition program is the ultimate solution to effectively reward employees of all levels.
There are many automated employee recognition tools available, but according to our thorough review and analysis Recognize is by far the best peer-to-peer employee online tool for automated employee recognition and reward distribution. 
In this article, we will introduce you to Recognize, discuss its features, integrations, pros, and cons. Plus, we will present its public reviews and ratings, along with a comparative analysis to help you better understand why it is considered the top online solution for employee recognition.
What is Recognize?
Recognize is an all-in-one peer-to-peer online employee recognition tool designed to seamlessly automate an active and transparent employee recognition program within an organization for both centralized and remote employees.
It comes with a whole range of comprehensive features to simplify complex recognition and reward processes to make your employee recognition program easy, efficient, fun, and engaging for every employee in your company.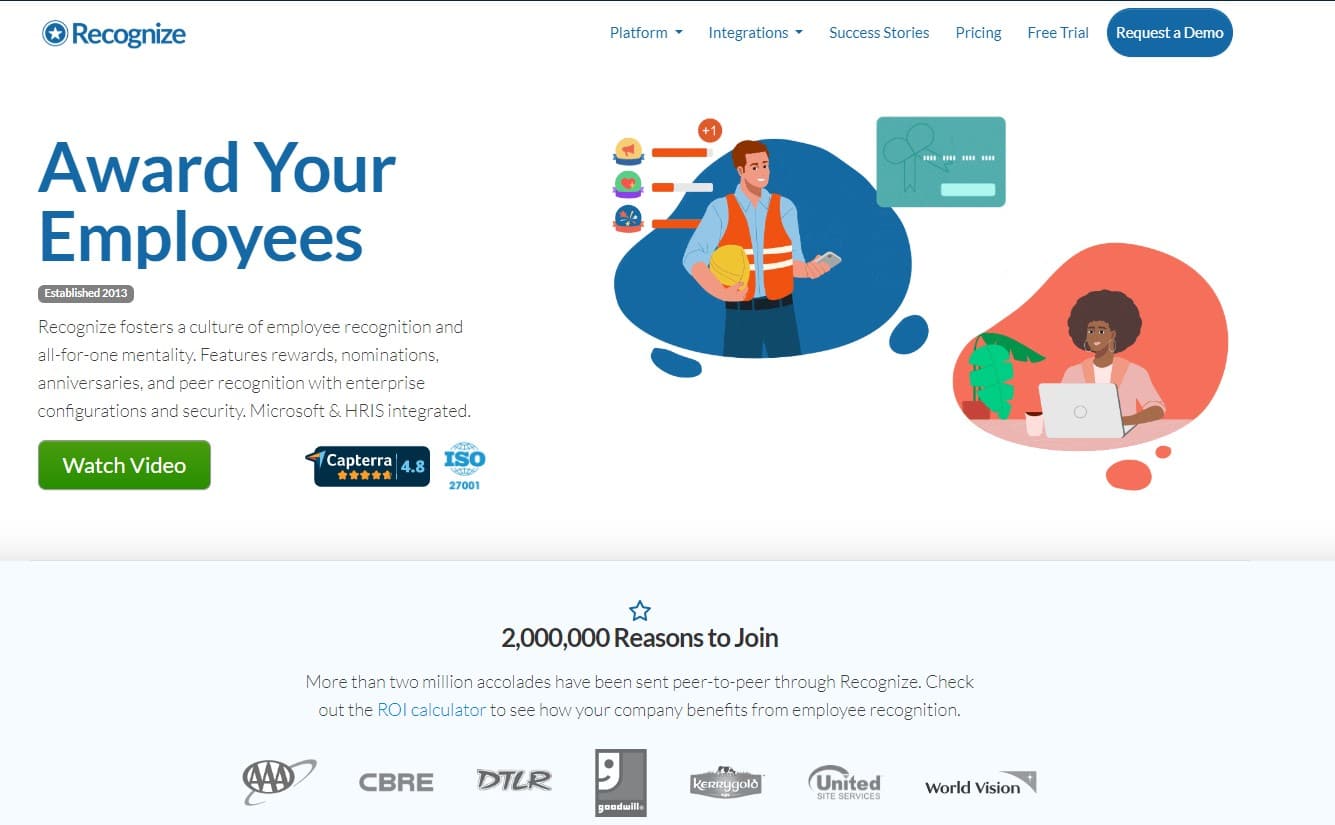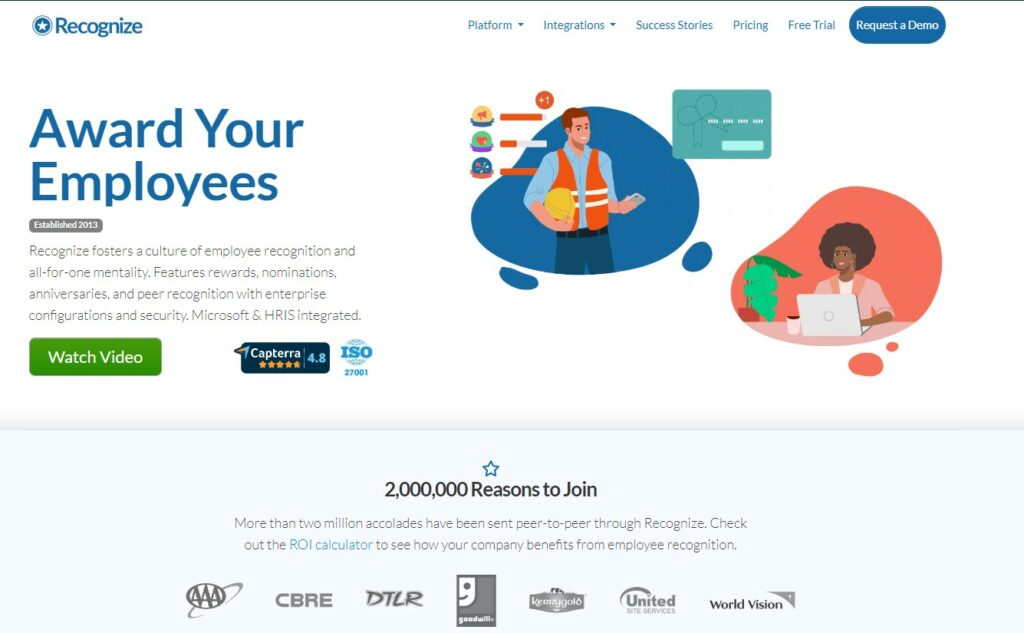 Features & Integrations of Recognize Employee Recognition Program
Recognize comes with a broad range of features to seamlessly streamline your employee recognition and reward program which include the following,
1. Social Gamification
Every employee in the company can publicly recognize their peers, subordinates, and even superiors by giving them reward points, badges, awards, and certificates to make them feel valued and appreciated in its built-in social media-like platform. 
Alternatively, the company also has the option to integrate Recognize with third-party popular social platforms like Office 365 (Yammer), Sharepoint, Workplace by Meta, Outlook, Microsoft Teams, & Zapier to acknowledge their peers in a public manner. 
2. Extensive Rewards Program
Recognition is better acknowledged and appreciated when you add certain monetary rewards and non-financial benefits. Employees can share their appreciation and make each other feel valued by gifting points, vouchers, cash bonuses, badges, etc.
Recognize has an extensive global rewards program that allows companies to create their own rewards program that aligns with company culture and values. Gift vouchers, cards, and other monetary rewards can be redeemed from many countries worldwide. The list of countries includes many countries in North America, Europe, and the Middle East, along with Central, and South Asia.
3. Nomination
Interestingly employees have the opportunity to nominate their peers for career milestones and outstanding achievements. And other employees in the company can cast their votes for the most deserving employee to get exclusive titles like employee of the month, quarter, year, and so on. 
The overall experience can be extremely rewarding and motivating as employees of all levels can openly participate and vote for the nominations. Such fun programs can drive increased engagement, and encourage active social participation. 
4. Service Anniversaries & Birthday Greetings
Managers can seamlessly automate reminders, and send personalized wishes and gifts to employees on special occasions like birthdays, work anniversaries, Christmas, New Year's Eve, Eid, and other holidays in private emails and public posts. 
Every employee in the company will also get automated reminders to wish their peers and coworkers. 
5. Incentives 
Managers can offer lucrative incentives like reward points or redeemable currency to encourage employee participation in certain tasks.
Incentivizing tasks can help the management foster healthy competition among employees and motivate them to be more productive and responsible. Once the employees complete the task they can claim the reward and redeem it. 
6. Single Sign-On (SSO)
Employees can seamlessly sign into Recognize from their existing Google, Microsoft, Okta, and Amazon accounts in a single click. They don't necessarily have to go through the hassle of creating a separate ID and password on Recognize.
The SSO feature is designed to improve convenience and enhance secured accessibility through various third-party integrations such as AWS, Azure, Okta, One Login, Amazon Web Services, and more.
7. Recognize Teams
Recognition and rewarding facilities are not just limited to individual employees. Recognize has an interesting feature to recognize and reward groups and teams. 
Additionally, managers can even create leaderboards to rank team members based on their performance. Just like any workspace social platform, the featured appreciation will appear on the feed of all employees, so everyone can view the acknowledgment of outstanding team performance.
8. Company Admin Dashboard
The company admin dashboard provides the managers with complete control over the company's employee recognition program. With this dashboard, the management can create and customize their own recognition and reward system aligned with the company values.
The dashboard also provides comprehensive analytics and reports on recognition programs and activities. Admins can monitor recognition trends, oversee participation rates, and identify the top performers.
To ensure accurate trend analysis, the management dashboard has the option to produce and download periodic reports.
Integrations: 
Recognize integrates with the top communication tools, HRIS, and IT development platforms to provide a comprehensive employee recognition program, which includes the below.
Communications: Sharepoint, Yammer, Gmail, Workplace by Meta, Microsoft Teams, Outlook.
HRIS: BambooHR, Microsoft Azure AD
Project Management: Asana, Jira, Trello, Google Spreadsheet
IT Development: Github, iOS & Android
Here's a more detailed overview of Recognize's features and integrations to help you learn more about the comprehensive solutions the platform offers.
Pros of Recognize
Beginner Friendly

Easy to Use, Control & Manage

Comprehensive Customization Features

Extensive Global Rewards Program

Robust Admin Dashboard System

Integrated with Popular Third-Party Business Solutions

Facilitates Communication and Collaboration

Boosts Social Engagement with Peer-to-Peer Features

Offers Multiple Recognition Options; Points, Badges & Rewards
Cons of Recognize
May not be affordable for small businesses as these reward programs will cost financial investments

Peer-to-peer recognition can result in conflict between employees if it's not managed properly
Ratings & Reviews:
Recognize has an average rating of 4.8 out of 5 on multiple popular review sites such as G2, GetApp, and Capterra, which means 80% of its reviews are positive. 
Here are some of the recent user reviews of Recognize: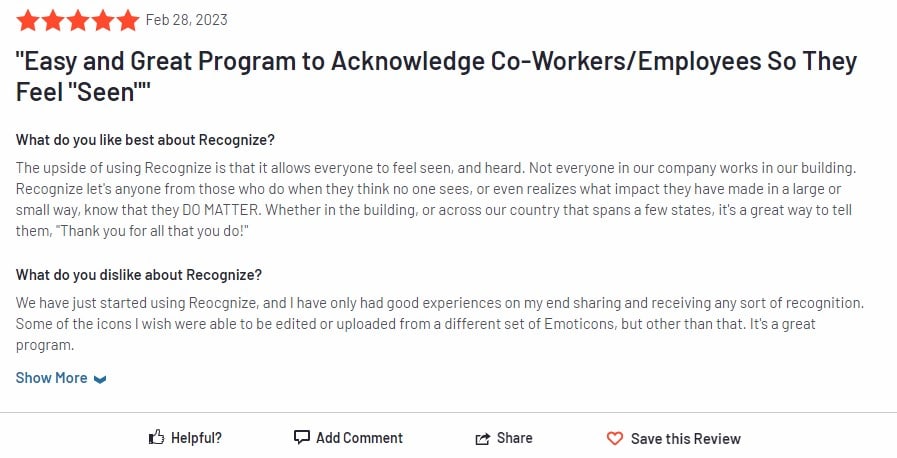 Source: G2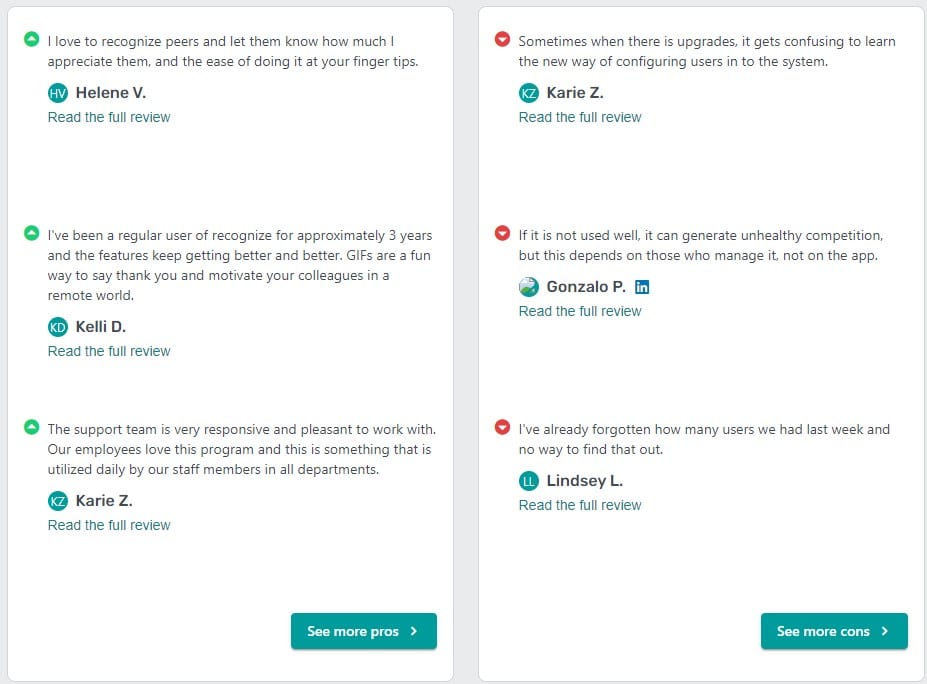 Source: GetApp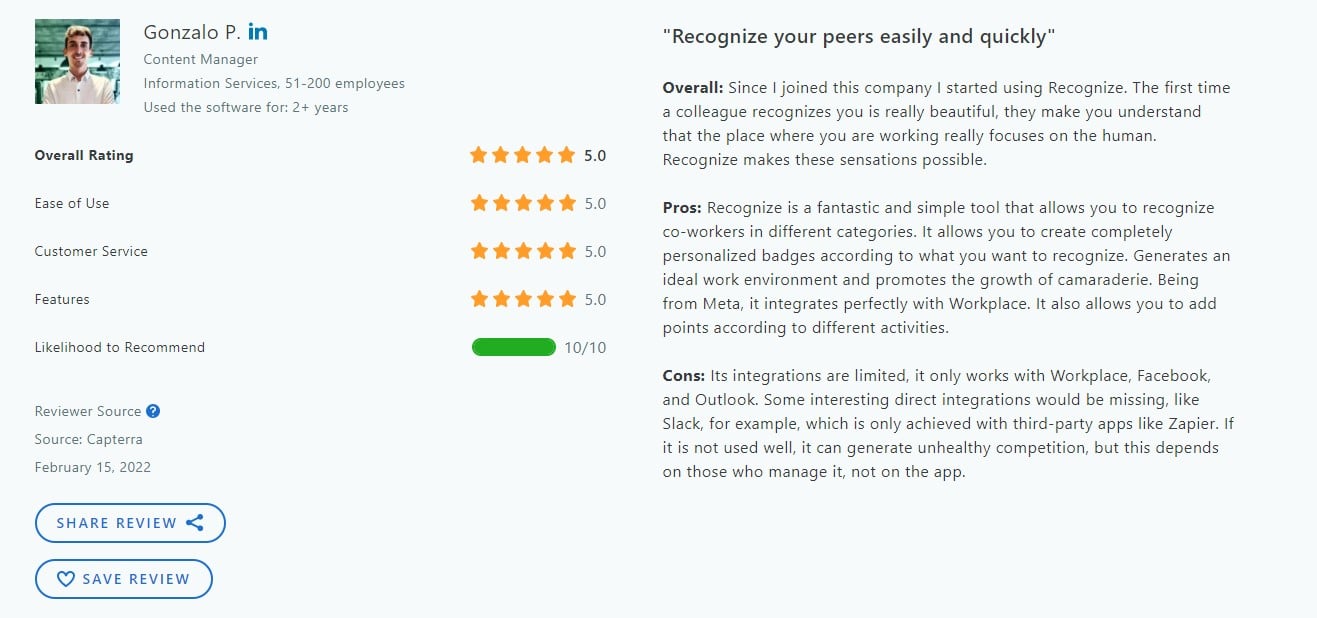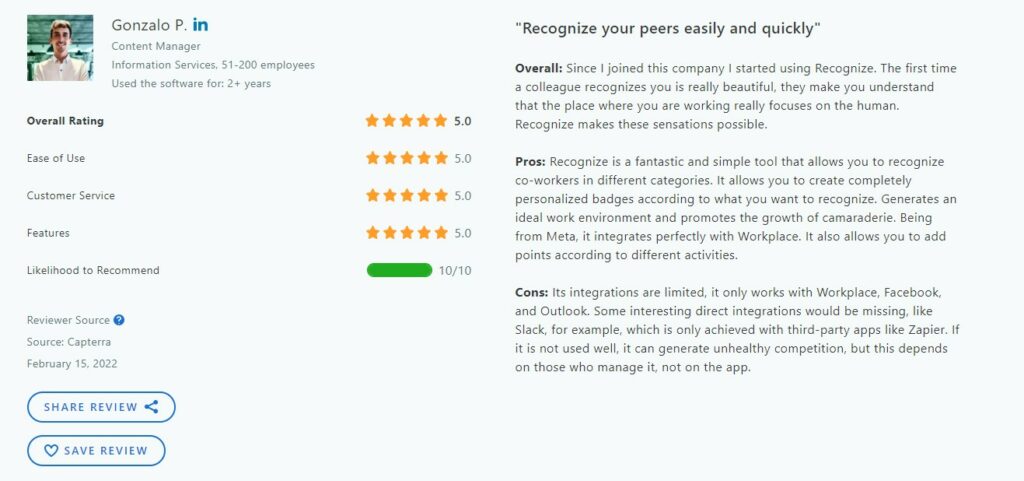 Source: Capterra
Comparative Overview of Recognize
There are many employee recognition programs available online but very few offer such comprehensive features as Recognize. This tool offers an all-in-one solution for businesses of all sizes to manage a super-effective, fun, and collaborative employee recognition program.
And, the best part is unlike other tools in the market, it's very affordable and has free trial options for businesses to evaluate its features and benefits. 
To get a more detailed comparative review, you can check out our article on the 5 Best Employee Recognition Software Platforms to Use in 2023. Based on our thorough analysis and review, Recognize ranks as the #1 online employee recognition tool. 
The review contains a detailed comparative analysis to help you understand why Recognize dominates the top position, in terms of usability, features, and price.
Final Remarks
Undoubtedly Recognize provides the ultimate solutions to manage a fully automated employee recognition program.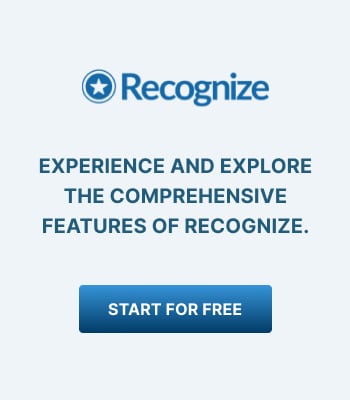 Whether it's useful for your business or not will entirely depend on various factors like your business's size, culture, budget, and how tech-savvy your managers and employees are. Most importantly whether they have to use social media platforms and peer-to-peer programs to communicate.
In a nutshell, businesses that are digitally connected through social platforms, and require extensive online resources will find Reconize extremely useful.
Even if you're interested, it might be confusing with all the options available online, so we'd recommend taking advantage of their free trial offer to evaluate whether it's truly beneficial for your company.