You might be wondering why the B2B Customer Acquisition Strategies that have worked out smoothly before are not so effective now. Attracting customers and converting them is never easy. But now, it is more difficult as businesses need to keep up with the massive development of digital technology and also focus on customers' current expectations. 
Are you aware of the B2B customer acquisition strategies best suited for the year 2022? 
Once you become familiar with the new strategies, it will be easier for you to decide the customer acquisition strategies that your business needs. 
This article has discussed 9 major customer acquisition strategies and how they can improve your business.
A quick question as we proceed:
Are you aware of the current trend in the B2B sector? 
Let's look into the recent statistics and stay up-to-date with the current market conditions.  
B2B CUSTOMER ACQUISITION OVERVIEW
The acquisition of customers in the B2B sector is more challenging than B2C, as the target group is driven by logic, facts, and statistics rather than emotion. So to grab their attention, you need to show forecasts, results, and realistic outcomes, all backed up by relevant data.  
According to a recent survey conducted by Aberdeen Group on B2B purchase decision, it was found that:
77% agreed that before making a purchase decision, they conduct a detailed ROI analysis.
78% agreed that they spend more time researching purchases.
75% agreed that they use more sources to research and evaluate purchases.
And in another research conducted by Google on the changes in B2B Marketing, the statistics suggest that:
Almost half of all B2B researchers are millennials 
Non-C-Suite/Level Employees influence B2B purchase decisions

81% of non-C-suite employees influence purchase decisions.
71% of B2B researchers do a generic search; 12 searches are done before discovering a specific business' site. This means that B2B researchers search for not only the brand but also the product.
The use of mobile devices for B2B research is increasing rapidly.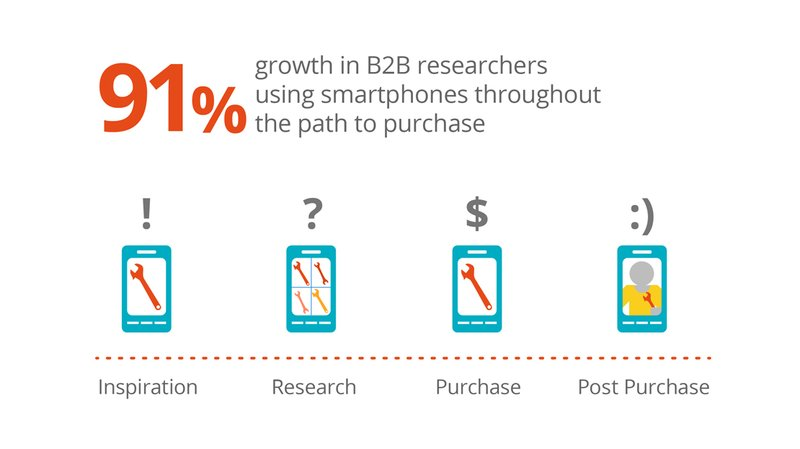 71% of B2B researchers watch videos before their purchase decision.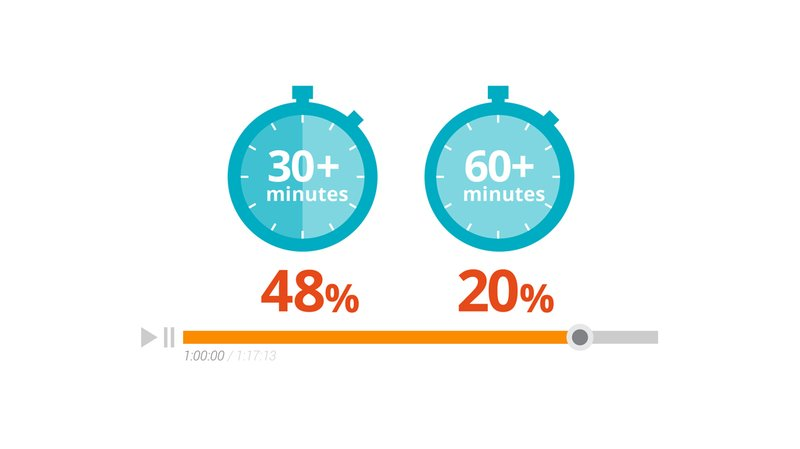 The above is the average Watch Time of B2B related videos.
9 MAJOR CUSTOMER ACQUISITION STRATEGIES
When it comes to B2B Customer Acquisition Strategies, it is important to identify which strategies your business needs. 
Certain strategies that are working tremendously well for your top competitors won't necessarily work for your business. 
Every business has its own set of core competencies. The reason is not all businesses have the same capability. Make strategies by calculating your budget, availability of assets, skills, and capabilities of your employees. To make the most effective strategy, you can use the  SMART goals framework for starters. 
Hence before strategizing, you need to understand which of these 9 B2B Customer Acquisition Strategies are most relevant for your business. 
1. Search Engine Optimization
SEO is an effective method to attract potential customers. Search engines generate results based on specific keywords.  This makes it easier for you to target the people who are precisely interested in your product or service. 
The goal is to increase your website traffic generated from the search engine results to achieve more leads, ultimately higher conversions, thus higher sales and revenue.

According to Google Research, as mentioned above, 71% of B2B researchers search for the product or service itself rather than a particular brand. It is essential to make sure your business website appears on the first page of the search engine results because 75% of internet users abandon their search after scrolling through the first page.

Remember, B2B customers search online extensively before their purchase decision. So, to be in the running for their attention during their decision-making process, your business' website must appear on the top search engine page results (SERP).

As SEO is an organic method of improving online search traffic, its only downside is, taking a bit longer, as a couple of months, before your efforts show results. 
But the biggest advantage is once your SEO efforts come into effect, you can expect a generation of massive online traffic from search engines to your website. 
As more customers are likely to come across your site, the scope of conversion will increase immensely.
2. Content Marketing 
It is common pattern for B2B researchers to compare multiple options before reaching a buying decision. So it is essential to do thorough keyword research. 
Content marketing and SEO in this aspect go hand in hand, as the search engine algorithms generate results based on specific keywords. These keywords are found on web pages, blogs, and other written content on your website. 
The primary objective here is to strategize and create the content so that they appear on the top SERP.

After being discovered on the top SERP, your business will become a considerable option for your target audience. But why will they choose you over your competitors? 
This is where content marketing comes in. The primary purpose of content marketing is to attract leads looking for valuable information. 
Although this is common knowledge, content comes in various forms like blogs, e-books, informational pages, infographics, videos, and audibles such as podcasts.

Content marketing is super effective because it helps potential customers understand the quality of your product or service and how it will benefit them. Your content needs to be created in such a way that it delivers precise contextual information about your product or service and its value. 
The main goal here is to convince your audience that your products or services are better than your competitors'. If you can do that effectively, you will undoubtedly have a competitive advantage over them. And this will increase the scope of conversions.

Moreover, another advantage of having quality content generating higher search traffic. People prefer quality content. This makes quality content something that can keep them on your website for a longer period.
So, if the average amount of time spent on your website increases, then search engine algorithms will identify the website in an upward trend. This will benefit your SEO, as your website will have a much higher chance of appearing on the top SERP. So, again content marketing and SEO both complement each other.

If we talk about costs, effective content marketing can reduce Customer Acquisition Costs (CAC), the amount of capital invested on marketing and sales to acquire new customers. 
For example, if you have numerous content on your website or across other platforms, there are existing contents that are already getting you new leads. Therefore, you don't essentially have to invest more to retrieve new customers. 
In other words, your previous work is paying off further results. This is the beauty of content marketing. This is a long-term strategy and can keep on benefiting you more than you have anticipated.
If you are still not convinced, let's look into the statistics below,
"After reading recommendations on a blog, 61% of online consumers in the U.S. then decided to make a purchase." (Content Marketing Institute)
"According to 74% of companies surveyed, content marketing has increased their marketing leads, both in quantity and quality." (Curata)
"Video content can help provide a great ROI and significantly increase conversions, according to 72% of businesses surveyed." (CrazyEgg)
"Inbound marketers can double the average site conversion rate (from 6 to 12%), in part due to their content marketing efforts." (HubSpot)
3. Email Marketing 
In many instances, after going through your website, your potential customers get interested and want to communicate with you to know more details about your product or service. 
In this regard, they include their email address on the form located on your website or perhaps subscribe for an email newsletter or updates. 
This means they are willing to be contacted. Or they can take an additional step and directly email you regarding their interest or query.

Although email marketing is not a direct customer acquisition tactic, it is one of the most effective follow-up methods. Now, it is your turn to effectively communicate with your potential customers and ensure that they get the response that would spur them to acquire your product or service.

Aside from this, email marketing is also heavily used to send reminders to both existing and potential customers about current offers, promotions, product/service-related guidelines, after-sales service, and much more. 
B2B Email Marketing Statistics: 
4. Affiliate Marketing 
Affiliate Marketing is a method of customer acquisition in which 3rd party marketers promote a business's products or services in exchange for a percentage commission per sale. 
This strategy is effective because affiliate marketers already have an existing network of potential customers. Affiliates use word-of-mouth marketing tactics to attract potential customers. 
They typically promote businesses by posting content on their webpage, blog, apps, or uploading videos on rich media sources such as YouTube, Instagram, etc.  They can also send referral emails to drive a particular niche to your business.

They have already built credibility in the industry, so when they recommend your brand. The chances of B2B Customer Acquisition are much higher as people value the opinion of the affiliate marketers. 
Right now, your potential customers may know little or nothing about your business. But after the affiliates inform them and recommend your products/services, the chances of choosing your business over your competitors are higher.

According to recent research statistics,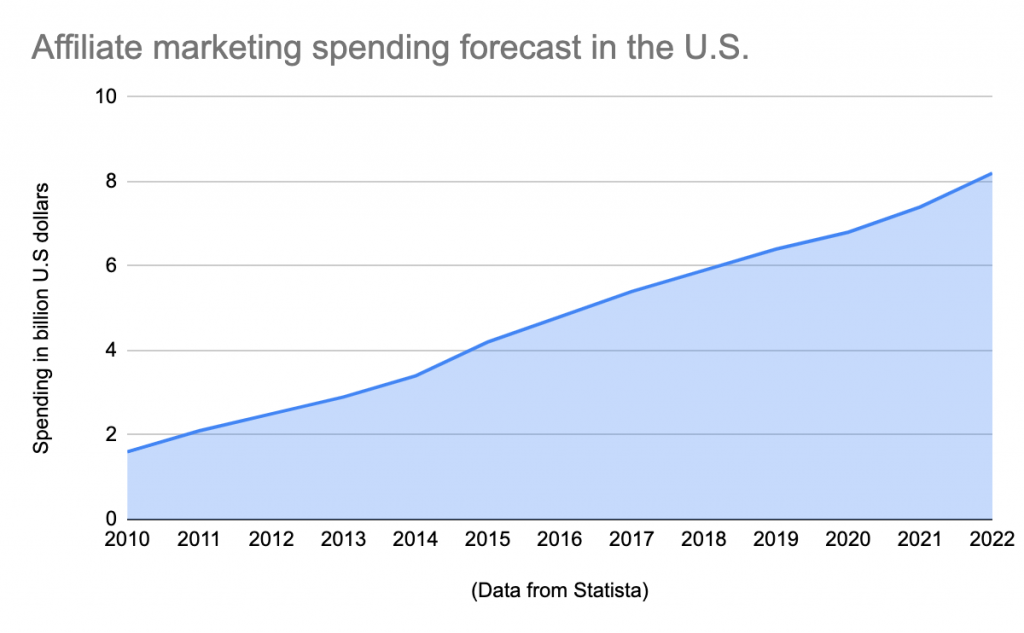 81% of advertisers and 84% of publishers in the U.S. have turned to affiliate marketing
As per Google Trends, the search interest for Affiliate Marketing has increased by over 200% since 2015.

The largest affiliate networks have over 100k active affiliates. 
Some of the largest affiliate networks include: 
Amazon Associates: 900,000+
ShareASale: 700,000+
Awin: 205,000+
ClickBank: 100,000+
18.6% of Affiliate Marketers are actively involved in B2B Marketing. As B2B Marketing is more complex than B2C, Affiliate Markets in the B2B sector are heavily skilled with a large pool of corporate networks.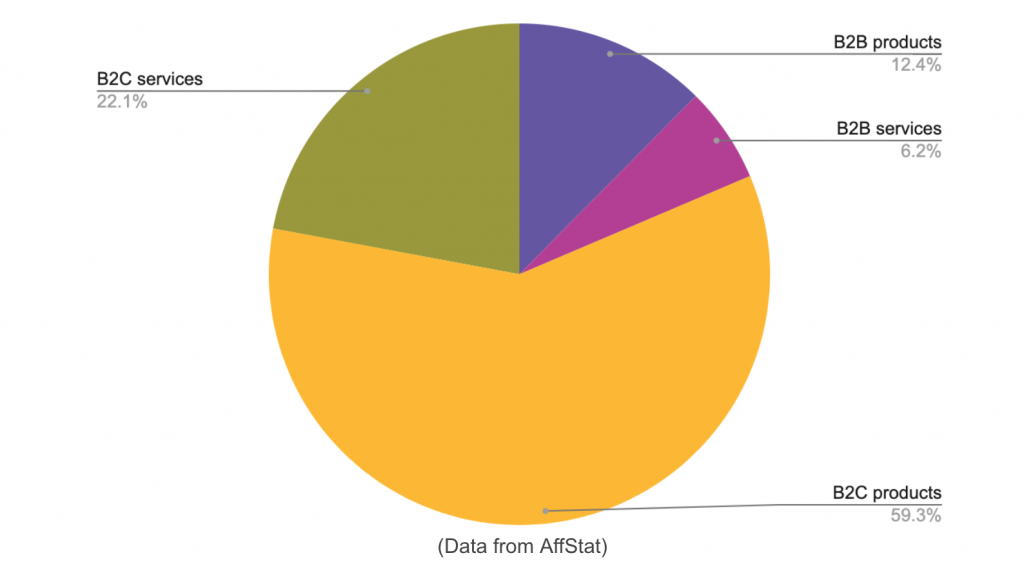 18.6% of Affiliate Marketers are actively involved in B2B Marketing. As B2B Marketing is more complex than B2C, Affiliate Markets in the B2B sector are heavily skilled with a large pool of corporate networks.

According to Statistica, the largest affiliate coupon website generates over $1 billion in revenue. 
You are absolutely on the right page if you need help acquiring top affiliate marketers. We are one of the most trusted and reputable Affiliate Management Agencies globally. Learn more about our world-class affiliate management services. You can also sign up for Free Affiliate Management consultation with our experts. 
5. Social Media Marketing
The popularity of social media sites such as Facebook, Twitter, Instagram, LinkedIn, etc., has rapidly increased.  According to recent research by Statista, it was found that 82% of the US population has social media accounts.
83% of B2B businesses use social media as one of their marketing tools. And over 70% of B2B businesses use the 4 big social media sites; LinkedIn, Twitter, Facebook, and YouTube, as per recent studies. 
According to the same study, 50% have stated that their marketing performance has improved, whereas 25% said it has contributed to an increase in revenue. 
Social media sites such as LinkedIn can be used to actively communicate with other businesses ranging from Executive level to C level. Networking on LinkedIn is significantly easier as the filtering option allows searching based on geographical location & industry. You can even post engaging discussions, which can also attract potential business clients.

Then there is Twitter, where you can market your business using keywords, especially hashtags. The audience of Twitter is more direct, and the posts are precise. 
If you can attract your target market, obtaining leads from Twitter can be an effective approach for your social media marketing. On the other hand, recently, businesses have been engaging and actively promoting their brand on Facebook. 
Instagram is a rapidly growing social media for social media marketing as the number of influencers on Instagram is increasing. The chart below illustrates how many Instagram influencers are currently trending for their followers. Influencers, in other words, are affiliate marketers actively present on social media.


With the right set of social media strategies complemented by effective implementation, it can certainly help you acquire B2B customers and also broaden your industry network. Not only will it enhance goodwill and brand value, but it will also help you source future clients.
Furthermore, social media is one of the best platforms to keep an eye on your competitors. Sometimes, it can also be a wise tactic to target your competitors' clients.
6. Pay Per Click (PPC)
PPC is an advertising method used to drive traffic to the website for a certain amount of payment to the publisher whenever the ad is clicked. 
This makes PPC a budget-friendly approach as you can set your budget and run ads. PPCs are typically run on Search Engines such as Google, social media sites such as Facebook, Instagram, Twitter, LinkedIn, YouTube, etc.

But remember one thing, PPC does not mean your site is guaranteed to appear first or above your competitors. PPC complements the other Digital Marketing strategies, especially SEO and Content Marketing. So, if your website is poorly optimized and if the contents lack quality, then Search Engines such as Google may not promote your website in the first place.

According to recent statistics, the average ROI for Google Ads is 200%. PPC ads can increase B2B Brand Awareness by 140%. Moreover, according to Statistica, it has been reported that 20% of businesses have claimed that PPC itself has brought the highest ROI compared to any other digital marketing strategy.

Examples of PPC Ads on Google: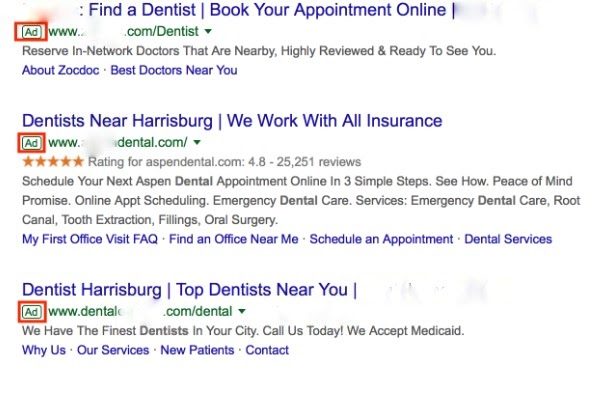 7. Free Trials 
Most businesses will say yes to free trials. And if your product or service benefits the business, then there is a high chance it will create dependency. So, this is a recommended marketing tactic to prove to your potential customers that your product/service can provide the value as promised. 
Statistics in recent years indicate that B2B businesses offering free trials managed to get 66% conversions on average. The same study pointed out that businesses that offered coupons secured a 22% increase in customers' subscriptions. Another research showed the same outcome. 
However, you need to ensure that your free trial program does not give away all the value. Because the objective of free trials is to attract customers and create a level of dependency on your business's product or service. So that the potential customers feel that they need your product or service in the long run. The objective here can be both customer acquisition and retention. 
8. DLCs 
Downloadable Content such as e-books, case studies, and business reports can attract potential customers who want to know more about your business. 
At this stage of the marketing funnel, they are interested in knowing about past outcomes, or they want a detailed guideline or a preliminary forecast of sales. So, quality DLCs can secure deals and elevate your brand value. 
According to recent Hubspot statistics, it has been reported that 99% of users check their emails 20 times. So if you can attract your target audience with DLCs, this will also increase the prospect of higher sales conversion of potential customers. 
If your potential customers are signing up for DLCs such as guidelines or case studies, this means that they want to know more about your business.
The ultimate goal of DLCs is to provide your customers with in-depth information, increase interest level, build trust and persuade them to acquire your premium services. 
So, if you can prove to them that your business portfolio, guidelines, or case studies can add value to their business, you will get higher sales conversions. 
9. Webinars
This is an effective marketing approach to showcase your brand, share credible knowledge or extensive research or share the business experience as guidelines.
The most significant advantage of webinars is the ease to deliver the information on live video, plus it also allows you to engage with a larger audience. 
Furthermore, there is also the scope of two-way communication during the Question-Answer session. 
Recent research shows that, 
So, are you ready to gear up your B2B Customer Acquisition Strategy?
The combination of these 9 strategies is super effective. 
Implementing all the strategies suggested above will aggressively improve your B2B customer acquisition strategy and achieve expected business growth in 2022. 
You can even combine some of the strategies based on your research or preference, especially with SEO, Content Marketing, Social Media Marketing, Affiliate Marketing, and PPC. 
If you are still confused and need advice, our Digital Marketing experts are ready to help you. Book a Free Digital Marketing Consultation today!