If you're looking forward to growing your business, SEO is the ultimate digital marketing strategy at your disposal. Especially because customers heavily rely on search engines like Google and Bing to find information, products, and services. 
In fact, 68% of all online experiences begin with a search engine and 81% of online shoppers use search engines to make purchase decisions. 
Moreover, according to Google, 71% of B2B researchers use search engines and start with a generic search and 90% of B2B customers rely on search engines to inquire about their purchase decisions.
Google alone processes over 99,000 searches per second and about 8.5 billion searches daily with an active user base of more than 4 billion people or more. 
This means that without emphasizing SEO, you're in jeopardy of losing major opportunities to attract a huge number of potential customers.
So, it is crucial for your business to prioritize SEO to establish and enhance your online presence. But that's not possible without producing high-quality SEO-optimized content. 
It's true that SEO isn't just limited to writing but without writing you can't do SEO. Ultimately content and SEO go hand in hand, they complement and fulfill one another. 
In this comprehensive guide, you will learn what SEO writing is, why SEO writing is important, 12 crucial steps in creating SEO-optimized content for blogs, and 6 effective tips for writing landing pages. 
This article is a complete guide to help you create high-quality SEO-optimized content to boost your search visibility to a whole new level. 
What is SEO Writing? 
SEO writing is the process of creating and optimizing your content to enhance its scope of ranking among the top results on the first page of search engines like Google and Bing. 
The process of SEO content writing mainly includes identifying the search pattern of your target audience by creating high-value content to meet their search query. 
So to get started with SEO content writing you will have to conduct extensive research to identify topics and relevant keywords that fulfill your target audience's search intent.
Based on that you will have to write highly informative and value-packed content in a captivating and engaging style. 
The main gist here is to provide information that adds value to your content by tactfully using high-potential keywords to help the search engine determine that your content is relevant and helpful to your target audience.
Why is SEO Writing an Important Aspect of Digital Marketing?
No matter how good your content is, it won't rank unless it's SEO optimized. That's why SEO writing is vital to improving your online search visibility. Especially if you want to position your website among the top search results. 
According to Hubspot's research, most online searchers never scroll past the first page of search results, and among them mostly the top 5-7 search listings get clicks. 
If you manage to rank on the top search results, then you're likely to get 28% more clicks on average, as the #1 search result gets 27.6% of all clicks on Google. 
SEO writing has a dual purpose, which sets it apart from typical content writing. Not only does it aim to create high-value content that is useful for your target audience, but it also strives to help search engines better understand your content.
In a nutshell, integrating SEO content writing can be a game changer to boost your business's online presence to a whole new level. Google has over 200+ ranking factors and content happens to be the most important of all. 
So, SEO writing is not just super important but it's a mandatory requirement to outrank your top competitors and position your website among the top search rankings. 
12 Steps to Create SEO-Optimized Content for Blogs
By writing blogs you can discuss certain topics that your target audience is interested in, especially the information that they are searching for. Creating blogs is a super effective SEO strategy to leverage the opportunity to rank on the top search results and make your site more appealing to your target audience.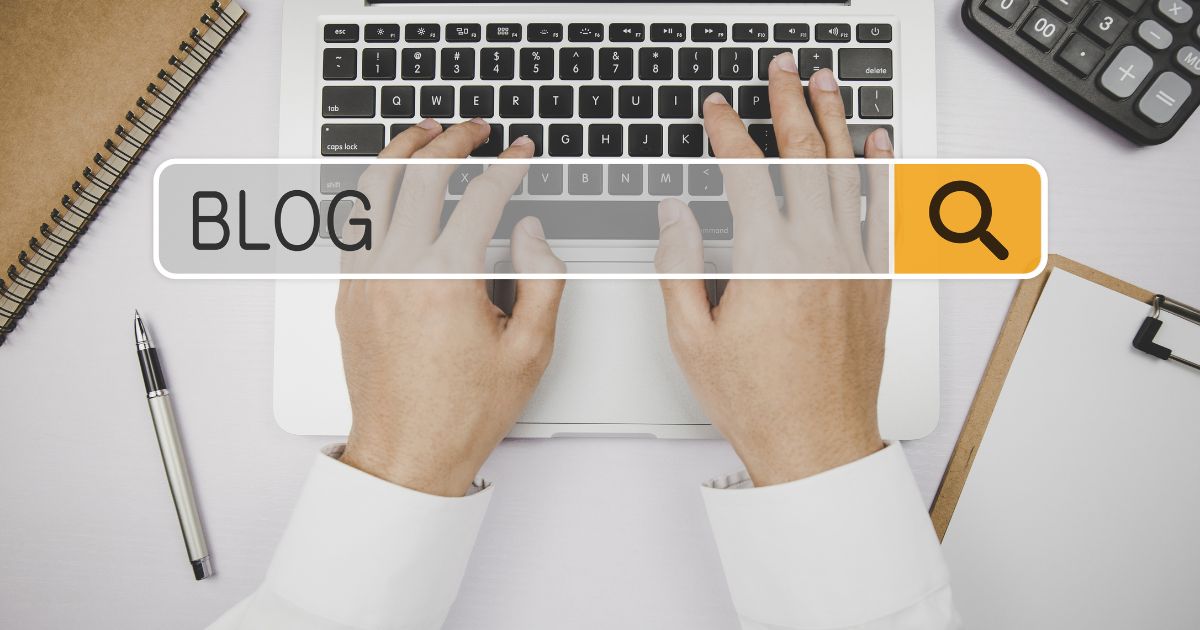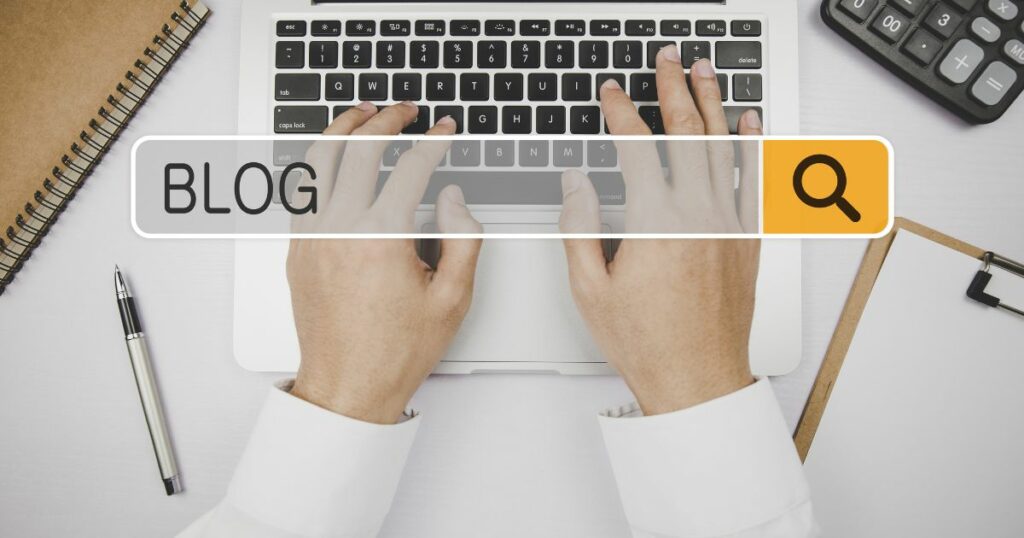 Here are 12 key steps for creating SEO Optimized Blogs,
    1. Generate Topics Relevant to Your Target Audience
The purpose of SEO writing is to make your website more visible to your target audience. And, the most effective way of doing that is coming up with topics for your blog posts that are relevant to their search query. 
Search engines generate the most relevant search results based on the searcher's intent. So, you have to ensure that your blog covers content that is relevant and helpful to your target audience. 
Producing relevant and high-quality blog posts will help search engines understand that your website is helpful to your target audience, and creating content that adds value to your target audience increases your chances of ranking higher on search results. 
Here are some tips that you can use to generate the most relevant topics for your target audience, 
Use online platforms like

AnswerthePublic

and

SEMRush Topic Research

tools to find a wide range of topics that people in your niche search regularly. 

To find trending topics in your industry use

Google Trends

, it's a powerful tool to identify what your target audience has been searching for recently.

Search the problems people face in your industry, and generate content topics to highlight those issues with valuable tips and a comprehensive guide to resolving them. 

Generate topics based on your own experience on how you dealt with certain issues, overcame them, and achieved your goals. 

Create educational content about your products and services to help your target audience understand how it can benefit them. 

Conduct Extensive Market Research to find topics that add high value to your target audience. 

Analyze your top competitors and see what topics are they coming up with, and identify whether they're helpful to your target audience. 

Communicate with your target audience and customers to identify topics that appeal to them.
    2. Find Potential Keywords
Now it's time to find the right keywords for each of the topics that you've generated for your blog posts. Keywords rank differently across countries, mainly due to the differences in search patterns and culture. 
For example, people in the USA prefer to use the word "soccer", whereas people in the UK prefer to use "football" instead. 
Now the target audience in both countries might have the search intent to find more information about the ball or they may be interested in purchasing it, but due to the cultural and regional differences, the search pattern widely varies. 
Therefore, the keyword rankings are significantly different in these two countries. Similarly, the search phrase can also vary from country to country due to wide differences in search patterns. 
So, whenever you're conducting your keyword research it should be country-specific. Keyword research tools usually have the option to select a particular country. But you can also view the keywords that are ranking on a global scale. 
Google, Bing, and other conventional search engines generate results by identifying keywords or phrases that are relevant to the searcher's query. So, it's crucial to use keywords effectively on your blog to boost your search rankings. 
But while you're at it make sure to refrain from keyword stuffing. Keyword stuffing is the practice of filling keywords unnaturally, especially by using them in a way that doesn't make sense nor produces any value. 
The gist here is to use keywords in a meaningful way. According to Google Search Central, keyword stuffing is strictly prohibited, and applying such methods can lead to search engine penalties. 
Getting a search engine penalty can get your site deranked, deindexed, and banned from ever getting enlisted in its database. It's possible to recover from search engine penalties but it can't be guaranteed. 
Plus, it's very complex, time-consuming, and can be expensive depending on the level of challenges and complications. If you're a victim of Google Penalty, then you can read our constructive guide on fixing this issue.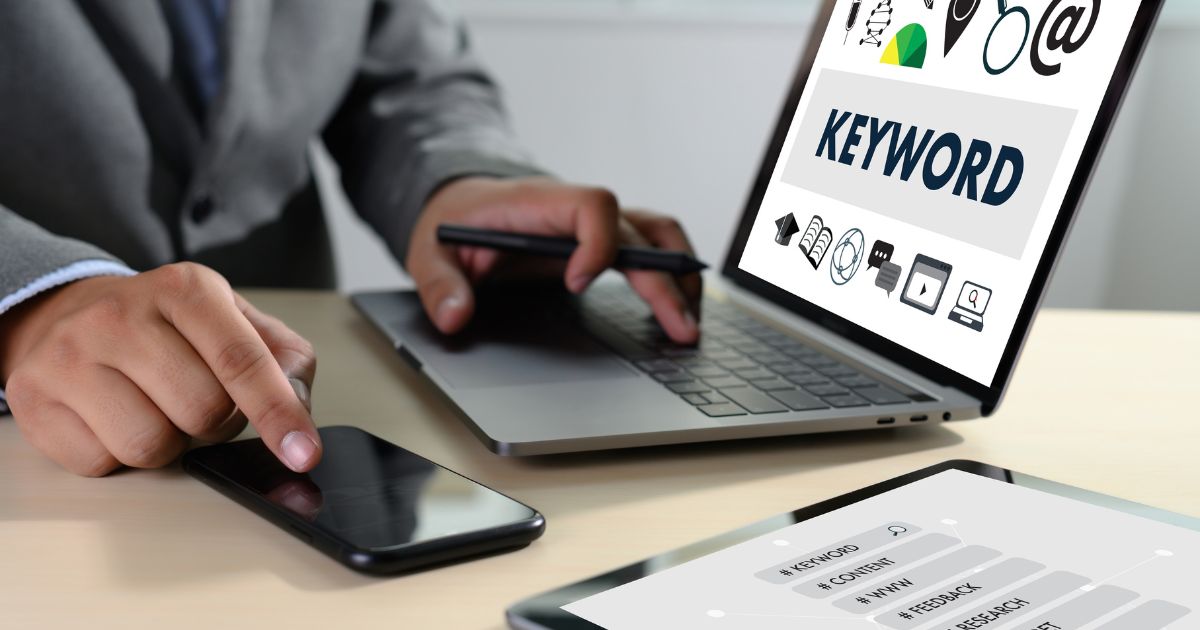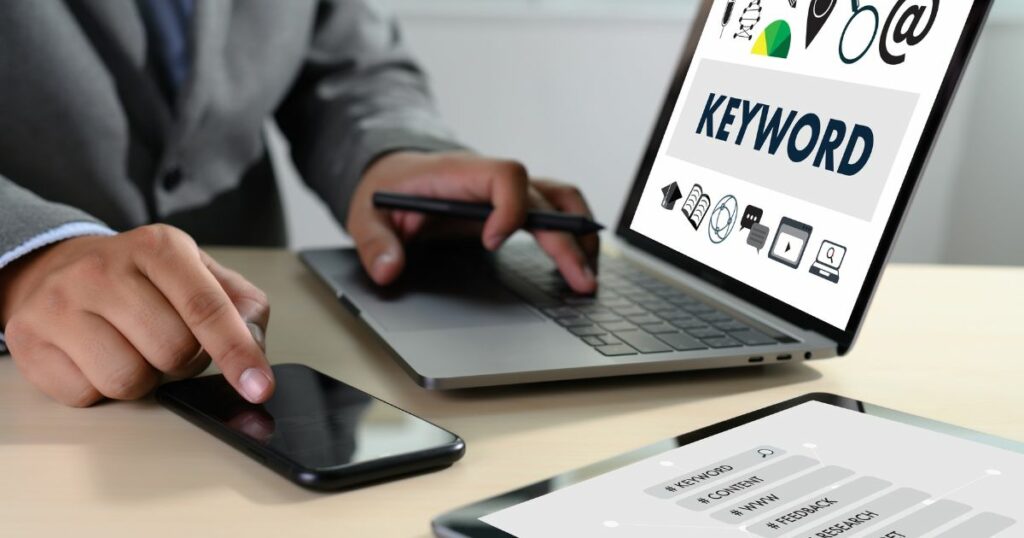 Here's our suggestion to help you find high-potential keywords for your blogs,
Use Keyword Research Tools 
You need to use keyword research tools like Ahrefs, SEMRush, Ubersuggest, or Google Keywords Planner to find potential keywords for the topics that you want to write about. 
Simply search using keywords or phrases in the suggested tools, and you will find a bunch of keywords that show the search volume, keyword difficulty, and keyword variations along with a list of related keywords. 
Try to pick keywords that have a higher search volume and lower keyword difficulty, they have the highest potential of ranking on top search results.
Conduct Keyword Gap Analysis
You can use keyword research SEO tools to analyze keyword gaps, in other words, it is also known as competitive keyword research. 
Run a keyword gap analysis and find the keywords that your top competitors and ranking for. This will help you identify major opportunities to use those keywords and create content to outrank your rivals in the industry. 
But your content needs to be better than your competitors, especially in terms of usefulness and value to your target audience. 
Prioritize the Use of Long-Tail Keywords
Long-tail keywords are keywords or phrases that searchers use to find specific search results based on their search intent and query. Long-tail keywords are longer than general keywords, with an average length of 4 or more words.
The biggest advantage of using long-tail keywords is that they have lower search traffic but have higher conversion value for being more specific. So, by using long-tail keywords you can attract more qualified leads and potential customers. 
Here are some examples of long-tail keywords,
        –  how to start a successful blog for beginner
        –  best books for learning a new language
        –  DIY home decor ideas on a budget
        –  affordable yoga classes for beginners
Searchers using long-tail keywords have a particular intent of finding specific results, it can also include brand keywords. Returning or potential customers familiar with your brand name can use your brand keyword along with their intended search query. 
This will help get increased organic search traffic, and it will also help search engines understand that your website contains precise keywords and information that your target audience seeks to find. 
Ultimately, it will give you a huge competitive advantage, and increased scope of ranking on the top search results. 
Analyze the Search Intent of Your Target Audience
It is vital to properly identify the search intent of your target audience to determine effective keywords for your blog posts. To ensure that your blog posts rank for different topics, it is best to diversify your keywords according to various search intents. 
You can focus on conducting keyword research based on the 4 main types of keywords which include,
        – Informational Keywords
These are keywords to enhance the search traffic of your educational content, especially the ones created to inform your target audience about particular topics. 
The keywords for informational content usually include how-to, what, guide, tutorial, tips, checklist, etc. on particular topics.
The article you're reading right now on SEO Writing Guideline is an example of informational keywords, where 'SEO Writing' is the focus or main keyword, and 'Guideline' can be treated as a secondary keyword. 
        – Navigational Keyword
People use navigational keywords to find specific web pages, typically this involves the use of brand keywords along with the intended search query. 
For example, if anyone is searching for MonsterClaw's Content Marketing services in particular, they're likely to use keywords or phrases such as MonsterClaw Content Marketing service. 
This will directly signal search engines to show Monsterclaw's Content Marketing Service page on the top search results, as it's the most relevant search result according to the given query. 
        – Commercial Keyword
Potential customers search for commercial keywords when they're investigating their options for purchasing a product or acquiring a service. 
They are most likely to search for comparisons, reviews, or the best option within their budget. 
Examples of commercial keywords include keywords like reviews, comparison, cheapest, best, etc. along with the intended search query. 
By using commercial keywords you can optimize the search rankings of blogs to influence conversions and purchase decisions. 
        – Transactional Keywords
Potential customers using these keywords are a step away from making that purchase. They're actively searching for your products and services. 
Using transactional keywords will be exceptionally beneficial for sales blogs crafted to influence purchase decisions. 
Examples of transactional keywords include buy, price, deals, coupons, purchase, etc. with the intended search query. 
Transactional keywords are super effective in attracting potential customers who are ready to purchase from your business.
    3. Conduct Topic Research
Ranking on the top search results is becoming increasingly difficult, as the number of web pages indexed on Google and other search engines is rapidly increasing. 
According to recent statistics, it is estimated that so far 30 to 50 billion web pages have been indexed by Google, and the number of web pages in the search index is dramatically increasing due to the creation of several websites per day. 
As per Siteefy statistics, 252,000 websites are created daily, out of which there are 600 million blog pages as of 2023. On average 4.4 million blogs are published every day. 
So, the only way to amplify the scope of ranking your blog posts is to ensure that your blogs are more helpful to your competitors, especially compared to the ones that are currently ranking on the top search results. You've to prioritize focusing on improving the quality of your blogs in terms of value. 
To make your blog posts and article value-packed it is essential to focus on extensive topic research. You need to identify what sort of information you need to provide to make your blog exceptionally outstanding.
The best way to identify that is to thoroughly research the topic that you're about to write. Study other blogs that are currently ranking top, and look for relevant information, statistics, and crucial facts to add the highest value to your content.
    4. Create an Article Outline
Before you start writing, it is super important to create an article outline. A sequential article outline will help you structure your content, and create a constructive plan to write a high-quality article on the intended topic. 
There's always a tendency of getting derailed from the original topic, especially if you're randomly writing without a solid plan. It can make your article incoherent as you might accidentally add irrelevant information, or include filler content. 
Incoherent and filler content kills an article's credibility, and authority. And, it can also lead to a poor reader experience, as they may not find your article so helpful and valuable. 
Ultimately, it can significantly hamper the quality of your article and even hinder your writing process. By creating an article outline, all of these issues can be easily avoided. As you'll already have a solid content plan to create your own masterpiece. 
Creating an effective article outline is one of the key requirements for producing high-quality, relevant, and value-packed content to rank on the top search results, and also to craft content that your target audience would love to read. 
    5. Create Compelling Headlines & Headers
Search engines are programmed to generate search results that are relevant and helpful for searchers. Let's say you've created phenomenal content, and in terms of quality, it's the best. And, given the benefit of the doubt, let's assume that it ranks on the top search results.
But unfortunately, your content gets little to no clicks. Why? Cause your headline isn't compelling enough, and the headers in the article don't convince your target audience to read the article. 
Sooner or later, your article's search rankings will drop to the bottom, and if it continues to happen for your blogs regularly, then it will significantly hamper your website's authority.
Search engines will get the impression that your website does not deliver useful content, so in the future, none of your web pages may rank on the top search results. 
According to Moz Research, it was found that 80% of readers don't open the article at all if they don't find the headline compelling enough, and 500% of website traffic can vary just for the headline. 
In a more general context, search engines analyze headlines and headers and identify keywords to determine your blog's search relevance. 
So, if your headlines and headers aren't engaging enough, or if it determines that searchers won't find them useful, then your blog won't rank among the top search results. 
Therefore, it is crucial to prioritize creating compelling headlines and headers driven to entice increased clicks, reads, and conversions. 
    6. Write the Article in an Engaging Tone
Nobody likes reading boring articles! Especially if your article does not resonate with your target audience. The purpose of SEO writing is to reach your target audience, connect with them and compel them to take some sort of action. 
Remember, you're not writing for yourself, you're writing for your target audience. You need to create content that they will feel compelled to read, and for that, you need to write articles in an interesting, engaging, and captivating manner. 
Conduct extensive research, understand the psychology of your target audience, focus on their needs, address their problems, and offer effective solutions to those problems. Write in a way as if you're talking to them upfront, this will help you produce highly valuable and engaging content.
The way your article audience engages with your content plays a crucial role in SEO, an increase in the average amount of time spent on your site will signal search engines to understand that your content provides high value. 
Plus, it's also a signal to search engines of improved user experience, which will significantly contribute to boosting your search rankings. So, focus on writing informative, interesting, and engaging content. 
    7. Use Appropriate Meta Tags
Meta tags are the titles and descriptions of web pages that appear on search listings, they are popularly known as meta titles and meta descriptions. 
Meta tags essentially serve a dual purpose; to help search engines get a firsthand understanding of your blog post and to entice potential readers to click it on search results.
So, creating effective meta tags will help you improve your search rankings, and drive increased traffic to your website. 
Usually, people tend to scan the top-ranking web pages on the search results page and click the ones that they find compelling, informative, and helpful. 
Creating appropriate meta tags by keeping both search engines and target audiences in mind will improve your chances of outranking your competitors in the industry. 
So, after you're done writing your article, spend some time on super compelling tags geared to drive increased search visibility, traffic, and conversions. 
While writing meta tags make sure to maintain the word limit. Ideally meta the length of meta titles should range between 50 to 60 characters, and meta descriptions should be between 150 to 160 characters. 
Exceeding the word limit might put you at a disadvantage as search engines will crop out any word that crosses its word limit. So, if you wrote something important beyond the word limit, it won't be visible to your target audience. 
This might negatively impact your search traffic as it could be a potential reason for not opening your blogs. Your primary objective is to create a first solid impression on the meta tags to attract more blog readers. 
Keyword rankings change from time to time, so proper keyword tracking is very essential to keep your meta tags SEO optimized. So, make sure to use the appropriate focus keyword with the highest ranking potential in your meta tags.
    8. Optimize Your Content for Featured Snippets
Featured snippets are those small boxes that highlight particular search queries with the most specific and relevant information on search results. The purpose of featured snippets is to provide the most accurate information determined by search engines. 
And to ensure that these search results are noticed, they are shown in box-style results to grab the attention of searchers looking for particular information, product, or service. 
Featured snippets are not just visually appealing but these are also used by search engines to directly answer search queries on voice search. Google and Bing have advanced voice search features to read out the answer from the featured snippet.
Another advantage of the featured snippet is that it also generates a list of related search queries and frequently asked questions to help searchers find more relevant answers to their original search queries. 
The screenshot below shows an example of featured snippets on the search results page,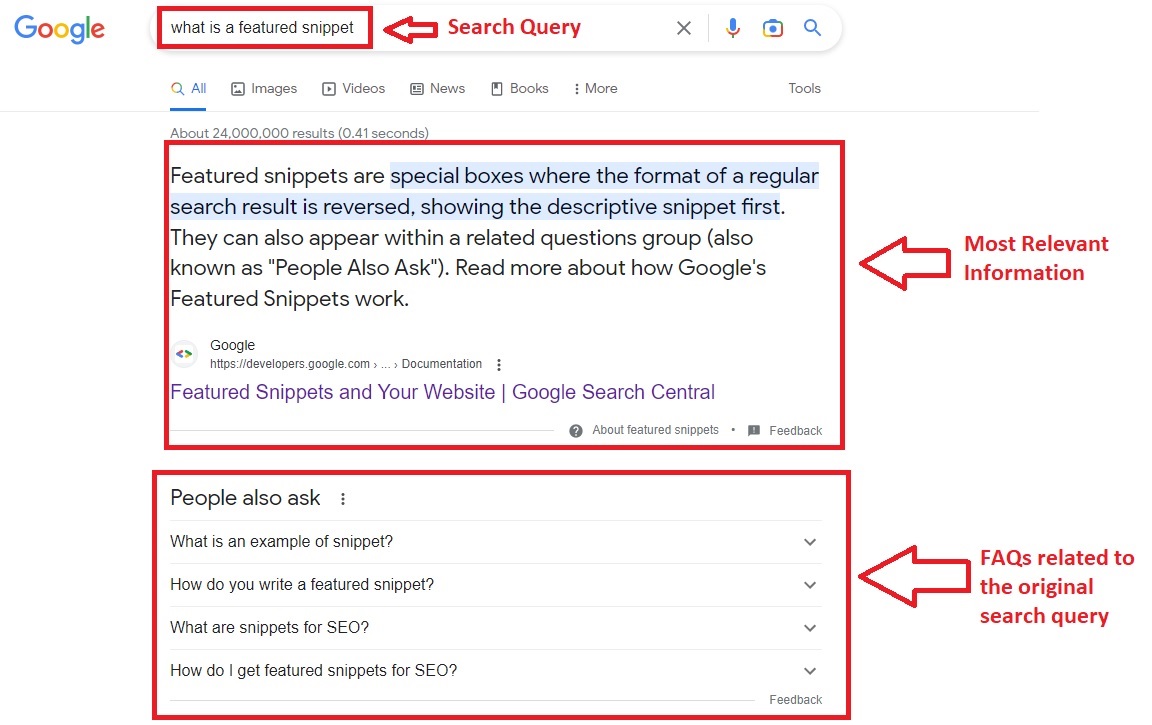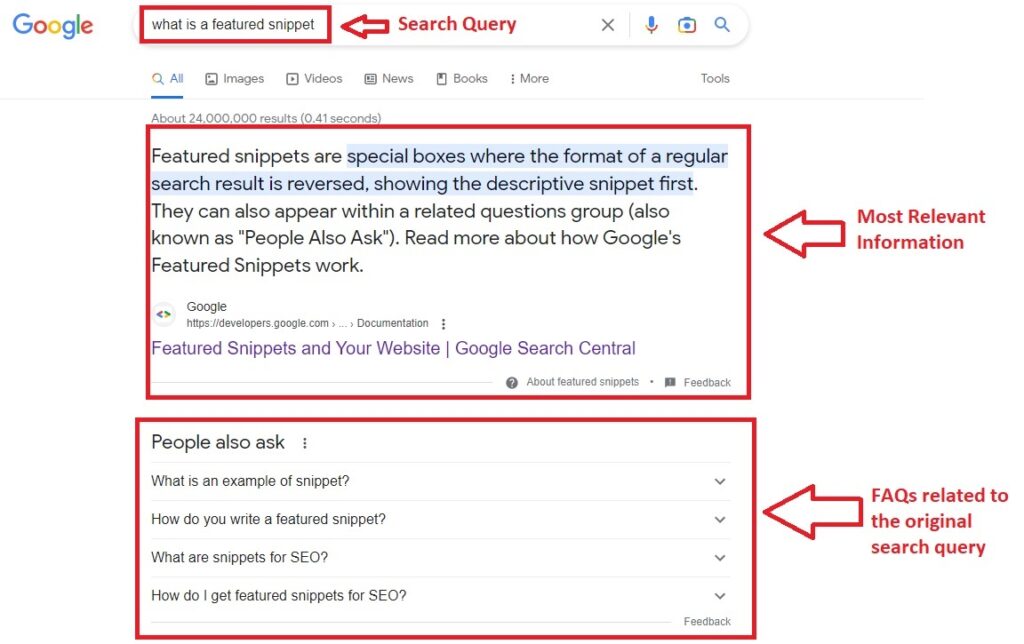 According to Ahref's Research, it was found that 99.58% of featured snippets are web pages that are ranking #1 on search results.
By getting featured snippets, you can leverage the tremendous benefits of increased website traffic, brand awareness, higher click rate, and more conversions. The average CTR of featured snippets is 35.1% of all clicks on search results. 
If you want to increase the highest chance of getting featured snippets for your blog posts, it is crucial for you to highly emphasize creating high-quality content with more useful, relevant, and value-packed content for your target audience.
    9. Focus on Internal Links
Internal linking is the process of hyperlinking different web pages on a particular website. The main purpose of creating internal links is to help search engines understand the relevance and relationship between different pages on your website.
In the aspect of SEO, the better search engines understand your website's content and structure the more likely it is to rank on the top search results.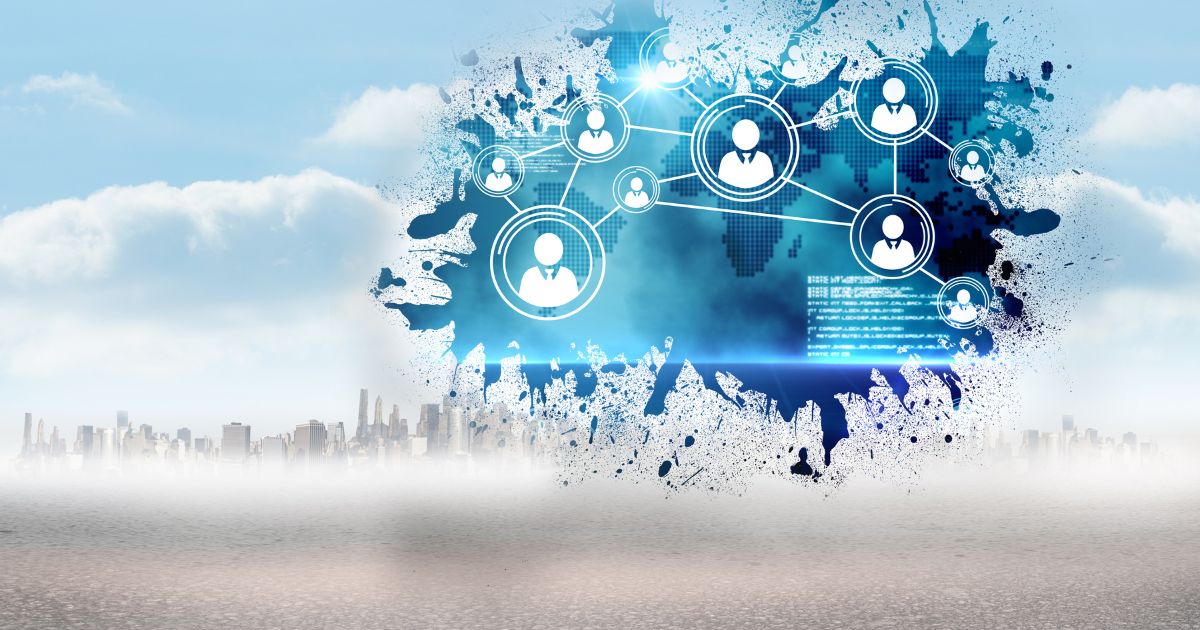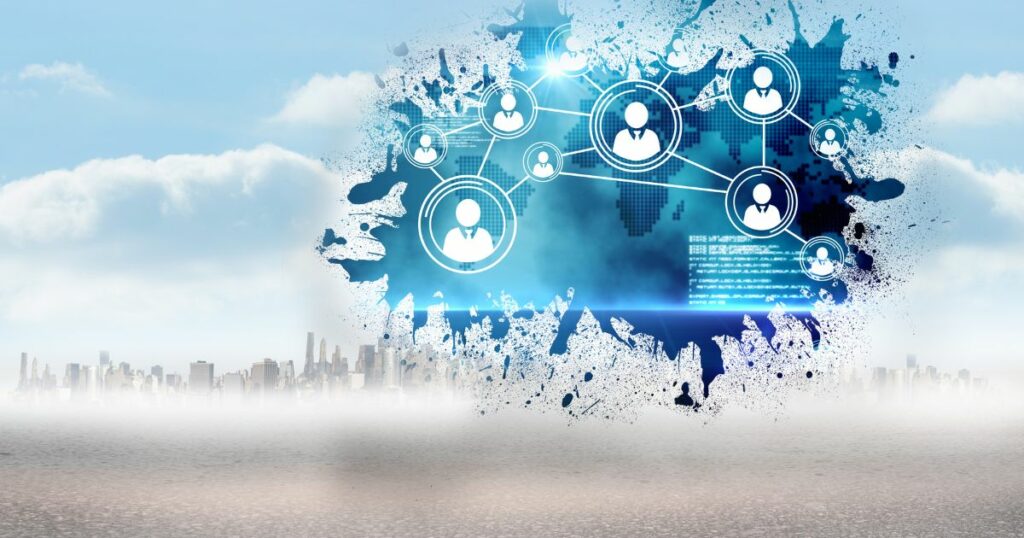 Effective internal linking can also help search engines differentiate and determine pages that are important for particular search queries. 
Internal linking can be exceptionally beneficial for streamlining increased traffic across different pages on your website. Usually, blogs cover a wide range of content on different topics.
You don't necessarily have to write about the same stuff on every blog over and over again. Instead, you can provide a brief overview of a crucial aspect and include internal links to relevant blogs that offer a detailed discussion on that specific topic.
In this way, it will help you save time, and maintain coherence for specific topics on each blog and article. Plus, you can even drive traffic to multiple other pages on your website to improve conversions and influence purchase decisions. 
Apart from the aspects mentioned above, internal linking also plays a significant role in improving the user experience of your site visitors. Effective internal linking will allow your site visitors to seamlessly navigate from one page to another. 
Improved user experience and increased time spent on your website are positive signals to search engines that your website is useful and helpful to your target audience, which will remarkably increase the chances of ranking on the top search results for specific search queries. 
    10. Link Authority Sites to Boost Credibility
If you want your blogs to rank on the top search results, then you need to ensure that search engines trust your content. Now you might be wondering, how do I make an algorithm trust me? 
Well, it's quite simple if you apply the right techniques to generate high-quality blogs and articles. Especially by conducting extensive research to find facts, statistics, and crucial information from highly credible, and authoritative sites in your niche.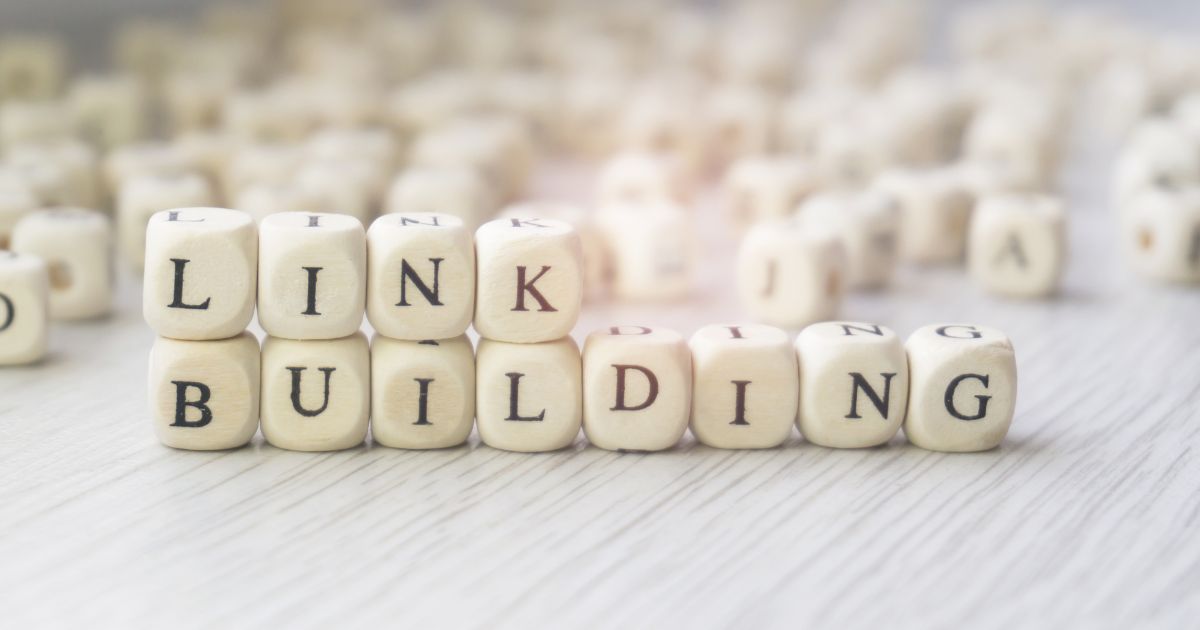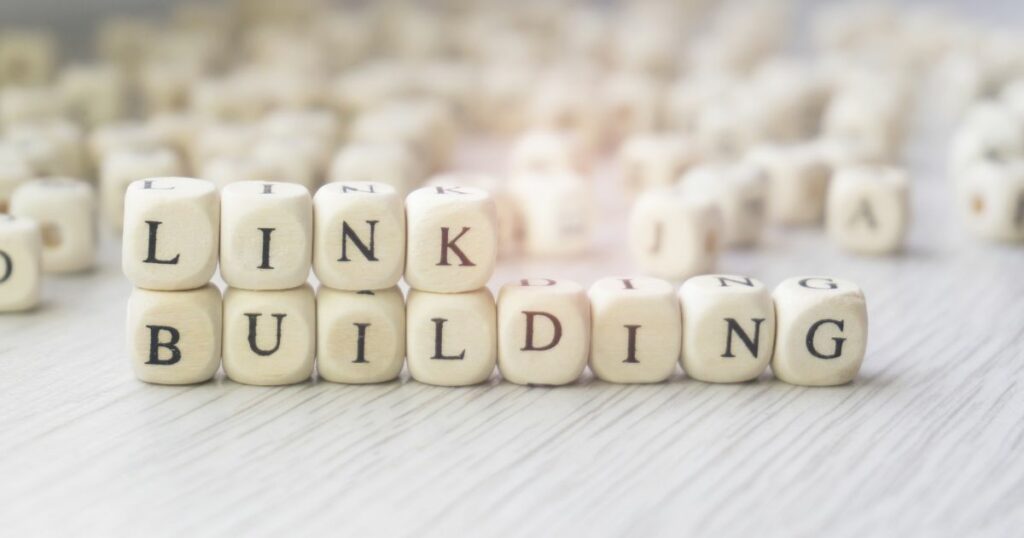 By providing clickable link citations, you can generate outbound traffic to high-authority sites. When search engines like Google and Bing will analyze your blog posts and find that you have cited information from credible sources, it will automatically enhance your website's credibility.
Having high-quality outbound links act as a strong signal to search engines that you've referred to credible sources to acquire the information included in your blogs. 
Ultimately, the goal of search engines is to make authentic and helpful information universally accessible. So, if your blog includes rich content that's beneficial to your target audience then there's a high chance that they will rank on the top search results.  
And, it will also help you guide search engines to understand your niche, as a result, your blogs are more likely to rank on top for the search queries of your intended audience. 
    11. Add Images & Visuals to Enhance Readability 
Although images and other visual elements like infographics don't directly contribute to SEO, they play a significant role in determining the user experience of blog readers. 
Search engines highly prioritize user experience as a core ranking factor, as the search results are essentially generated to provide valuable content to searchers. 
If your blog posts and articles are filled with large chunks of text with no appealing visual images and infographics to entice readers, then they may end up abandoning your site.
This can potentially act as a strong signal to search engines that your blogs provide a poor experience to your site visitors. Ultimately, it can negatively impact your SEO efforts, which might lead search engines to derank your blog pages.
And, it will also reduce the chances of your blog ranking on the top search results in the future. 
However, all of this can be prevented by including lucrative images and infographics to improve the readability of your blogs and articles. 
You can use tools like Canva to generate amazing infographics and collect copyright-free images to use on your blog posts and articles. And, to get free royalty-free images you can visit sites like Pexels and Freepik. 
    12. Proofread Your Draft and Revise it Before Publishing
We're human beings, and we're prone to making mistakes. Especially whilst writing long-form content like blogs and articles, it is natural to make mistakes and typos. But such mistakes can turn into SEO nightmares.
Spelling mistakes and grammatical errors may seem trivial, but it has a major negative impact on SEO practices, especially because search engines can't determine what your content is about if it doesn't understand it. 
Most importantly, if search engines determine that your content does not make sense, or if it doesn't find your content meaningful enough, then your blog pages might not get indexed in the search engine database.
In more severe cases, your website may even get penalized by search engines, and that can significantly hamper your SEO efforts. 
One thing's super important here, you cannot be wrong with facts, as it can potentially mislead people, and in such cases, your website can be severely penalized which can get your site deindexed, deranked, and banned. 
There are ways to recover from search engine penalties but it can be very difficult, time-consuming, and expensive. There is no definite guarantee of recovering a site from search engine penalties especially the ones imposed by Google and Bing. 
If your site's not appearing for your brand keywords, then there's a high chance that it has either been deindexed or you've been penalized by search engines. You can read our comprehensive guide to learn how you can recover from Google Penalties. 
However, we would strongly advise not to apply any of the suggestions without the help or supervision of an SEO expert, cause these recommendations can only be effectively implemented by an SEO expert.
Before publishing any blog post or article make sure to thoroughly check it and correct errors. So, it is vital to ensure that your content is free of plagiarism. Google and Bing have a strict zero-tolerance policy against content plagiarism. 
You can use tools like Grammarly to proofread your blog's draft content. The free version of Grammarly itself is very useful to help you correct all sorts of spelling and grammatical errors, along with constructive suggestions to improve your sentences. 
The premium version provides more comprehensive suggestions and also has the feature to check plagiarism. You can also use Copyscape to check for plagiarism. 
It is strongly advised to have a solid editorial process to prevent such mishaps. You can hire professional editors as well to double-check your draft, and publish solid error-free blog posts. 
6 Effective SEO Writing Tips for Landing Pages
    1. Conduct Effective Keyword Research
Keywords play an integral role for search engines to understand what your landing page is about, what is its purpose, and to determine the search queries for which it is relevant
Essentially your search rankings widely vary on the effective use of keywords, whether you're creating a new landing page or optimizing an existing one. 
But to figure out which keywords have the highest ranking potential, you need to conduct extensive keyword research.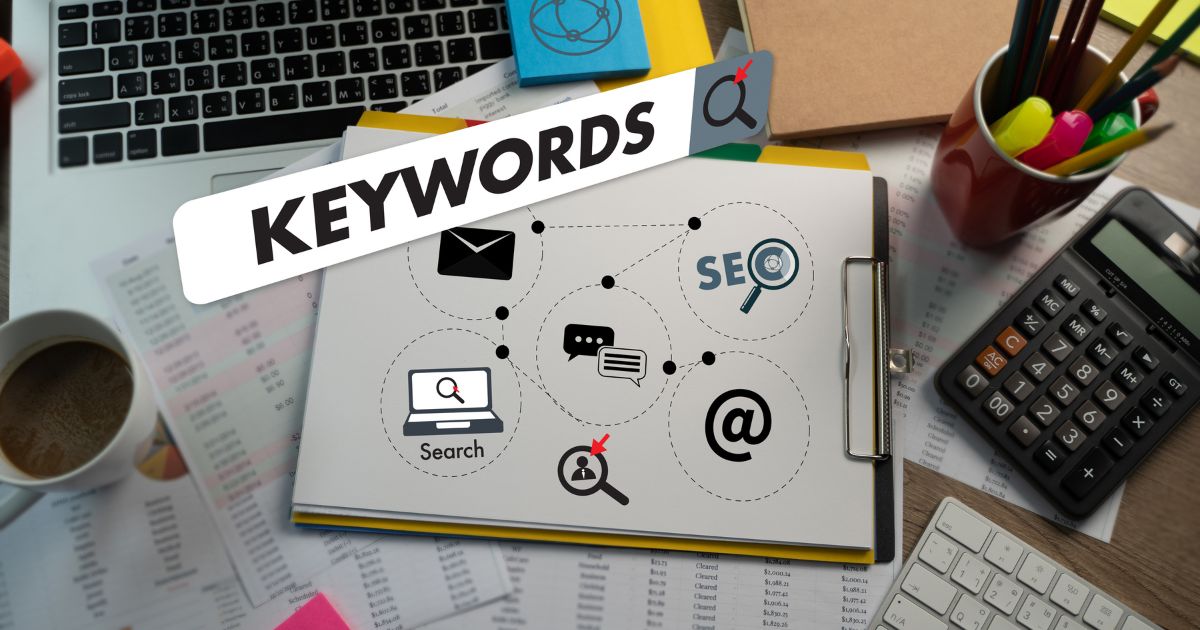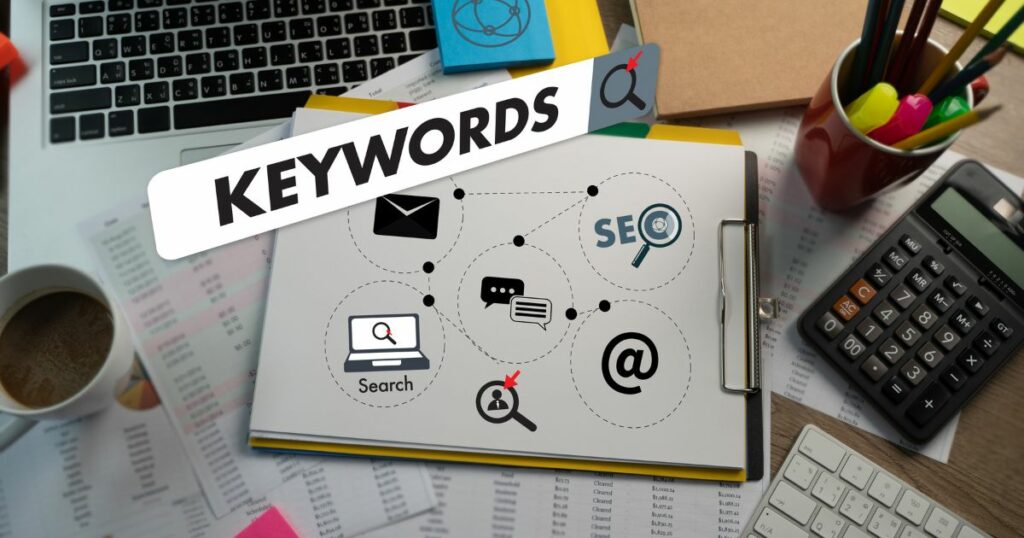 Earlier in this article, we discussed the AIDA model and 4 main types of keywords. Typically a website contains web pages such as the home page, about us page, contact page, product pages, blog pages, etc. 
Each of these pages is intended for a particular segment of your target audience, and fundamentally all these pages are significant digital touchpoints.
It is imperative to use appropriate keywords on your landing pages by targeting your intended audience, this will essentially guide the search engine to understand and determine the search relevance of your pages. 
Plus, you should conduct extensive keyword gap analysis to figure out potential keywords that your top competitors are ranking for, and leverage maximum benefits by integrating those keywords into your landing pages. 
While you're conducting keyword research there are multiple variables that you need to consider, which include search volume, keyword difficulty, and competition level.
When it comes to search volume, higher is generally better, and keywords with lower difficulty are easier to rank for. However, it's important to not only focus on low-difficulty keywords, as they may not be beneficial if they are not frequently searched for. 
It's essential to strike a balance between search volume and difficulty to ensure that the selected keywords have a reasonable chance of ranking well and reaching the intended audience. 
To conduct effective keyword research for landing pages, you use should proper keyword research tools like Ahrefs, SEMRush, Ubersuggest, or Google Keyword Planner. 
Whether you're doing keyword research for blogs or specific landing pages the process is almost the same, so you can follow the suggestions provided for conducting keyword research for blogs. 
    2. Create SEO-Friendly Titles
Search engines typically emphasize reading landing page titles to determine their search relevance. Of course, it analyzes your subheadings and the body content of your landing pages, but the primary focus is mainly prioritized on the landing page title itself.
It is vital to ensure that your landing title contains the focus keyword with the highest ranking potential, especially the keywords or phrases that your target audience frequently uses.
The most important part of SEO writing landing pages is to create compelling titles designed to entice your target audience to visit your page. Click-through rate is an important indicator to search engines to determine the frequency of people visiting your web pages. 
An increased click-through rate is a positive signal to search engines that your landing pages provide value, and are significantly helpful to your target audience.
Of course, there are many other factors that influence search rankings but click-through rate works as an initial indicator to help search engines understand how useful your page might be.  
Search engines can only display titles up to 60 characters long, so make sure to create SEO-friendly titles no longer than 60 characters in length.
    3. Carefully Plan a Landing Page Structure
Before you start writing your landing page, it is super important to create an effective landing page structure. After creating your landing page structure, evaluate it to ensure that it fulfills the purpose of your landing page.
Most importantly, the landing page structure should be designed in a way that search engines can easily read, analyze and understand what the landing page is about, and how will it be beneficial to searchers.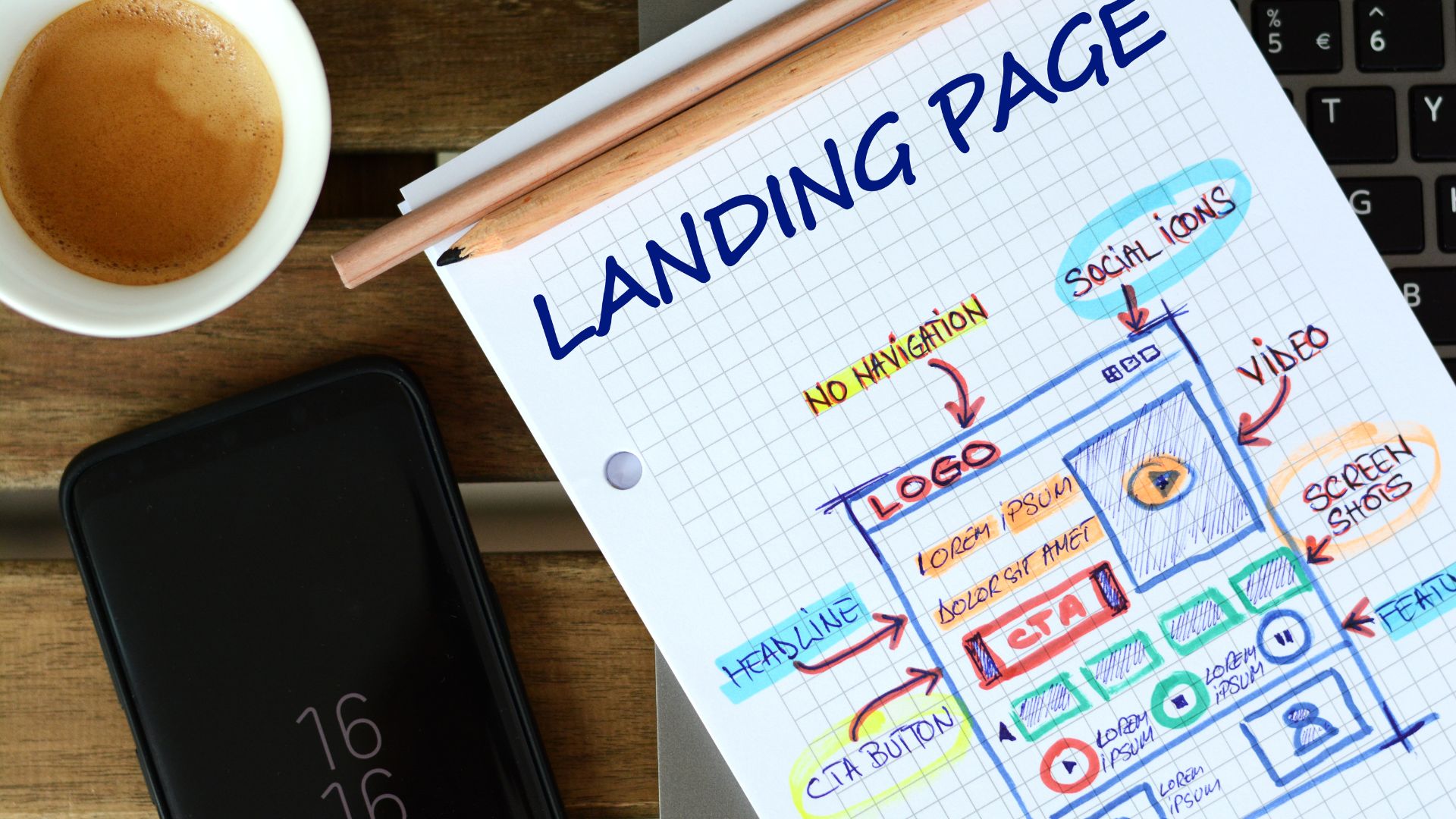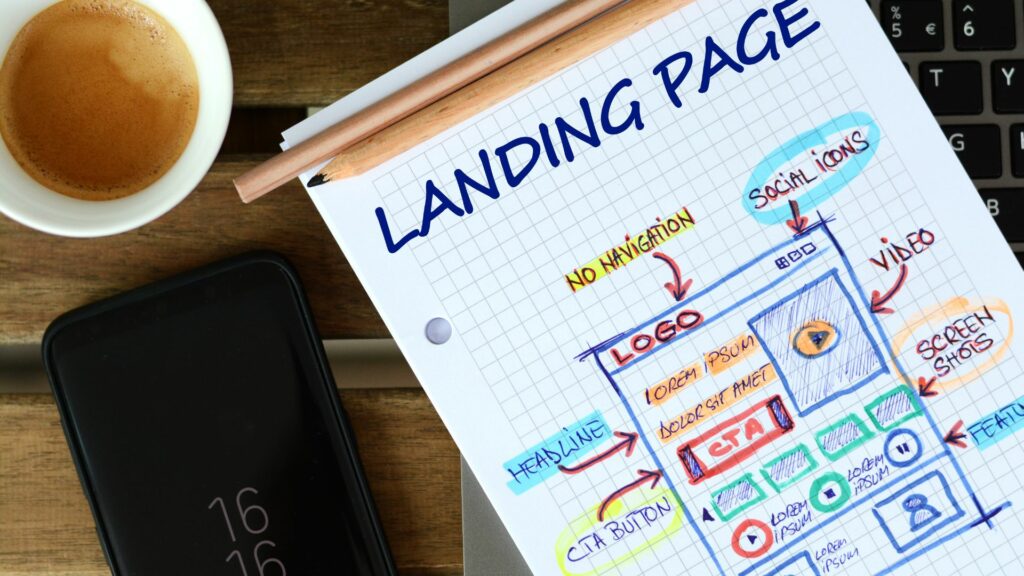 A clear and well-constructed landing page will help search engines understand and determine why your landing page is relevant for specific search queries. 
A landing page structure acts as a blueprint for SEO writing each page. So, creating a solid landing page structure is instrumental as it will unfold the delivery of the content in it. 
80% of web visitors scan and skim web pages, and on average only 20% of website visitors read the content on web pages. 
Most people tend to find quick answers while browsing the web as search engines have made it possible to access information from various sources within seconds. That's why the majority of internet users browse multiple pages and skim through them until they find information or content that entices them. 
But during the skimming process, what 80% of web browsers mostly notice is the landing page structure. So, as SEO writers it is up to you to create an effective landing page structure that is scan friendly for both search engines and your target audience. 
Creating an effective landing page structure can potentially improve your landing page's click-through rate, user experience and drive increased conversions, all of which are powerful indications to search engines to upscale your web page's search ranking. 
You can consider using proven website copywriting techniques like PAS which is Problem, Agitate, and Solution. 
In your landing page structure, you can address the problem, emphasize how the problem can be a potential threat, or simply focus on its negative impact and finally provide comprehensive solutions to these problems with a clear call to action.
    4. Write to Captivate Your Target Audience
User experience is one of the top ranking factors for leading search engines like Google and Bing. That's why it's extremely important to ensure that your SEO writing is super compelling to captivate your target audience. 
Focus on you writing landing pages that are designed to influence your target audience to click your page on the search results page. 
Now, the way your target audience interacts on your landing page and the amount of time they spend on each web page widely depends on how enticing your content is. 
So, focus on copywriting a robust landing page copy that's designed to increase search traffic from increased clicks, average time spent on the landing page, and a boost in conversion rate. 
By creating captivating landing page copies you can rapidly enhance the user experience for particular pages. And, in the long run, it will help you maintain consistent and sustainable search engine rankings. 
If you want to position your business as a key player in the industry, it is imperative that you highly prioritize writing and optimizing your landing pages.
Here are some effective tips to write a captivating landing page,
Write your content in an engaging tone to grab the attention of potential customers 

Use compelling headers, subheaders, listings, and bullet points to highlight the most valuable points and offerings

Write to create a sense of urgency by pointing out problems, and offering effective solutions 

Research similar web pages in your industry, and analyze how your top competitors have designed their landing pages 

Highlights facts, and statistics to improve your site's credibility and authority 
    5. Feature Your Best Work 
It is very important to showcase your best work to improve your credibility and establish your authority. You need to provide reasons why your target audience should trust your product or service and how they can benefit from them.
Featuring your best work by highlighting statistics and a brief explanation of what you've achieved so far as a compelling copywriting tactic to establish and improve the credibility of your claims. 
Additionally, it will also enhance your website's authority for both search engines and your target audience. Particularly for direct search queries like "whether your business is legit, or are your offerings and claims trustworthy". 
By identifying the search intent concerning your business's credibility and authority search engines may generate relevant results from your site which outline the points to boost your business's credibility.
You can even publish case studies and include them in your landing pages to boost your website's reputation. Along with customer reviews and client testimonials highlighting customer satisfaction with your products and services. 
You can include outbound links to third-party directories, review sites, and Google Business Profile to present more customer reviews and feedback. By mentioning your website's link on these directories, you can help search engines evaluate high-quality inbound and outbound links to boost your site's authority.
    6. Add FAQs
You can add relevant frequently asked questions by using focus and supporting keywords to improve the scope of ranking your website on the top search results. 
Another advantage of using FAQs on landing pages is that it can also help you get featured snippets. 
The most effective way to create FAQs is to thoroughly analyze what your target audience is searching for. Specifically, information that they are frequently looking for. 
The easiest and fastest way to research FAQs is to simply search relevant search queries, and toggle down related queries that most people look into. 
Additionally, you can use tools like SEMRush, Ahrefs, AnswerThePublic, and Google Trends to find search queries around a specific topic. 
You can even survey your existing customers and target audience by dropping a survey form on your particular landing pages or third-party websites like Quora, Reddit, etc. 
Make sure to include FAQs that will add value to your target audience, and help searchers find answers to their questions. 
Will this SEO Writing Guide Help Me Create SEO-Optimized Content?
Yes, this is a comprehensive SEO writing guideline that includes proven SEO tips and tactics to create highly SEO-optimized content for both landing pages and blog posts.
Whether the guideline will be effective or not, entirely depends on how these SEO strategies are implemented.
We have created this guide based on our acquired experience in SEO writing of over 10 years, along with extensive research to find effective SEO writing methods. 
In conclusion, creating high-quality SEO content requires a good understanding and tremendous experience in SEO and content writing. 
If you don't have enough experience in SEO writing, it's best to hire experts who can create effective strategies and well-written SEO content for you. 
Book a Free Content Marketing Consultation now to get in touch with one of our SEO writing experts soon.