Whether you're just about to start or already have an established dental practice, attracting new patients is crucial to keep up the sustainability of your dental care.
Unlike other medical issues, the thing about oral infections or toothache is, it's unbearably painful. This is the reason, there is such a high demand for dental care all over the world.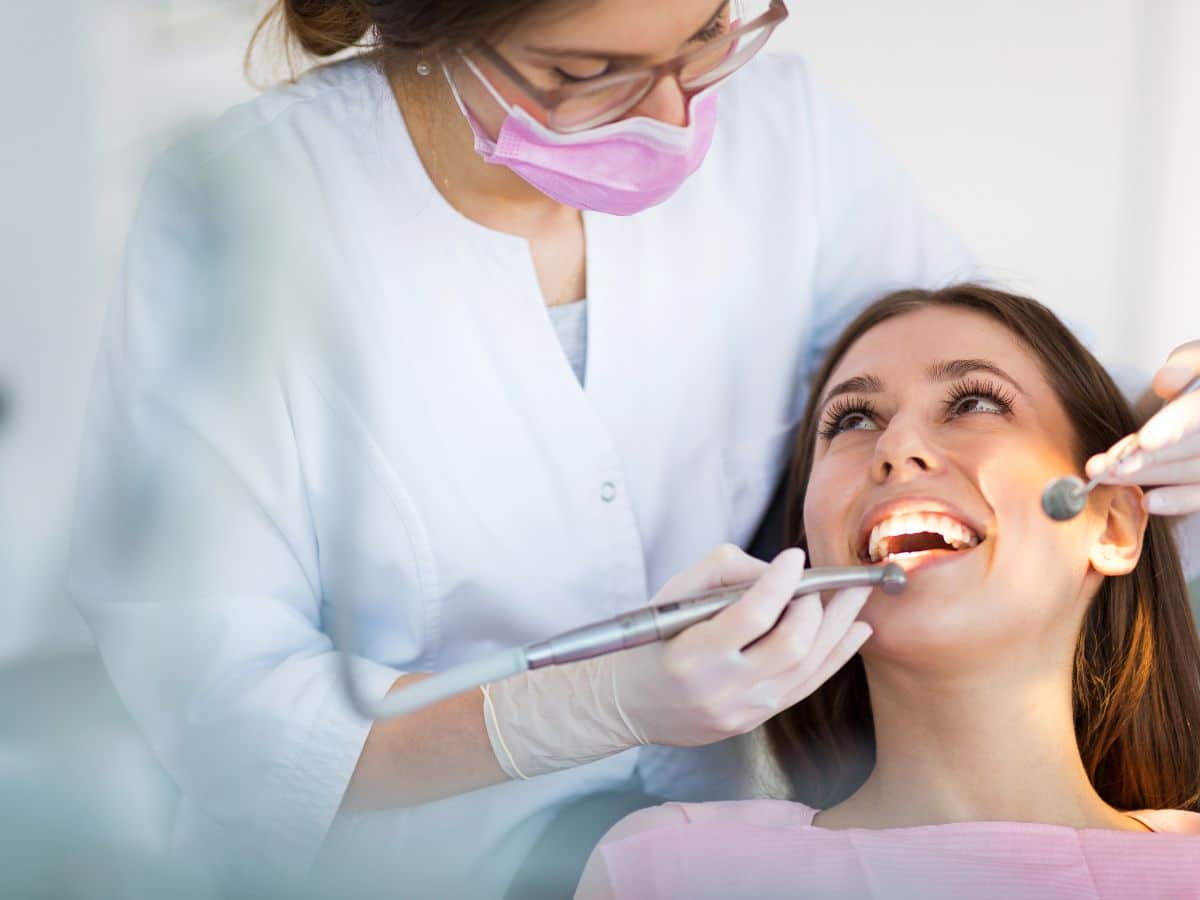 In the US, 64% of adults & 85.9% of children between the age of 2 to 17 had a dental visit within the past year. And, 75% of Americans plan to visit a dentist in the coming year.
Based on the statistics, market conditions, and recurring trends in dental visits, the odds of getting new patients as a dentist are highly in your favor. But you need to act tactfully to channel this high demand to your dental practice to get an ongoing series of new patients. 
According to recent studies, it was found that 89% of Americans refer to Google before visiting a doctor. Most people prefer to visit a dentist near their home, but they also check online reviews to determine which dental clinic would be the best choice for them.
So having a solid first impression is extremely important for you to outcompete other dentists in your area. You need to establish and maintain a strong online presence to secure a consistent number of new patients.
In this article, I shall discuss 12 effective digital marketing strategies that you can implement to expand your online presence and build credibility to get new patients to your dental practice.
12 Effective Strategies to Get New Patients as a Dentist
It is super important to get your dental clinic listed on Google Business Profile because it will help your existing and new patients seamlessly find your clinic. Especially for the patients who are living nearby, it will help you niche down and target patients that are more prone to becoming regular patients.
Another plus point here is, your Google Business profile will show all the necessary information about your clinic; name, address, map location, opening hours, contact number, website, and reviews. You can even add the logo of your dental practice and multiple pictures to feature the machinery, ambiance, and dental treatment procedures.
You can even respond to patient reviews on Google Business Profile, by sharing your feedback. To make things a bit more enticing you can even add photos to feature certain moments before, during, and after treatment.
You will have to add them all manually though while signing up on Google Business but it surely will help you hook new patients. So, if your Dental Clinic isn't registered on Google Business Profile yet, it's high time to get it enlisted there.
2. Make Sure to Have a Smooth, Minimalistic Website
People love to explore websites that are easy to navigate and aren't filled with visuals or information that are not necessary. Besides, if they are unable to browse your website at ease there is a chance they might just leave.
This is because a lot of people aren't willing to go through multiple clicks or spend a significantly long amount of time to find the information that they are looking for.
Plus, a minimalistic website is likely to load faster and provide a smoother browsing experience. Your key focus here should be to keep your website neat and simple so your target audience can seamlessly find your contact details, book an appointment and learn about your dental practice.
3. Grow Sustainable Online Presence with SEO
According to recent surveys, it was found that most Americans rely on search engine results and online reviews to determine which dentist to visit. So, if your dental practice does not appear on Google, how will you ever get new patients?
This is where Search Engine Optimization (SEO) comes in, and your online presence entirely depends on it. So, SEO is the practice of guiding the search engine to feature your website on its search results.
To get started with SEO for starters, you can find keywords that can easily rank well in your region. And, use those keywords across the pages of your website.
You need to use effective keyword research to help your content rank whether it's blogs, podcasts, or videos. You also need to internally and externally link webpages and content across your website and social media channels; technically these processes are called internal linking and backlinking.
SEO is a very technical process that requires tedious effort and an ample amount of time to execute. There are some processes of SEO that will be effective in a short span of time, whereas there are others that can take a while; which can range from a few months to up to a year.
But all of it entirely depends on the level of expertise in SEO as well. Trust me when I say this, you should not handle SEO if you don't have the technical skills for it. Cause even the silliest mistake can backfire and lead to a severe downturn, it can get your website heavily deranked on search engines and possibly blacklisted as well. 
Although, if you know what you're doing, go ahead and start working your magic. However, if you aren't sure, and need help then I'd highly recommend you hire a professional SEO agency. 
So, if you need help with SEO to increase your search traffic then you can Book a Free SEO Consultation with our Leading Industry Experts and discuss your queries and requirements in detail. Learn more about our SEO Services to know what we've in store for you. 
4. Ensure a Mobile-Friendly Website
Today most people prefer the convenience of browsing the internet via mobile phones. Almost 60% of all internet traffic worldwide comes from mobile devices, totaling a mobile internet user base of 4.67 billion globally. And, 68% of all health-related queries are searched using mobile phones. 
With the growing number of mobile searches in recent years, you must ensure a mobile-optimized website. Although your website will still rank on search engines if it matches the user's search intent. 
Now, let's say your website isn't mobile friendly, then your website's content will not appear properly or it will take more time to load. This will create frustration and drive prospective patients away who might have been a step away from booking a dental appointment. That also leaves a very bad first impression.
So, to prevent such mishaps and to keep such a potential source of conversion open, you should make sure that your website is mobile-friendly. 
If you are unsure whether your website is mobile-friendly or not, then you can check using Google Search Console's Mobile-Friendly Checker. 
If your website isn't mobile friendly then you have to make enhancements to make it more responsive, maintain appropriate font size, compressed images, etc. 
There might be other issues that you may have to resolve, but it can get very technical. If you are not sure what to do, then you can Book a Free IT Consultation with our experts to help you make your website fully mobile-friendly. 
5. Encourage Referrals & Online Reviews
When it comes to choosing a dentist, patients these days are extra careful. No one wants to risk harming their gums or teeth over a misdiagnosis or poor dental practice. In fact, 86% of Patients rely on Online Reviews to choose a Dentist.
This is where having listed on Google Business Profile will come to your advantage, as reviews and ratings are publicly available. So, new patients can view those reviews and decide whether to make an appointment with you or not.
That's why you should encourage your patients to leave a review after receiving treatment. You can also motivate customers to refer their friends and family members, by offering referral discounts on recommendations. This is likely to boost increased word-of-mouth referrals to help you get new patients. 
However, if you have just started your dental practice, then you can collaborate with local affiliates in the dental industry to help you build credibility. 
As they already have a pool of loyal followers, so when they recommend your dental services to their audience, there is a chance that you will start getting new patients soon. This technique is also effective for established dental practices to fasten your flow of new patients. 
Just so you know, affiliates or referral marketers promote other businesses by making content such as blogs, podcasts, or videos and publishing them on their websites or social media channels. 
If you are considering using professional referral marketing then you better collaborate with top affiliates that promote dentists in your area. We can help you connect with top affiliates, so if you need help, book a free affiliate consultation to get started. 
6. Create Informative Blogs
If you want to build the credibility of your dental practice and also improve your search engine rankings you can create informative blogs to educate your target audience and attract prospective patients. 
You can cover a wide range of topics to build dental awareness, address problems and provide possible solutions. You can even suggest various home remedies to prevent, ease and directly address multiple dental problems. 
Starting from creating simple awareness blogs to creating comprehensive guides, blogging will help you position yourself as an expert. Your target audience will get the impression that you're highly knowledgeable and it will help you build authority to improve search rankings. 
In order to improve the scope of ranking your blogs on search engines, you should focus on using keywords that are easier to rank. But don't get overwhelmed to forcefully place keywords just to get your content to rank up. Keep it natural, even search engines today prefer content that serves users' search intent. 
So, as long as you are producing quality blog posts, articles, guides, and case studies you should be able to create authoritative content and eventually improve search rankings in the long run. 
To improve the readability of your content you can add lucrative images or self-made podcasts and videos related to the topic to entice a higher appeal. 
Blogging on a regular basis can help you with your branding and build up your goodwill in the long run, along with many other benefits. So, if you haven't started blogging yet, you better start soon. 
7. Shoot Informative & Awareness Videos
In this era, you just cannot consider sticking to one method or channel. You need to be versatile and open to every opportunity to brand yourself and attract prospective patients. 
Creating informative videos will help you reach that goal to attract, entertain, and educate your audience. It will also help you brand your dental practice, improve your goodwill and build authority in the long run.
According to recent surveys, 72% of consumers prefer learning about a product or service by watching a video rather than reading an article or blog post. 
Plus if you think about it, watching a video is much more effortless and sometimes it is necessary to look into the visual to get a clear concept of the issue and its solution. 
I think if you create videos and also maintain a blog and other effective digital marketing strategies, it will be much more effective and you will get faster results. 
8. Host Live Video Sessions
Another thing that you can do to boost the credibility of your dental practice is by hosting live webinars. You can discuss a particular topic and personally discuss patient queries in your live video session. 
As you will be answering multiple dental problems on spot, your target audience will witness the depth of your knowledge and experience firsthand. This is likely to encourage a lot of prospective patients to book an appointment during or soon after the live session.
Not to mention, unlike standalone videos you don't need to spend a significant amount of time editing videos before publishing them. Live videos don't require editing or scripting so it saves you an ample amount of time. And, you can be more natural and spontaneous. Plus, it will also help you boost your confidence to present your experience. 
9. Leverage Social Media
Two-way communication with your target audience can help you build awareness and brand your dental practice more swiftly and effectively. Unlike your website, blog, or video channels, social media channels give you more room for two-way communication. 
After all social media was created in the first place to connect people and enhance communication. Today, there are 4.74 billion users on social media and this is the reason businesses have massively tapped into social media to personalize their branding and marketing efforts.
On social media, you can make lucrative posts in the form of texts, images, and videos, so you have the liberty to post all types of content to attract prospective patients and also to keep your current patients hooked to your services. 
You can make engagement driven to posts to spur increased reactions, comments, and shares. This is an effective organic marketing strategy to increase your post reach. The more engaging a post is, the more likely it is to appear on multiple feeds, so it will reach out to more people. 
You should respond to the comments and DMs (direct messages) on social media. Also, take appointments over social media, this will help you get increased engagement and new patients as well.
With social media marketing, it is possible to increase your appointment calls by 200%. So, if you haven't tapped into social media yet, it's high time that you do. And, don't forget to include your website's link on social media and vice versa to streamline increased traffic across all your channels. 
10. Build Your Own Community
Having your own community on social media will help you build up a patient base. Plus, it will also give you the scope to address each patient query with a more personalized approach. 
Two-way communication will help you bond with your patients, so this will also increase the scope of returning patients. Moreover, it will instantly create a good first impression when prospective patients come across your community. 
Not to mention, the new patients will feel more valued and this will enhance increased trust in your dental practice. And, it will massively contribute to your branding efforts. This will attract new patients to your dental practice and also motivate your existing patients to become loyal to your services. 
11. Invest in Sponsored Ads
If you want faster results for your marketing campaigns then investing in sponsored ads will be the wisest decision. The only challenge here is, you need to tweak and optimize the ad settings based on various factors of your target audience. 
That's why it is very important that you have your target audience well-defined. So, once you have your ad settings optimized, your sponsored ads will reach out specifically to your target audience.
The technical terms of investing in sponsored ads are commonly known as PPC (pay per click) or CPC (cost per click) marketing. The effective use of PPC ads will get you to attract more prospective patients with a possible increase in dental appointments.
This will be extremely helpful to you as it will absorb the cost of all your marketing campaigns and also increase your ROI (return on investment). 
Running PPC ads can generate 300% more traffic and can increase your ROI by 200%. You can run PPC campaigns to promote your website and social media channels. 
12. Run PPC Search Ads
The best way to secure dental appointments is to create awareness, grab attention and attract prospective patients straight from the search engine results page. This will help you get increased website traffic, more dental appointments, and of course new patients. 
If you intend to run your PPC Search Ads on Google then you have to get your dental practice listed on Google Ads and if it's on Bing then you need to sign up on Microsoft Advertising. 
After doing so, you need to bid on specific keywords that are related to your dental practice. These major search engines have a standard procedure to qualify these bids. If you meet all the requirements then your dental website will rank for these keywords. The placement of the ranking amongst your competitors will also entirely depend on various factors. 
But the biggest plus point of running PPC Search Ads is, you will only be charged per click. So, there isn't any scope of incurring loss here. According to Google, for every $1 you spend on Google Ads you are likely to get an ROI of $1.5, so you can expect an ROI of 150%.
You are more likely to get much faster results by investing in PPC Search Ads, as your SEO strategies will take a significant amount of time to take effect. So, this can be used to retrieve faster returns.
So I think keeping PPC Search Ads as a part of your marketing strategy will play a vital role in getting new dental patients as well as enhancing your brand presence. 
Will these Digital Marketing Strategies Help Me Get New Patients as a Dentist?
The 12 tips that I have recommended are commonly used as they deliver promising results. Plus, they have also been proven super effective over the last couple of years. 
So, I would highly recommend you follow these 12 effective strategies to get new patients for your dental practice. 
Although there are some strategies that can be quite technical and requires the help of an expert, especially when it comes to SEO and Web Development Services. And, you might also require some help to connect with the Top Affiliates. 
We've industry-level experts in all three specializations, so if you think you could use some help here, then I'd recommend you get in touch with us.