The world of social media marketing channels is no stranger to Instagram, which is widely used. In recent years, Instagram has developed and evolved at a comparable rate to Facebook, adopting new features at a breakneck pace and becoming even more important to businesses and users alike.
As one of the fastest-growing social media networks, Instagram is currently one of the most popular. Approximately 1 billion people use Instagram every month. The number of interactions on Instagram is four times higher than Facebook's, as well. Instagram marketing is proving to be so popular, based on these statistics.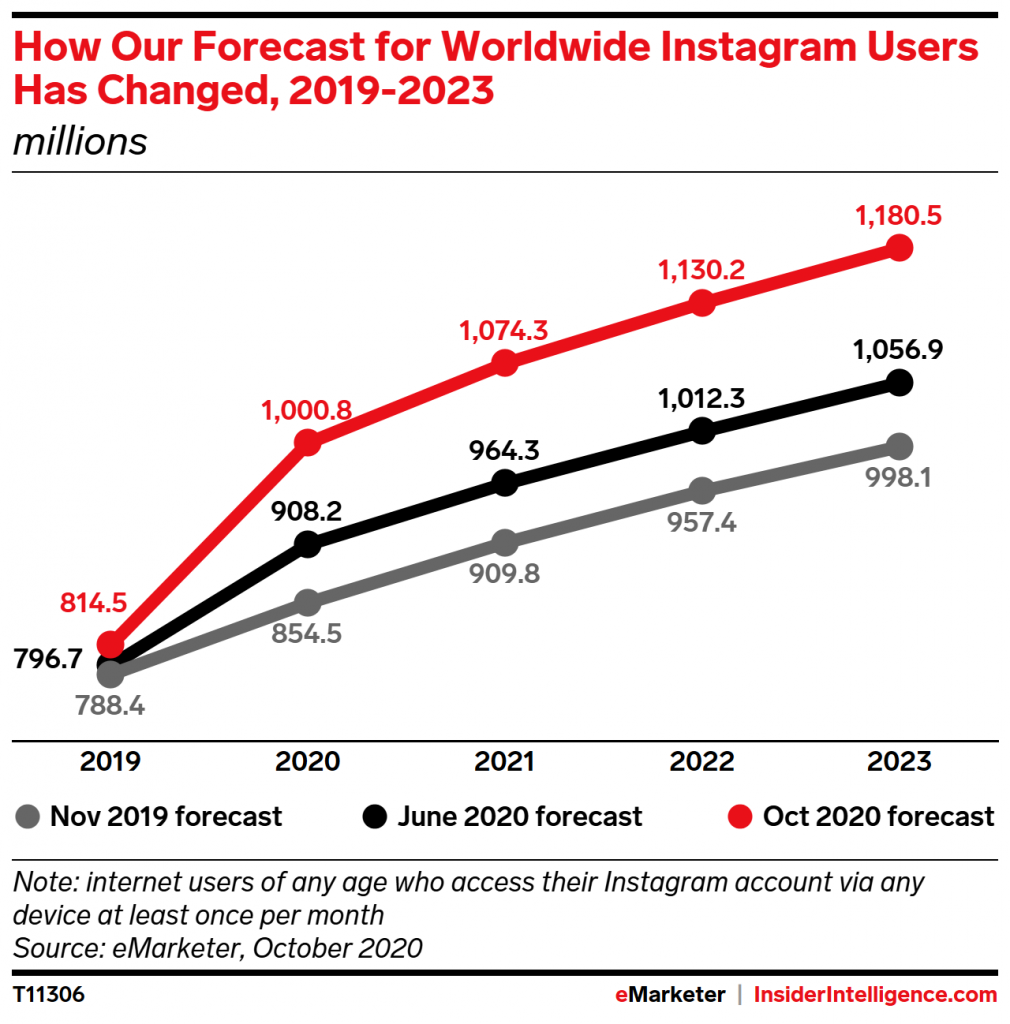 Here are some Key Instagram statistics according to BusinessofApps:
In 2020, Instagram accounted for 36.9% of Facebook's revenue, with an estimated $24 billion in revenue
It is estimated that there are 1.41 billion Instagram users. This figure was most recently updated in 2018.
The United States and India, with 140 million users each, are Instagram's biggest markets
Instagram users are mostly under 35 years old, with more than 70% of them being under 35 years old
Instagram is a platform that thrives on strategies, so there are a lot of influencers who have mastered the art of creating the perfect strategy that works. Your brand can be successful with the right strategy.
Your strategy should cover the type of content to share to interest your target audience and gain more followers. 
The visual nature of Instagram sets it apart from other social networking sites. Instagram is the perfect place to show off your products or services that have an impressive final result if your business relies on their design.
INSTAGRAM FOR BUSINESS MARKETING STRATEGY
1. Create a Business Account
Instagram offers two sorts of profiles to its users: personal and business. A business account provides a plethora of additional benefits and prospects. For example, you may monitor your performance in real-time, gain insight into your followers' behavior, and provide information about your business.
Then you set up your business profile:
Create an ideal bio. Create a 150-character description of your business, emphasizing what makes it unique.
Optimize the appearance of your profile photo. It should be easily identifiable and accurately depict your business. You may choose to include a logo.
Include a link to your website. This is critical for lead generation.
Utilize business alternatives. In business mode, you can add a category, contact information, and CTAs. Make the most of this opportunity to connect with customers.
2. Set Your Business Goals
To maximize efficiency, ensure that your goals are SMART: specific, measurable, attainable, relevant, and timely.
Begin by creating goals for your Instagram marketing campaign. Your Instagram strategy will be guided by your goals, from selecting your content formats to utilizing advertisement mechanisms. 
Some major objectives that brands seek to achieve with Instagram include increasing brand exposure, managing reputations, developing communities, accelerating sales, and gaining consumer and market information.
Your objectives should be aligned with your business's requirements. If your financial results are generally satisfactory, there is probably no reason to increase sales via Instagram. Rather than that, concentrate on acquiring consumers or market information.
3. Determine Your Target Audience
A critical error to avoid here is creating a fictitious persona. Rather than relying on guessing, use a data-driven strategy. To learn more about your potential clients, you can search for hashtags connected to your business on Instagram.
Determining your audience is critical; if you skip this stage, all of your efforts to accomplish company goals will be in vain. A good tip is to create a buyer persona in this case. Determine the demographics of your average consumer, including their age, gender, occupation, region, and income level. The more you understand your customers, the more effective your marketing.
4. Research Your Competitors
Investigate the Instagram accounts of your competitors to obtain a better understanding of Instagram marketing. Analyze what they post, their audience, and how they engage with other brands and influencers. It's also a good idea to look at your competitors' branded hashtags to get an idea of their popularity.
WAYS TO MARKET ON INSTAGRAM 
•  Use Instagram Stories
As a result of recent upgrades, Instagram stories have become an excellent opportunity to connect directly with your audience, as well as a terrific approach to market your items. 
If you're looking to create leads, Instagram Stories can help. Instagram stories are distinct from typical Instagram posts in that they take the style of a slideshow. Stories are only available for 24 hours and are different from the regular feed post. 
•  IGTV
IGTV elevates stories to a new level by enabling brands to share longer-form videos with their audience. Live videos can also be saved afterward.
•  Hashtags
The use of hashtags is a significant component of Instagram. Hashtags, denoted by the "#" symbol, assist users in locating similar postings. When users include the hashtag in their postings, they make them visible to others who also use it, improving their chances of connecting with brands and one another.
CONCLUSION
With Instagram constantly evolving and booming with new features and designs to aid a smoother experience for users, it also considers brands that carry out their businesses on the app. This means Instagram is constantly and consistently updating its app to make it easier to carry out business. 
One of the best ways to utilize Instagram for your business is to use every new feature, be it reels, stories, IGTV, etc., as the Instagram algorithm tends to push content put out in these new formats to a more diverse audience. 
Instagram Marketing helps businesses create a perfect balance between advertisements and engagement. If smart enough, it is possible to advertise your products and services without being too aggressive. 
To get a grip on Instagram Marketing, you have to understand content marketing better. To have a free clarity call with our Digital Marketing Experts, click here!