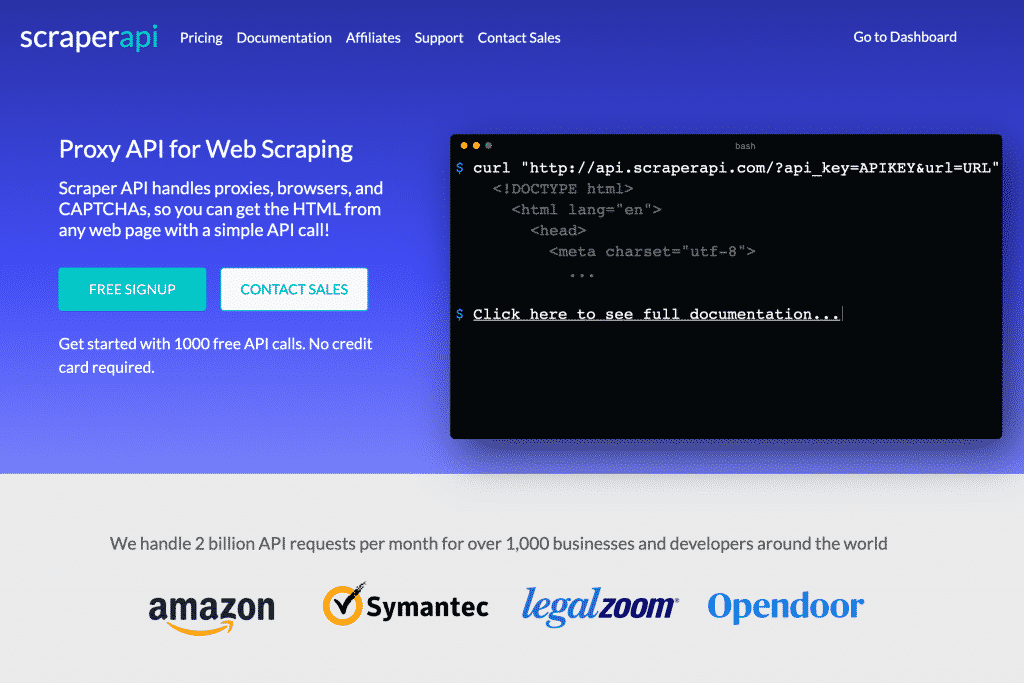 Overview:
ScraperAPI is a B2B SaaS tool for programmers. It's a Proxy API for Web Scraping and it can turn any website into API, and solves the captcha, re-captcha for faster scraping. Python programmers are the main user of this software.
Primary Assessment:
Our primary assessment indicated it's a good fit for the affiliate model. It has several pros and only a few cons.
Pros:
First of all – It's a deep niche which means the audience is absolutely defined, which will help us to pinpoint exact match potential affiliates.
Second – The product solves an actual problem and is priced competitively, which gave us the scope to attract affiliates by both quality & higher commission.
Third – High converting product. We have checked the conversion rate, it's very good, which means affiliates will see a higher return, can have high EPC's which will help us engage the affiliates, and keep them for longer.
Cons:
Out of a few cons, the major was – there is a very established competitor already in the market for so long, and everyone uses that as reference. It's like WordPress for content writers. It was a real challenge to motivate affiliates and give them a reason to promote this over the old one, especially when in the programming niche – programmers are VERY picky.
The Tracking Platform / Affiliate Tracking Software:
We avoided marketplace, as our target affiliates are programmers, and they are not normally into affiliate marketplaces.
Even if they are – they are super busy with their own work, and barely have time to find a product and apply for it.
So, we have decided to use FirstPromoter, as it's a specialized affiliate tracking software for B2B SaaS model. It has all the features we want – such as auto-affiliate qualification, multiple campaigns, coupons, super user-friendly and all.
The Affiliate Campaign Strategy:
After our intense study, we have decided to with "persuasive top affiliate recruitment" in three tires. Standard, Plus, and VIP. Idea is to be able to compensate the affiliates properly so they can see a positive return on their investment (traffic), so they stay active and longer.
We kept the Standard on auto active, but have a team monitoring all affiliate's activity extensively to avoid receiving junk traffic, and to control the brand guideline.
We routed the organic traffic toward standard affiliates and used automated emails to keep in touch, and we have also implemented an affiliate qualification system, where we can identify possible top affiliates and take good care of them.
From the standard affiliates, we have also set up an "auto qualification" for the good affiliates into Plus program. It's no secret, it's basically we've set a rule – once someone reaches XX amount of sales, qualify them as Plus and notify our managers to get in touch.
The VIP affiliate is for influencers and heavy hitters, who have different exclusive benefits – such as priority support, on request early payout, higher payout, social coverage and so on.
The Growth:
The program really started to grow when we started to recruit affiliates manually. Our sourcing team has identified and made a list of over 1500 super relevant possible affiliates, and our amazing outreach team & affiliate managers could convert around 20% of interested affiliates where around 14% are active.
The big growth basically came from implementing the 80/20 Pareto rules into the affiliate engagement. We have heavily focused on the 20% super affiliates and gave our 80% effort on them, where the rest of the 80% affiliates brought 20% revenue naturally.
Solving The Big Problem:
As we spoke about the "cons" – the big competitor, we solved it in the most natural way possible. We have used "habit" as a solution here. Since our initial study figured out – the product itself is very nice and high converting – we have decided to leverage this at it's best.
As most of our affiliates are basically programmers and highly knowledgeable influencers, we have offered the "plus affiliates" & "VIP affiliates" – free 1-month business account. We have used a lead nurture process to keep in touch, warm-up and then waited for them patiently till they said – okay, I love your product.
Once they loved it, we immediately offered them a coupon for their audience, and at the same time offered them the referral program – and it worked like magic.
We were able to recruit some of the most famous names in the industry as affiliates, which increased the recruitment rate of standard affiliates organically (as these big affiliates are followed by tons of standard affiliates and many of them simply follow them for finding a proven product that converts and is good for their client).
The Result:
We have grown the revenue over 800% in the last 6 months, we are now bringing in 5-digit revenue for the company, and it's growing at 20% to 30% every month!
The owner Dan gave us a verified review on our clutch profile – "Monsterclaw has provided us with complete peace of mind that our affiliate program is being handled well".
If you have any questions, feel free to ask me in the comment section.
And, if you want to find out more about how we can do the same for your business, you can book a free consultation session with our affiliate marketing consultant from here.