What another way to save a good amount of money on running an affiliate program other than in house affiliate. Affiliates can be a good source of quality traffic, brands and business owners are acknowledging it; that's why they are focusing more on creating a successful affiliate program. Affiliate marketing can double, triple your revenue if done correctly.
There are mainly two ways you can run an affiliate program
Through Affiliate marketplaces.
In House Affiliates.
Affiliate Marketplaces:
Third-party marketplaces are where you can directly run your affiliate program without needing to worry about handling them. There are dozens of affiliate marketplaces available that you can use like CJ, Shareasale, Clickbank.
In House Affiliates:
In house affiliates are your own affiliates, You source them, you guide them, and you pay them. You have full control over your affiliates. To start an in house affiliate program, you have to build a platform where you can manage all your affiliates and keep track of them. It may sound tough, but there are several automated tools and software available online that you can use to build an in house affiliate program easily.

Using an affiliate marketplace or in house affiliate, both have their own pros and cons. That's another topic for another article. Today, we are going to share the top 5 affiliate tracking software platforms of 2019.
IDevAffiliate is one of the most popular affiliate tracking software on the market. They are here around for more than 15 years helping brands to create in house affiliate program. Their cloud package starts from $39/m with all the essentials. IDev has one self-hosted one-time payment package starting from $199 and two other cloud packages, Cloud social starts from $49/m and cloud premium starting from $59/m.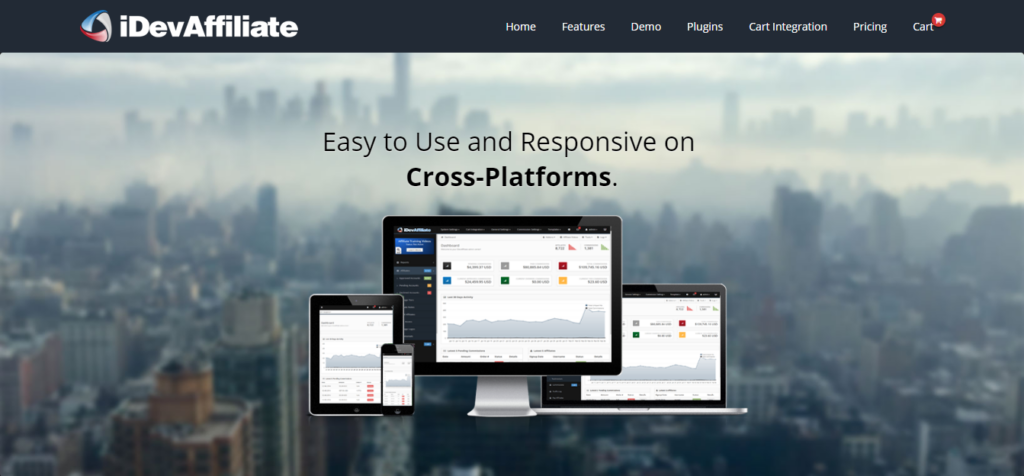 Pros:
Easy to customize: They have a verity of HTML, CSS templates, Language pack, Email templates, Color scheme, and logo. You can customize it the way you like.
Reporting: Their reporting system is super accurate. Tons of graphs and charts, custom reporting system. CSV, PDF, and excel based reporting.
Commission System: You can easily create your own payout structure with idev with useful options like percentage and flat rate payout, coupon code commissioning, PPC, PPL, and CPA. Per product commissioning, affiliate recruiting, etc.
Marketing Options: You can offer different marketing options to your affiliates like social media, video, banner, email templates, text ads and more
Security: Frauds are everywhere, affiliate marketing being a pretty large industry there are frauds. It can be a nightmare to control fraud in an in-house affiliate program, luckily IDev has a strong fraud protection system.
Integration System: You will get hundreds of integrations to support with IDev affiliate. Big names like Shopify, PayPal, Instapage, two checkout and more supports integration with idev.
Cons:
Almost all of their reviews are positive, so it's pretty hard to find cons, but I have seen some people complaining about their customer support that it can be improved.
LeadDyno is a budget-friendly affiliate tracking software recommended for medium to small business owners. Their starter package starts from $49/m for websites up to 3,000 visitors per month. Biz builder package starts from $59/m with 4,500 visitors per month, and the "Accelerator" package starts from $79/m for websites up to 7,500 visitors.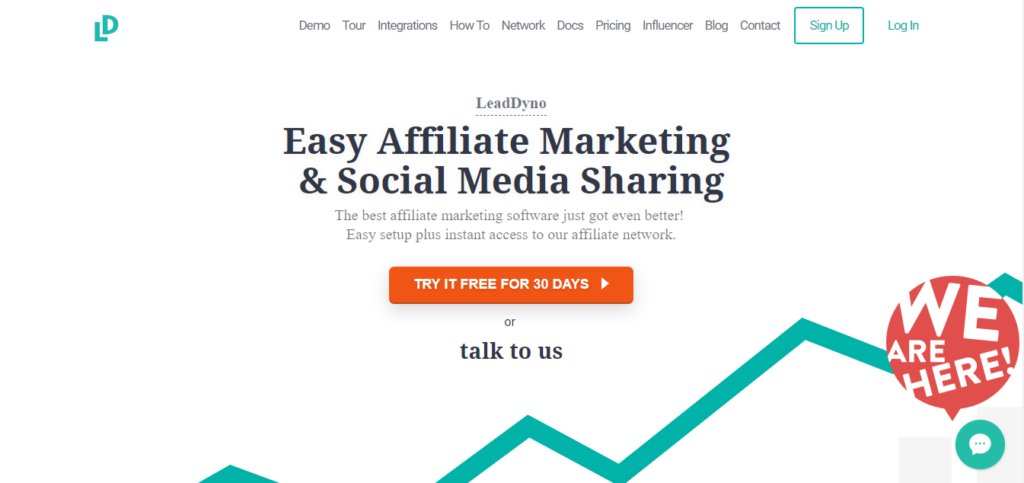 Pros:
Easy to use: They have a good reputation for being user-friendly and for their good looking UI.
Free Trial: They offer a free 30 day's trial service along with all the supports.
Features: Fast affiliate setup, Supports unlimited affiliates, Live chat support available, Affiliate dashboard mobile app, One Click Social sharing and more.
Commission Type: You can set different commission types based on your needs, Option to create recurring commissions for your affiliates or custom commissions for affiliates.
Integration: They have one-click integration with Shopify, PayPal, wo commerce, Hubspot and more.
Own Affiliate Network: LeadDyno has its own affiliate network that you can use to get in front of potential affiliates and influencers.
Blog and Resources: They Provide good knowledge base resources for their users.
It is recommended for E-commerce owners.
Cons:
Package based Visitor limit, this is big no no. Not ideal for big businesses.
No one-time payment option.
Refersion is another popular In house affiliate marketing tool. Using Refersion you can easily manage, track and grow your network. The app is easy to use and has a good review of their customer support. Their pricing starts from $89/m for the professional package with tracking up to 130 affiliate orders/m, and you can create a custom package for enterprise uses.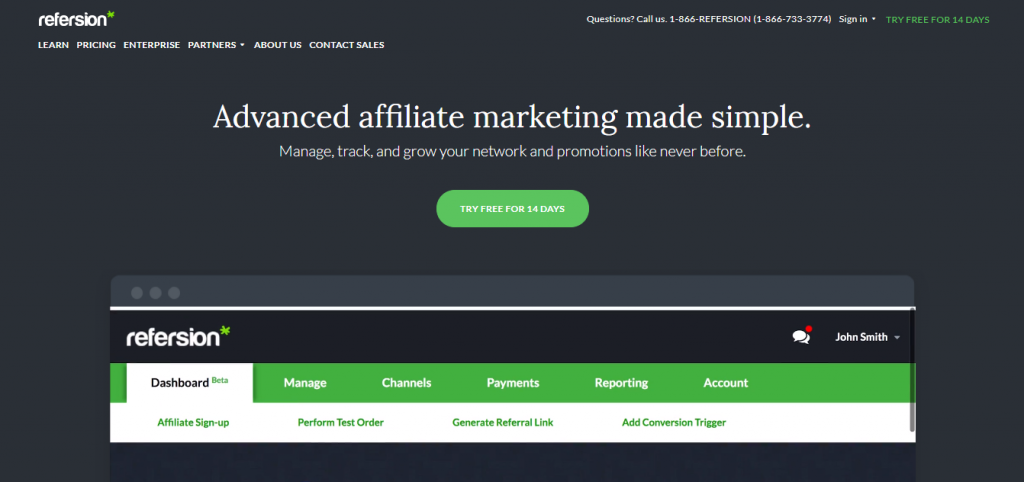 Pros:
Easy to set up: Just connect your online business with Refersion and create and create an affiliate program the way you want.
Automation: You can automate commission payouts and the whole marketing process.
Reporting: Real-time reporting made it easy to take action quickly.
Commission structures: You can easily create different commission structures based on your affiliates.
Unlimited Affiliates: Every plan includes unlimited affiliates and visits, access to developer api, free listing in refersion marketplace and more.
Free Trial: They offer 14 days free trial for new users.
Resources: They regularly provide knowledgebase resources on their blog.
Cons:
The starting price of $89/m is a bit much expensive compared to other platforms.
HasOffers is a performance-based marketing tool designed for small to big business owners to run their affiliate programs. With HasOffers you can easily manage your influencers and affiliates. They offer marketing management,  conversion management, email support, and other services all in one place. Their pricing starts from $279/m in their professional package and $799 in their enterprise package.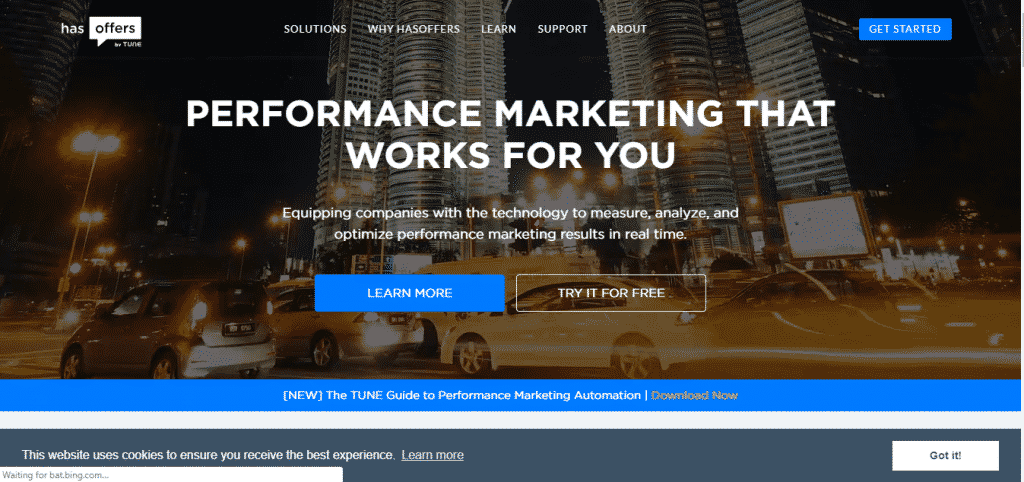 Pros:
Customizable: You will have full control over customizing your digital marketing campaigns, payouts, publisher relationship and more. You can build your own platform using their API and developer tools.
Easy To Use: They are easy to use and their interface is user-friendly.
Free Trial: They have a 30 days free trial offer so you can test before you buy.
Reporting: Real-time campaign management system so you can improve and optimize your campaigns in real-time.
Compatibility: They are mobile and desktop compatible.
Integration: You have useful integration options for Affiliate Services, Analytics, Billing, Call Tracking, Creative, Email Fraud, Lead Gen, etc.
Proactive fraud prevention: They offer a proactive fraud protection system.
Support: They have a good review for their helpful support system. They provide 24/7 email support.
Cons:
Their pricing is much expensive and may not be suitable for all small business owners.
Post affiliate pro claim to be the most reviewed and #1 rated affiliate software available online. They have a useful user interface that is easy to use with lots of features. Their pricing starts from $97 in their pro package with advance affiliate features. Unlimited package starts from $197 and Network package starts from $477.
Pros:
Fast Setup: Installation is quick and you get free setup by their team with all the plans.
Tracking and Reporting: Real-time reporting system with multiple reliable tracking methods.
Commission Types: You can create per click, per sale commissions, recurring commissions, lifetime commissions and more.
Integration: You can integrate with any HTML base app. You get a large number of integration options with lots of useful software and platforms.
Promotional Materials: You can add different types of promotional materials such as image banners, html banners, text link banners, discount coupons and more.
Unlimited Affiliates: They offer unlimited affiliates management with their all plans.
Customization: You can customize your affiliate program exactly the way you want.
Support system: They have mail, chat, forum support system.
Recommended for all types of businesses.
Con's:
It can take some learning curve to master other than that it has a good review over the net.
This is our review of the top 5 affiliate tracking software platforms of 2020. Choosing the right platform is crucial, choose one that goes with your budget and plan. You can read my article here.

Also Read: Best Paid Traffic Sources For Marketing