Building a business website isn't just about showing off how modern, professional, and polished your website looks, or how detailed the information on your website is. 
It's about structuring your website in a way that appeals to your target audience. The prime objective of having a great website is to captivate your website visitors to take a particular action, whether it's to get them to fill up a form, subscribe to your newsletter, or purchase your products and services.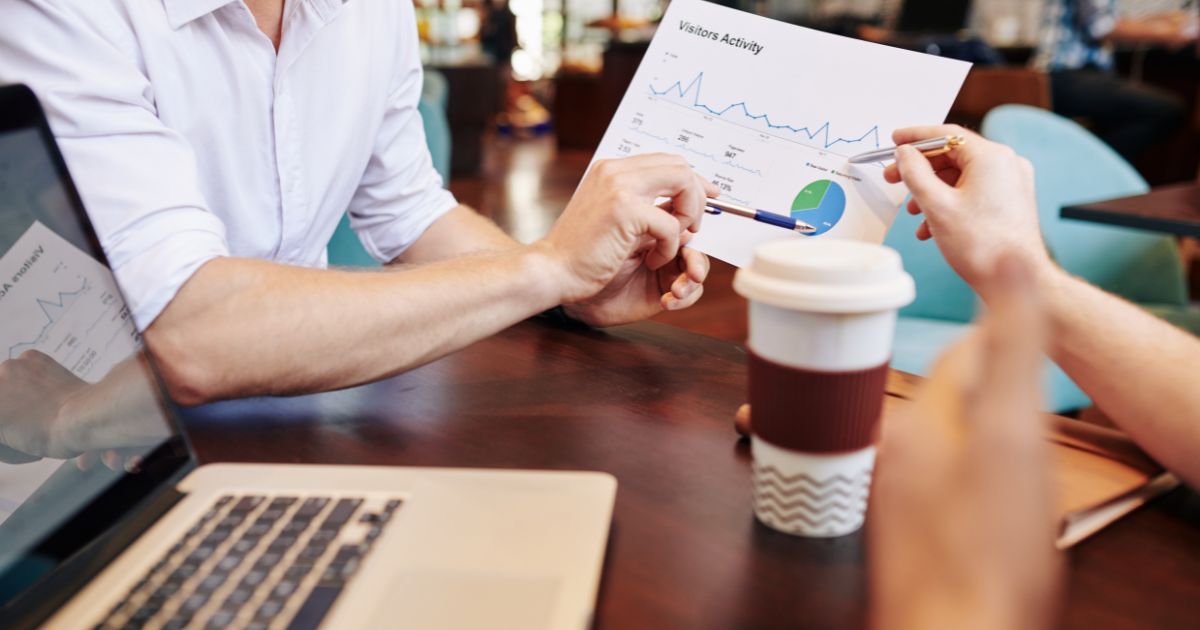 If your website has a good amount of traffic but does not convert visitors then it's not a good website. This is because it is not fulfilling your business objectives to turn qualified leads into paying customers. 
It is common for online shoppers to skim through business websites to find what they're looking for, so it mainly depends on headlines, organized listings, and skim-friendly website copies to grab the attention of potential customers. 
The user experience is another crucial factor here, if your website's difficult to understand, use, and navigate then it will significantly decrease the scope of conversion. 
The average amount of time people spend on websites ranges from 45 to 53 seconds, so that puts you under a tight threshold of less than a minute to entice your website visitor to stay on your website longer and interact with your CTAs (call to action). 
In most cases, if the website visitors don't find your website useful enough, there's a high chance that they'll switch to your competitor's website. According to recent statistics, it was found that 61% of online visitors tend to switch to a competitor's website due to poor user experience. 
So, if you want to increase your sales revenue, and experience higher business growth, then it is vital to build and develop a website that converts visitors into customers. This article discusses 14 highly effective tips to rapidly improve your website's conversions. 
14 Effective Tips to Build a Website that Converts Visitors into Customers
1. Understand the Needs of Your Target Audience 
It's best to be direct and precise about what you're offering to your website's visitors. So it is best to first understand their wants and needs. Do some research, and identify their demographics, geographic location, interests, buying habits, and pain points.
If you want to be more precise, you can conduct surveys on your website and social media. You can even engage with potential customers on public forums to better understand their requirements. 
It is common for your customers and other stakeholders to actively discuss their requirements and issues on social media, you can tap into public groups on Facebook, LinkedIn, or Twitter Communities to analyze these concerns and identify your target audience on these social media platforms. 
You can even look into public forums like Reddit and Quora to actively answer their queries, and engage with them in a discussion. 
While you're at it, study their social profiles and determine key factors that drive customer demand for your products and services. 
Plus, you can host webinars or shoot live videos where you can directly interact and engage with your target audience.
Based on your research findings create customer profiles, and buyer personas to segment your target audience into particular groups. By doing so, you'll precisely know who your potential customers are, along with figuring out how you can develop and optimize your website to increase conversions.
2. Create Your Website Copy Keeping Your Target Audience in Mind
In order to build and develop a high-converting website, it is essential to write your website copies based on the needs, interests, and pain points of your target audience. 
The goal here is to grab the attention of website visitors so that they pay attention to your website's content and take some form of action. Headlines, website copies, and CTAs must be persuasive and compelling to influence your target audience to convert. 
Potential customers visiting your website will only convert if they find your products and services useful to fulfill their demands.
96% of customers browsing different websites don't have a direct purchase intent, rather they are here to explore their options before deciding what to buy and from where. 
On average, you've about 8 seconds to convince your visitors to continue browsing your website and checking through your content. 
If they find something that sparks their interest within the first 8 seconds, they will likely navigate through your website and possibly convert. 
Although it also depends on the stage of their customer journey. To write impactful website content while keeping your target audience in mind, it is best to segment them based on the main 4 different stages of the sales funnel. 
You can use the AIDA model which abbreviates to Attention, Interest, Desire, and Action. So, based on the AIDA model you can segment your target audience into 4 different segments as follows: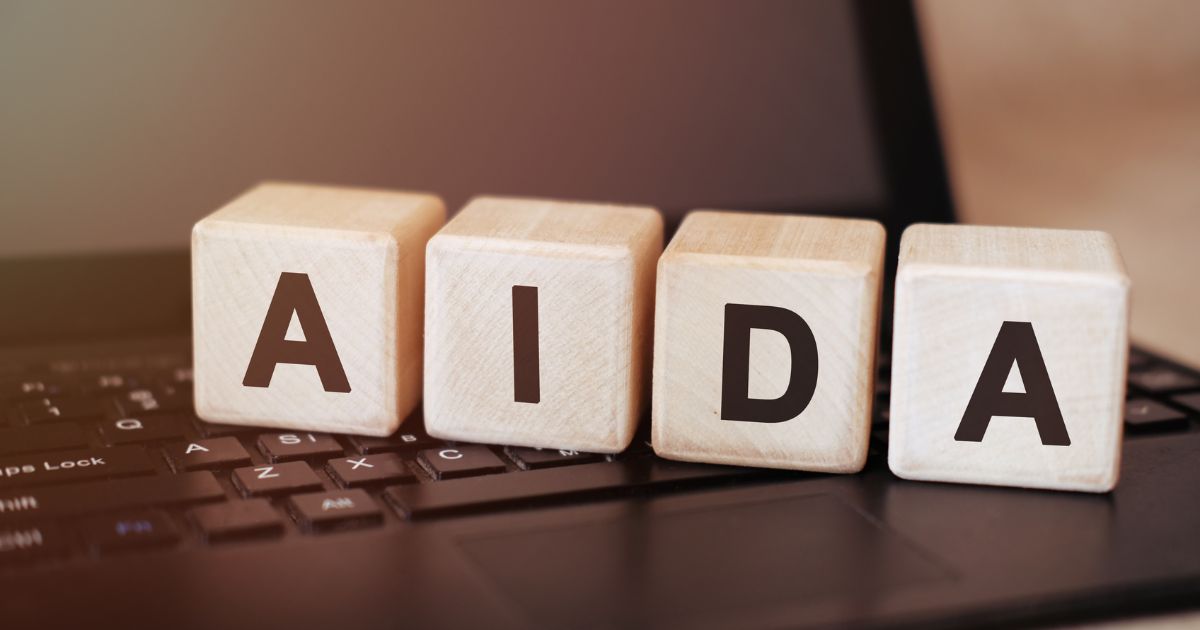 Website visitors in this stage are unfamiliar with your business and it's probably their first time visiting your website. So, your website content should have the right set of information to educate them about your business offerings, products, and services. Along with the benefits and aftersales service of purchasing your products. 
In this stage, it is important to highlight and point out the benefits of your products and services. It is crucial to address the particular interest of your target audience according to their specific needs, especially by offering solutions to significant problems and pain points. 
Now that they've developed some interest in your products and services they are likely to explore your website to learn more about them. You need to craft your copies so that your business offerings and aftersales service are the ultimate solutions to what they're looking for. The goal here is to compel the website visitor to feel that they don't just want it, but they need it. 
No matter how good your website copies, blogs, articles, case studies, videos, and other forms of content are, you need to have strong and impactful CTAs to drive conversions. That's why it is essential to make that your CTA carries a powerful message and punchline to captivate your target audience to convert, whether it's to book a consultation, set an appointment, sign up for your newsletter, engage on live chat, and so on. 
3. Create a Website Design That's Easy to Understand and Navigate
If your goal is to build and develop a high-converting website then you must have a website design that's visually appealing, easy to understand, use and navigate. 
Many business owners focus on either making their websites super fancy with unnecessary images, animations, and other visual elements, or they rush into making a broken, cluttered, and buggy website.
If you forget to prioritize the core requirement of building a high-converting website, which is providing a smooth user experience then you're making a terrible mistake.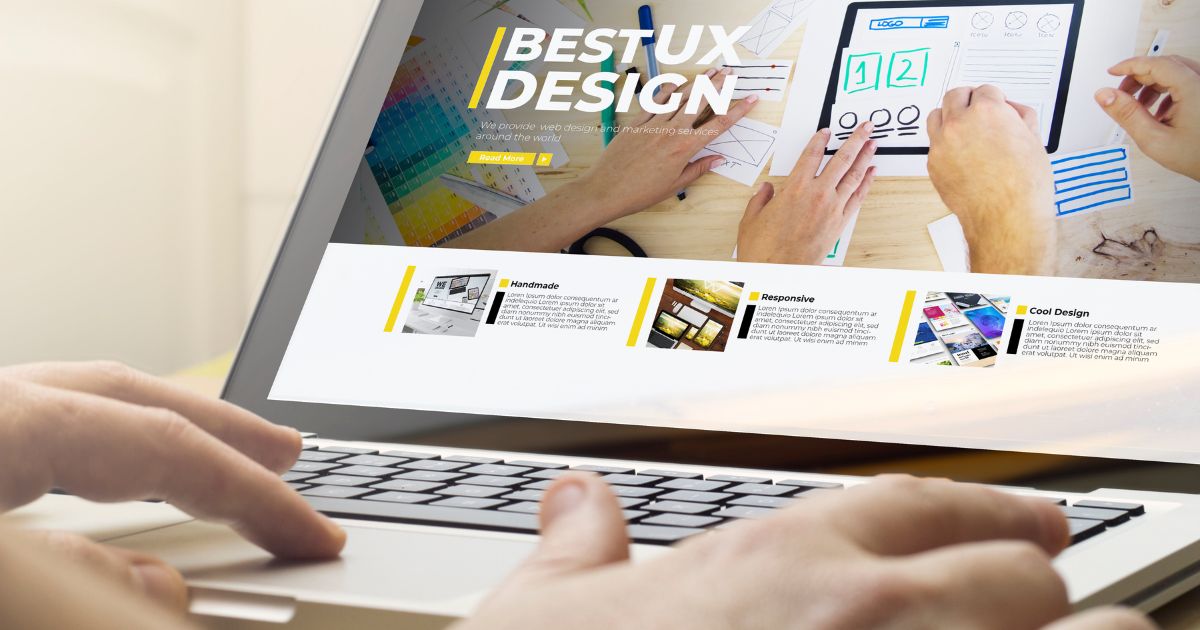 If you look into recent studies, you will find that 94% of first impressions on websites are specifically based on their design, which implies their visual appearance, usability, features, and functionalities.
According to Standford University's research, it was found that 75% of online customers judge a business's credibility based on its website design, this is because most trustworthy businesses have a smooth, attractive, and highly useful website design. 
So, if your website visitors find your website unattractive and difficult to navigate, there's a high chance that they will immediately leave your website within a few seconds and most possibly visit a competitor's site. 
According to statistics, it was found that 38% of website visitors will abandon your website if they don't find its design useful and visually appealing. In the long run, it can even hamper your business's brand reputation, and most visitors who had a poor experience on your website might avoid visiting it in the future. 
So, it is crucial to develop an attractive, modern, informative, and minimalistic website that appeals to your target audience in terms of appearance, navigation, and usability. 
If you need tips and step-by-step guidelines for creating a highly useful and visually appealing website, read our comprehensive guide on website designs. 
4. Make Sure Your Website is Compatible with All Digital Devices
You can't definitely assume that your website visitors will browse your website, particularly using computers or smartphones. In fact, the number of online customers using mobile devices like smartphones and tablets is significantly on the rise. 
According to recent statistics, it was found that 53.91% of website traffic comes from smartphones, and 44.1% is from desktop computers and laptops. 
If you look at the trendline since the past couple of years then website browsing on mobile devices has been on the rise. 
Ever since the year 2009, more people have been using mobile phones to browse websites, and for the first time in 2016 mobile web browsing finally surpassed desktop, which accounted for 51.3% of website traffic from mobile devices and 48.7% from computers.
Based on the trendline here the number of website visitors on smartphones is constantly increasing at a much faster rate than desktops. This means that is vital for you to build a website that's equally compatible with computers and smartphones. 
This means you will have to ensure an optimal website loading speed of 1 to 3 seconds universally across all devices and maintain proper formatting of texts and visual elements like images, animations, GIFs, and videos to ensure equally high-quality user experience and readability. 
The goal here is to ensure that your website is universally accessible from all digital devices so that you can provide a satisfactory and interactive browsing experience on your website. 
Online users tend to spend more time on websites that are user-friendly and smooth, so that's why it is crucial to ensure that your website provides a smooth and intuitive user experience. And the more time visitors spend on your website, the higher the chances of conversion. 
5. Create Compelling CTAs
Your call to action, commonly abbreviated as CTA is the ultimate driving force to motivate, influence and compel visitors to convert. That's why it is a mandatory requirement to make sure that your CTAs are impactful enough to trigger your visitors to convert. 
Also, it is important to make sure that your CTA placement is easily noticeable. Most website visitors tend to skim through your website, so if you create banners and image CTAs with large buttons or fill-up boxes it is more likely to grab the attention of potential customers.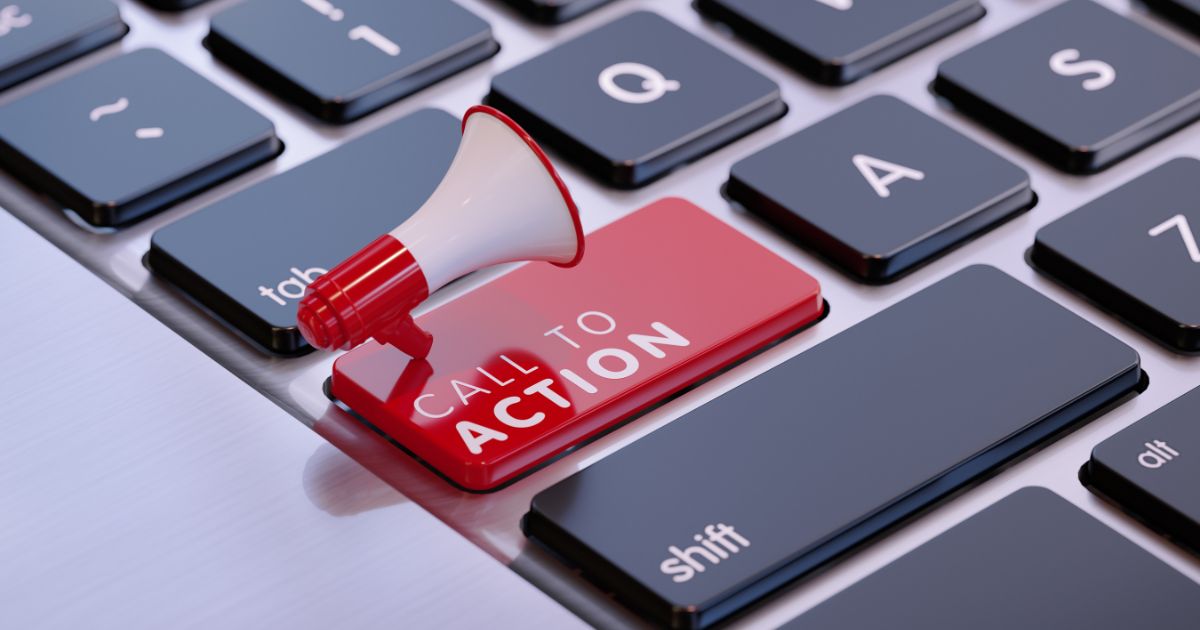 Not to mention, it is very essential to make sure that your CTAs are easy to read, captivating, and most importantly skim-friendly. So, it is best to keep your CTAs short and precise with impactful trigger words to influence instant conversion. 
In a nutshell, it is important to ensure that your CTAs contain your business's value proposition, eye-catching design, and powerful language to convince website visitors to click, sign up, or purchase your products and services. 
The most effective way to create super effective and highly convertible CTA is to personalize them and use emotional punchlines. According to Hubspot research, it was found that personalized CTAs convert 200% better. 
One of the most important aspects of creating compelling CTAs is to effectively resonate with the needs of your target audience. The better you can relate to their issues and craft a personalized CTA, the higher the chances of conversion. 
While you're at it, it's also important to make sure that your CTAs are precise, concise, and to the point. 
6. Add Value-Driven Headlines to Attract Conversions
Headlines are the most powerful text elements on websites, whether it's the main headline or sub-heading they're the most noticeable texts.
Especially because they are relatively larger in size than the body text content on your website, and headlines are usually bolded. 
When someone visits a website, it's natural for them to quickly scroll through to scan the website at a glance to find what they are looking for or simply to just explore to see your business's offerings and its value proposition. 
As headlines are these large bolded texts, and they look like these big lists of key pointers, they immediately deliver the gist of your website. So, by just scanning headlines website visitors can emphasize what your website is about. 
So, it is crucial to add value-driven headlines to your website to attract your target audience into particular conversions. 
If the headline is compelling enough, and if they find it useful then they will either read your website copy further or surf browse through your website to acquire more information. 
Ultimately, when they're convinced they will click on your CTAs or fill up forms and convert. 90% of website visitors who read headlines are also likely to read your CTAs. 
Therefore, it is imperative that you keep your headlines short, precise and write in a way that delivers the highest level of value. It is best to write headlines between 6 to 12 words to attract potential leads and drive increased conversions. 
7. Keep Your Lead Capturing Forms Simple and Precise
Most website visitors don't like being bombarded with lengthy forms. Of course, forms are one of the most essential ways to acquire information but not at the cost of driving away potential customers. 
According to the Manifest, 80% of website browsers have left the website for having to fill up lengthy forms. And more than 67% of online customers never visited the same website again. 
Nowadays people prefer forms that are short, precise, and simple, especially if they can be filled up with minimal effort, and that's why many large companies provide short and simple forms on their websites. 
In most cases forms these days can be filled in a few simple clicks. A lot of prominent companies offer single-click sign-ups by allowing their website visitors to register and provide information from their existing Google, Facebook, and Microsoft accounts. 
So, those who are interested in signing up on your website, or simply creating an account for purchasing your products or services will do it using this easy and intuitive feature.
Depending on the type of products or services you provide you may require additional information. Alternatively, you can use similar forms like the one illustrated in the screenshot below.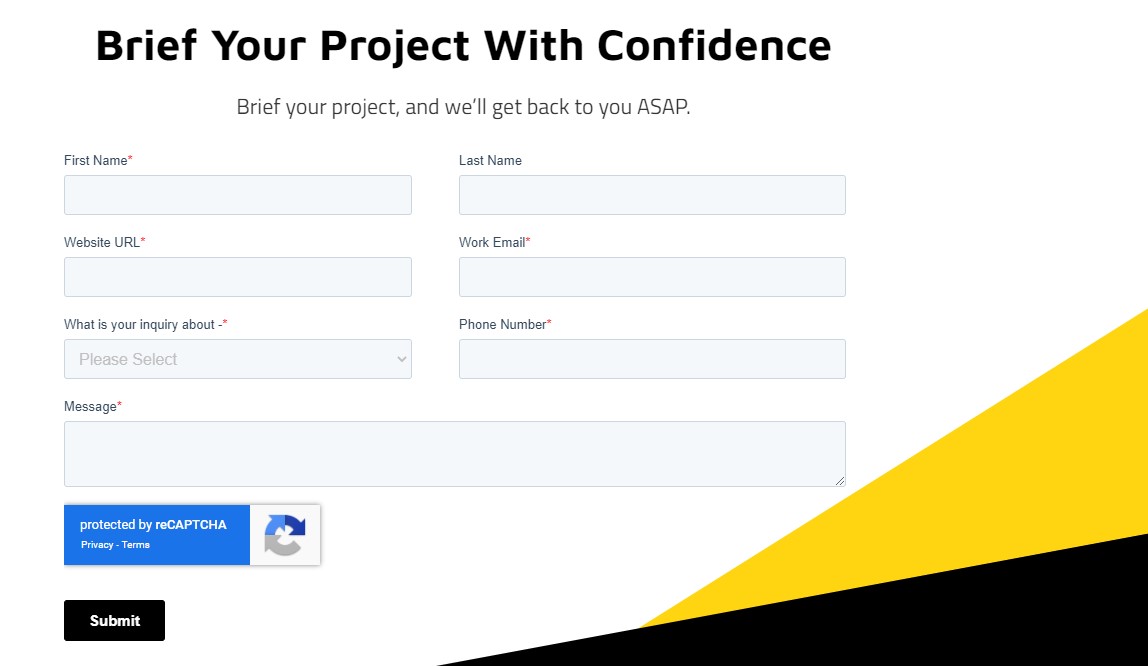 Screenshot of a standard online form on our website
The length of forms primarily depends on various factors, and your target audience but as it is increasingly becoming a common practice of using simple and short forms, it is best to refrain from using lengthy forms unless it's absolutely necessary. 
8. Create Relevant Landing Pages
Usually, a typical business website contains multiple web pages that include a home page, an about us page, a contact page, a blog, and product pages. 
Each of these pages has a unique purpose, and a set of navigational links to forward internal and external website traffic. 
Depending on the size of your business, branding, and the range of products and services that you offer, you will have to create landing pages. 
There are times when you need specific landing pages to increase your website traffic from search engines, social media, and other online sources which can play a crucial role in scaling up conversions. 
Especially to hit that spotlight for particular products and services, and also to diversify your website's online exposure. 
Creating landing pages can also be effective to carry out marketing campaigns, and to improve increased conversions for that particular campaign.
You can also push conversions like DLCs (downloadable content) like eBooks and case studies by creating landing pages, and even drive app downloads and more. 
In a nutshell, landing pages are potential lead magnets for increased conversions, the more effectively design them the more conversions you're likely to get. 
By creating a good landing page, you can increase the conversion rate of your website by 10% to 25%.  
9. Maintain a Fast-Loading Website
If you want to drive increased conversions to your website then you need to maintain an ideal website loading speed between 1 to 3 seconds. 
On average good websites tend to load within 1 to 3 seconds, and the best websites load in less than 1 second. According to Pingdom's research, if it takes your website more than 3 seconds to load, it can increase your website's bounce rate by 32%.
Most website browsers find it annoying if it takes too long for a website to load, due to which they end up abandoning the website. As per Google Consumer Insights, 53% of mobile users abandon a website that takes longer than 3 seconds to load. 
50% of online customers tend to abandon their shopping carts if the website takes too long to load and process their purchase. 
You can't expect to have a high-converting website if your website visitors keep abandoning your website. It will kill conversions and significantly damage your business's reputation. 
So, it is highly recommended that you maintain an optimal website loading speed of less than 1 second, but due to certain limitations if that's not possible for you then it should not exceed longer than 3 seconds, ideally, a 2-second website loading time would be suitable here. 
To check your website speed you can use the following tools to evaluate your website's loading speed across all digital devices.
Here are some effective tips that you can follow to improve your website's loading speed.
Remove unnecessary website plugins and extensions 

Optimize your website's images, it's best to maintain a JPG format which makes it easier to compress

Use website caching 

Subscribe to a Certified Website Host, a dedicated hosting provider will be the most effective solution

Reduce web page redirects 

Periodically audit your website and run optimizations, at least once every month
10. Integrate Website Security Features
According to GlobalSign's research, it was found that 85% of online customers avoid unsecured websites. Popular web browsers like Chrome, Firefox, and Edge will instantly prevent you from visiting a website that may be infected with malware and other types of cybersecurity threats.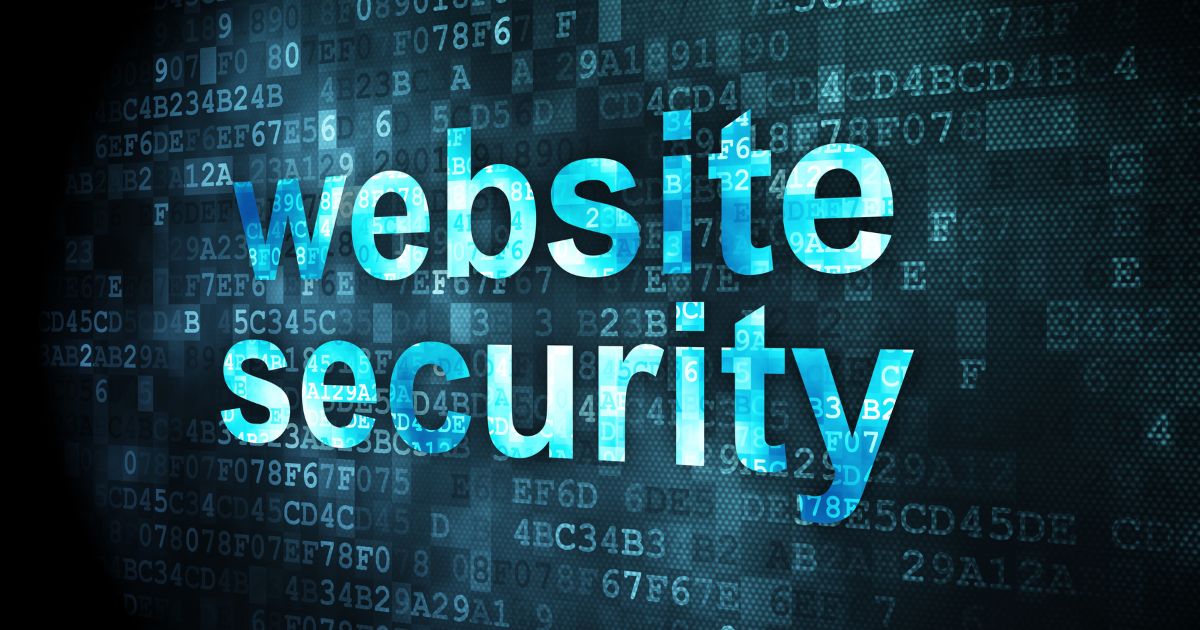 The moment your website visitors sees the awareness flag on their web browser, there is a high chance that they will refrain from visiting your website. 
In some cases, web browsers may fail to detect security issues on particular websites. So, if your website is infected, or somehow gets hacked then it's a major security threat to your business and its conversions. 
If you don't integrate effective website security then it will leave your website compromised to hackers, malware, and all sorts of security threats. 
Plus, search engines like Google and Bing can detect malicious content on websites, and if the search engines find your website unsafe then they will immediately remove it from the search engine database.
According to BrightEdge, 68% of all online experiences start with a search engine, so if your website's cut out from getting any search traffic, you'll lose a major source of website traffic, which means your conversion rate will severely drop. 
So, if you want to ensure having a high-converting website, you must ensure effective website security. 
If you're taking cybersecurity lightly, then you're definitely making a terrible mistake here. Recent studies have shown that, 
Approximately 30,000 websites are hacked daily worldwide

Cyberattacks occur every 39 seconds 

95% of cyberattacks are due to security negligence 

43% of cyberattacks are targeted toward small businesses

Cyber attacks have incurred a loss of $6.9 billion in the USA in 2021, and up to

$20 billion globally

. 

By the year 2025, cyber attacks can lead to a loss of

$10.5 trillion

globally
A lot of businesses don't take cybersecurity seriously, especially to save costs on website security but that leaves a potential threat of website hijacking. Cybercriminals are well aware of it, and they are taking maximum advantage of the negligence here. 
If you want to scale up website conversions, then you must ensure a safe browsing environment for your website visitors. You can follow the tips below to maintain and optimize your website's security. 
Get an SSL certificate to encrypt data transmission directly between your website and its visitors
Install WAF (Website Application Firewall) to prevent unwanted traffic
Regularly Update Website Plugins and Extensions
Install Server Security Software to track malware, and maintain end-to-end encryption
Integrate captchas on your website as an extra layer of security
Subscribe to a Secure Hosting Service 
11. Prioritize SEO 
One of the key requirements of building a website that converts visitors into customers is to have a consistent amount of website traffic. If no one visits your website, then how will you achieve conversions in the first place? 
81% of online customers use search engines to find products and services before making a purchase decision. And, 75% of these online searchers visit websites that appear on the top 5 listings on the first page of search results. 
In fact, 53.3% of all website traffic comes from organic search results. So, if you want to improve your website's search visibility and traffic then it is crucial to prioritize SEO. 
Without optimizing your website using effective SEO techniques, it won't be possible for you to rank among the top search results. And, without adequate search engine visibility, potential customers won't be able to find your website, and as a result, you will out on tremendous conversion opportunities. 
So, if you want to make ensure building a high-converting website then it's vital to extensively focus on SEO, as search engines are a major source of qualified, targeted, and highly convertible website traffic. 
Here are some effective SEO tips to optimize your website and attract qualified leads and potential customers, 
Run a

Deep SEO Audit

at least once a month 

Fix the issues identified in the audit, and optimize to improve your website's position on search rankings 

Conduct effective keyword research, and use the keywords effectively in various content on your website 

Track your keywords using SEO keywords tools like Ahrefs, SEMRush, Ubersuggest, etc. 

Run technical optimizations to improve your website's user experience to ensure smooth loading, mobile friendliness, and easy navigation. 

Internal link relevant and important web pages on your website to help search engines understand your website better 

Maintain a strong backlink profile by strategically acquiring high-quality backlinks from authority websites in your industry, along with consistent tracking to identify and remove toxic backlinks.

Use an effective content management strategy to create and publish high-value content to gain trust and improve website authority 
Disclaimer: These tips can be highly beneficial if it's implemented properly, however, if you aren't an SEO expert or if you don't have a team of SEO specialists then it's recommended to consult SEO Professionals before applying any of the suggestions listed above. If you don't have any experience in SEO then it is advised to hire a Specialized SEO Agency to optimize your website. 

12. Have an Active Blog
Blogs and articles play a pivotal role in the conversion process, as it's effective in persuading readers to take certain actions. Most people read articles and other long-form content to learn about specific topics, and to find solutions to certain problems. 
Writing blog posts will help you gain high credibility, and significantly contribute to establishing your brand as a high authority figure among your readers. 
Having an active blog is also crucial for SEO, as it helps you guide search engines to identify your target audience, and understand in what aspects you're adding value to online searchers in your niche.
If you generate value-packed blog content consistently then you can drive more qualified website traffic to your website, and persuade them into multiple conversions like booking a consultation, subscribing to your newsletter, adding your products/services to their wishlist, and even purchasing them in due time. 
According to recent statistics, it was found that 46% of online visitors read blogs to research a product, and 84% of online customers have made purchase decisions after reading a blog. 
If you want to scale up your website's overall conversion processes rapidly then it is crucial for you to maintain an active blog by generating high-value content to encourage higher conversion rates.
To maintain an active and helpful blog on your website you can consider following these effective tips below: 
Conduct effective topic research 

Jot down specific topics related to your products/services 

Do comprehensive keyword research to find potential high-ranking keywords 

Determine focus and supporting keywords based on the keyword research

Write an informative, interesting, and engaging blog post by effectively using the right keywords

Include strong CTAs in your blog posts to drive traffic and conversions 
We understand that maintaining an active blog isn't easy as it requires an ample amount of time, and a lot of research to write high-quality blog posts. So, if you need help generating blogs consistently, you can look into our content writing services. 
We have a diverse group of 50+ high-profile content writers specializing across multiple industries worldwide. So, if you want to get started you can book a Free Content Marketing Consultation to discuss and learn how we can work together to generate high-quality content that converts. 
13. Conduct Routine SEO Audits and Optimize Your Website
Website development and SEO are two things that require consistent monitoring, maintenance, and optimizations. If you look into the search engine updates of Google and Bing, they're constantly changing. 
There are times when major search engine updates come with significant changes in SEO policies, that require specific tweaking and website optimization. 
Other than the search engine dynamics, regular website processes often require various types of maintenance and optimizations to keep them up and running. 
If you want to maintain a high-converting website then it is crucial to ensure that it's bug-free, provides a smooth browsing experience, and fulfills all the major ranking criteria. 
So, it is highly necessary to run frequent SEO audits to find issues that bottleneck user experience and conflict with search engine guidelines. 
A Deep SEO audit will help you identify these issues so that you can apply effective solutions and optimization strategies to improve your website's SEO performance and overall conversion rate. 
Primarily you can try conducting a Free SEO audit, this will help you get an overview of any underlying issues affecting your website but for a more effective evaluation, a deep SEO audit is highly recommended. 
14. Add Virtual Assistants to Improve Your Customer Journey 
Most website visitors are well aware of what they're looking for, and they specifically intend to find that on your website. 
The sooner they find it, the faster they are likely to convert, whether it is to book a consultation with you or to buy specific products or services.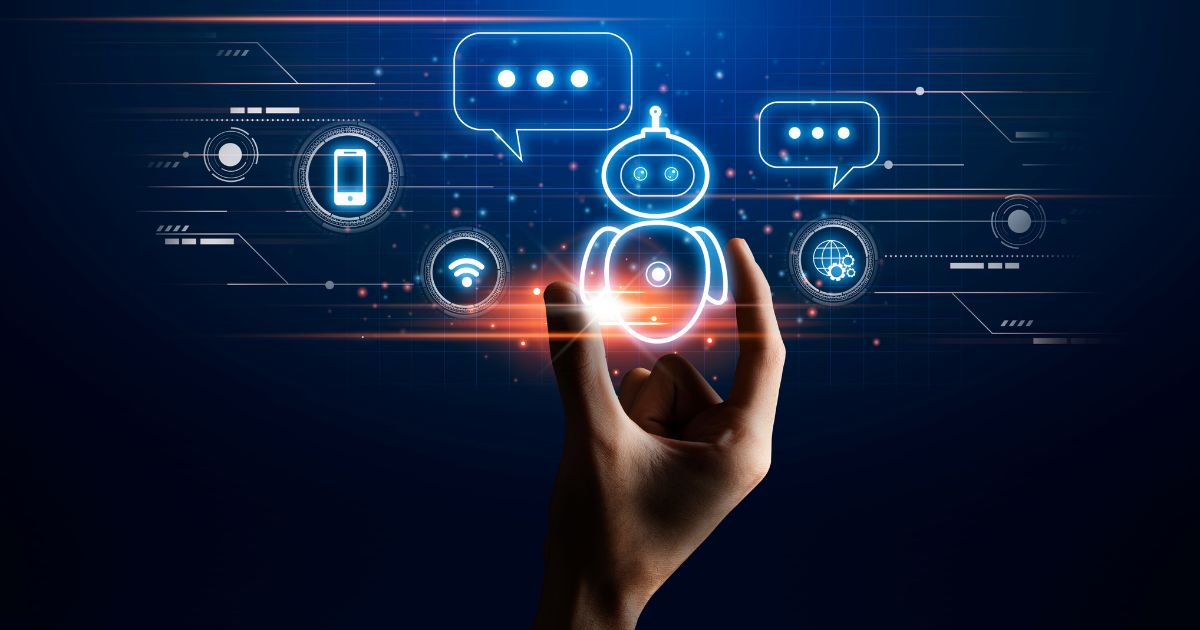 Some website visitors and potential customers have specific queries, and you may not have an active customer service representative to address their questions immediately. 
So, while you're away you can integrate an AI virtual assistant to engage with potential customers. They are built using advanced GPT models with machine learning capabilities, so they can directly interact with the website visitor like a human salesperson. 
The AI virtual assistant can send links, images, videos, and any other reference material to drive instant website conversion. You can even include FAQs and other important customer queries to effectively guide the website visitors through a funnel-based conversion process. 
To learn more about setting up and integrating AI-powered virtual assistants look into our detailed article on How to Use AI in Digital Marketing?
Don't let potential website conversion opportunities just disappear due to delayed response, instead integrate virtual AI assistants to improve your response rate on a whole new level. 
You can even set the virtual assistant to set consultations to address website visitors who need specialized consultation. But other than that your virtual AI assistant can take care of queries that require immediate attention. 
Building a High-Converting Website: Final Thoughts
Based on over 10 years of experience in SEO, Content Marketing, and Website Development we've outlined the 14 effective tips to build a website that's designed to convert visitors into customers. 
These are tried and tested techniques and strategies that can rapidly scale up your website's conversion rate which will help you significantly improve your customer retention and acquisition processes. 
But here's the catch, most of the processes mentioned above require extensive technical expertise, mostly concerning SEO, web development, and other IT specializations. 
Being a full-fledged Digital Marketing Agency with a specialized we're aware of many proven methods to transform your website's conversion on a whole new level. 
So, if you need help building and developing a high-converting website book a Free Consultation right away, and one of our representatives will get in touch with you soon!