Affiliate marketing and influencer marketing both are hotcakes at the moment. It's not easy to be an influencer marketer in a snap, but it's comparatively easier to become an affiliate marketer. 
In this guide, I'll explain how to start affiliate marketing. I promise you, you can start the journey of becoming an affiliate marketer – right from here.
Well, not just an affiliate marketer – a good affiliate marketer who knows what he is doing. How to scale this business and how to generate passive income, and grow over time.
(I know it's a bold claim, but sit tight, as I'm going to deliver on my promise)
This affiliate marketing guide is going to crack the puzzle of making money online.

So, wake up, you need to make money.

Sit tight, get a cup of coffee and read this guide very seriously. This guide can be your best shot for starting as an affiliate marketer.
It's better than some of the best affiliate marketing courses I have ever attended.

(As I have added so much value that I never got from any guide yet)
P.S. It's an ideal affiliate marketing guide for beginners, newbies, or dummies. If you are a pro, it's not for you. 
But, you are more than welcome to add value to this content by sharing your experience in the comment box. If there is something new, I'll add those with your credit.
A little bit about me first – who the heck I am…
I guess before putting your time into reading this long article; It's crucial to know who I am, make a connection. 
And then decide if I'm someone you should ask how to start affiliate marketing.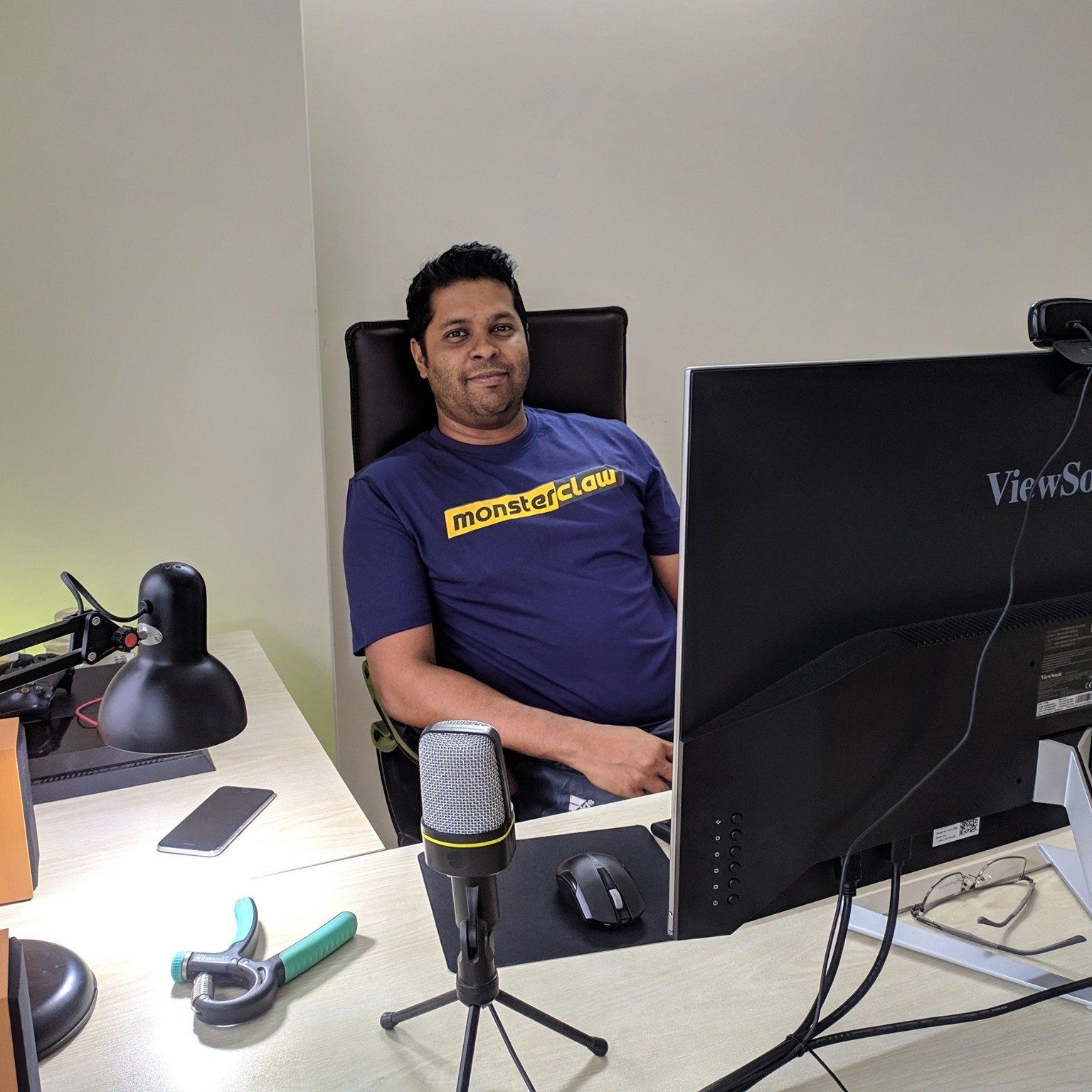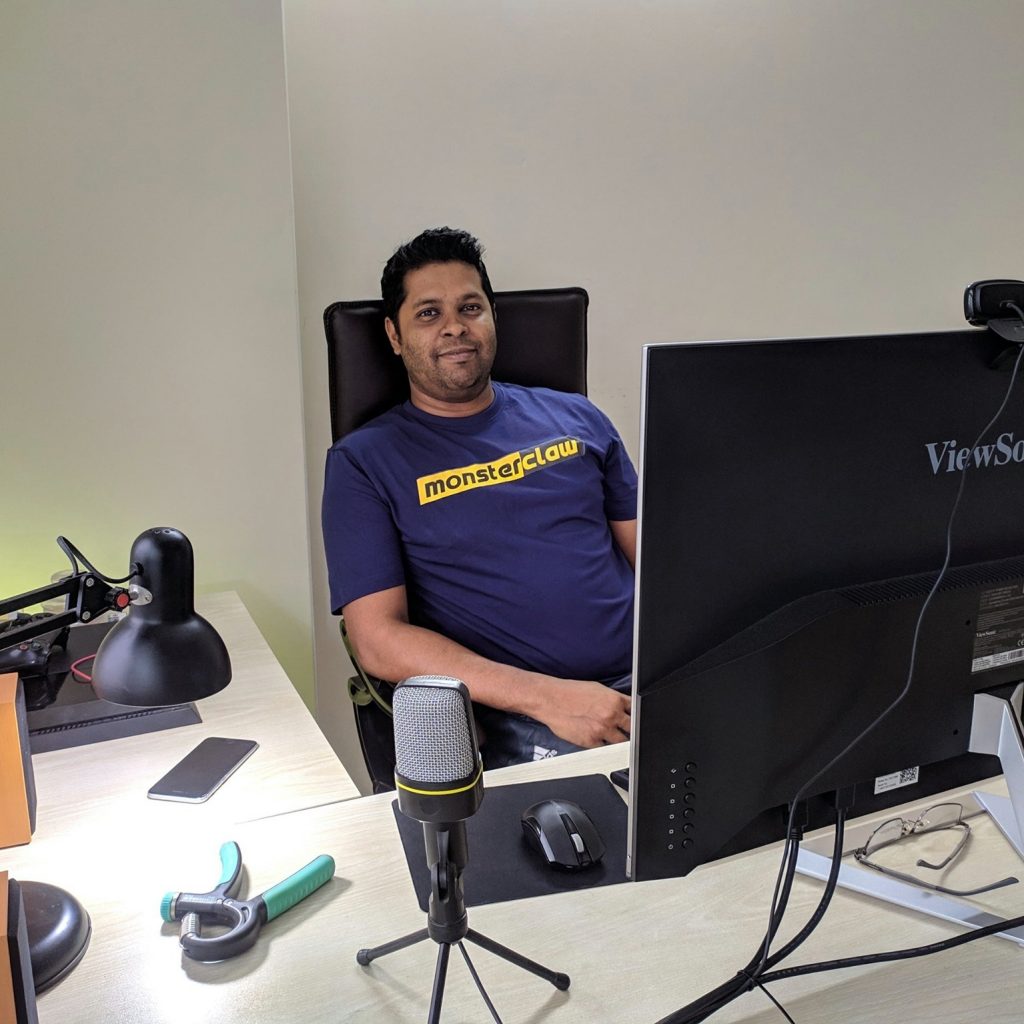 Hi, I'm Rifat. Nice to e-meet you!
I have worked as an affiliate marketer for more than ten years. I have worked as an affiliate marketing consultant for years.
And now I'm CEO for MonsterClaw – which is #1 affiliate firm in the world, and also #1 market leader (as of today when I'm writing this) as per world's leading agency ranking platform Clutch.
Also, I have built a local community of 42,000+ potential affiliate marketers from the ground, trained more than 3000+ students locally, and many of them are super successful. 
It's been ages, I don't monitor & manage this community actively, but you can take a look at the community here – Affiliate Marketers B.D.
In all those years, I have learned a lot; I have gained real-life experience; I do affiliate marketing for a living.
I am still learning every day, and if you are serious, you should too.
And…

If you are really serious about getting into affiliate marketing, then I suggest you give your full attention to this affiliate marketing guide.
(Press CTRL + D and bookmark this guide, so you can come back often and study part by part).
I'm going to give out my 10+ years of knowledge into this guide – use it for your good. 
Also, if you have any questions, ask me in the comment section below, and I'll answer them.
This content is going to be big, long, but packed with value. I am writing this in a step by step on how to start affiliate marketing. 
Alight…
Take a moment, grab a cup of coffee, and dive in.
It's time for you to discover the affiliate marketing world.
What is affiliate marketing
An easy overview.
Affiliate marketing is basically partnering up with another company to promote their service or product and receive a commission in exchange.
The formal definition of affiliate marketing as per google dictionary is "a marketing arrangement by which an online retailer pays commission to an external website for traffic or sales generated from its referrals."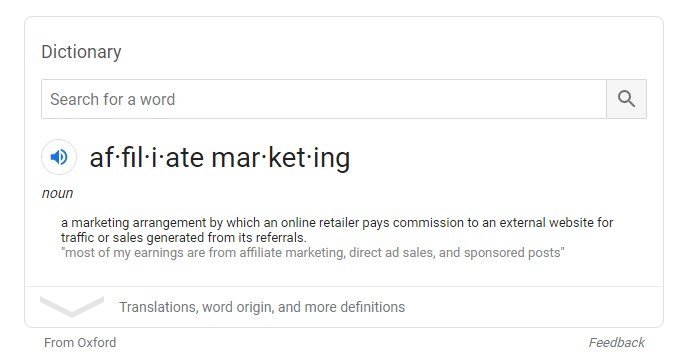 A group of people also call affiliate marketing – Joint Venture or JV.
Typically, when marketers work with other marketers on the affiliate model, they call it J.V.
My very personal opinion about affiliate marketing is simple. It's a reliable way of making good money online by simply promoting good products that convert, on a handsome revenue share or fixed commission.
Some products also have recurring payments.
If you send them a sale this month, they will keep paying you for years to come! An example can be selected hosting services, VPN services, live chat services, etc. 
Subscription-based products are most likely going to pay you month over month, as long as the customer stays. And, by promoting an excellent product with a recurring commission, You can also build a stable passive income that stays.
The company always determines the mode of payment; and the model of payments.
But affiliates have the ultimate power to select with whom they want to work.
So companies always try to come up with excellent offers, higher commissions, better support to attract good affiliates.
Future of Affiliate marketing
Is it worth your time and effort?
In simple words – the future of affiliate marketing is bright. And it will keep growing because it solves three significant problems.
For companies – 
Small to medium companies face a big challenge – no matter how good their product or service is – their marketing budget always caps their growth. 
Affiliate marketing can help them grow way beyond their marketing budget. And help them achieve faster and bigger growth – which is usually NOT possible with any other marketing channel.
I have seen in my experience, SMEs typically have a budget of $5000 to $20000 budget for its marketing. And they need to wait for the money to roll and re-invest. And they grow over time in years!
But with the affiliate model, if their product converts, and if they can recruit the right kind of affiliates – they can see immense growth. Only 20 to 30 affiliates can give them traffic worth $20K to $30K a month, and affiliates invest more and more on profitable converting products.
And on marketplaces, when they can recruit 100's of affiliates, the growth is way beyond their normal budget. Many companies are getting more aware of this opportunity, and they are stepping into the affiliate world.
For Affiliates – top marketing professionals can expect to get around $60k to $80K a year salary on a good company. Where a good affiliate can make way more than that, not only that, they can select a product they like.
Affiliate Marketing is enabling top marketers to earn way beyond their highest salary and also giving them independence, freedom, authority, and, most importantly – fun.
This is why every day, more and more qualified marketers are getting into the affiliate marketing world. And companies are paying them more and more – as investing in affiliates is a sure shot.
They get to invest in return, instead of spending first and expecting a return second.
For Customers – the internet world has exploded with products. 
Everything has thousands of variations. Every search has millions of results, and everyone claims they are the best! Good affiliates take the hassle of checking a lot of products (which customers usually won't) and find out what works and what doesn't. Which one is legit and which one is bad.
And they recommend the good ones to customers; they write reviews on the product.
And with the help of affiliates – customers are getting a sneak peek of what they will receive, what to expect, alerts about scams, and information about great deals.
The search for reviews is growing across every category, and it's mainly by the affiliates and influencers (who also does affiliate), so customers are relying more on the affiliates.
All three parts – companies, affiliates, customers, are getting more into the affiliate world, and this ecosystem is growing.
And to support this growth, more affiliate networks are taking birth, and more affiliate companies are working closely with all 4 of them.
So I hope you are clear about the future of affiliate marketing, and now if I have your full attention – I'll make it worth it. I'll cover in-depth the whole affiliate marketing world and give you a reliable guide.
Btw, if you are still unsure about the future of affiliate marketing, here are some facts that might blow your mind.
1% of the U.K.'s total GDP is from Affiliate Marketing
40% of digital marketing professionals voted "Affiliate Marketing" as their desired digital skill.
Approx 15% of total digital media revenue comes from Affiliate Marketing.
The U.S. alone spends $5B on Affiliate Marketing.
These stats are based on 2016 (source), right now it's much bigger! 
Now you see the future? Good.
Get another cup of tea and keep reading.
Is affiliate marketing right for you?
Save or put – a ton of effort.
Affiliate marketing is nice itself, but will it be nice for you? I have seen that most of the people fail in affiliate marketing, and few succeed.
I can not say for sure you will fail, or you will make good out of it, but I can show you traits of who can be good and who will possibly fail, and you can be the judge for yourself and see if it's right for you.
(P.S. There are not science-based research, these are my personal findings based on my long experience of guiding more than thousands of beginners into affiliate marketing business)
Affiliate Marketing is NOT right for you if you have one or more signs from below –
– You want to be rich overnight
– You have tried many things, failed and now you think you'll do affiliate as it's easy
– You have no in-depth knowledge around anything specific, and you are also not interested to learn in-depth about anything.
– You hate to study, and you want to invest some money and make back quickly
– You are very busy with your current work and do not have enough time for this
– You do not have patience (be honest with yourself, as it's going to save your time and effort)
There can be few more, but these are the basics. 
If you don't know technical things like how to do a website, or how to write articles (that most people think they need to know) is perfectly all right. 
You can always learn what you don't know if you love learning, love to study, and have the patience to stick around.
Affiliate Marketing is right for you if you have one or more qualities from below – 
– Have Patience. You have the patience to hold onto something for a while
– Know about any specific niche/topic. Example – you know about pets more than most of the people you know.
– You love to study, research, and you can learn things quickly. Learning is your passion.
– You are good at communication, and you can influence people on a topic you know.
– You have some basics in sales & marketing
– You can compare and contrast among a few things and make a decision on which one is best.
– You don't need to get rich quick, and you need a way to create good sustainable income over time.
There are more, but these are the basics. If someone has these – I'd say, welcome to the affiliate marketing world. And, if you stick around, sooner or later – you are going to make money while you sleep.
A Deeper Understanding of Affiliate Marketing Business Model
The Game.
You are still reading, which means you have the qualities to be an affiliate marketer, a good one possibly, and you are going to stick around it… That means you want to know more.
So, here is the whole affiliate marketing business model. I am putting down all of the parts of the affiliate marketing game, so you know who plays what, and how they connect – with each other in the ecosystem. 
Wiki says there are four parts, CJ says there are three parts, but I'd love to explain five parts of it, as I deal with all five on a daily basis, and all of them are important in different aspects of the affiliate marketing world.
A. Affiliate Advertisers / Vendors
Affiliate Advertisers are the ones who are offering something to sell on commission. It's usually the product/service owner. We call them affiliate advertisers as they advertise their products to affiliates.
In some places, they are also named as Affiliate Vendors – as they are creating the opportunity.
Affiliate Advertisers are the first in the chain to create the ecosystem. They bring in the products or services – which start the affiliate business.
B. Affiliate Marketers / Publishers
Basically, the marketing guy who promotes the product for a commission is an affiliate marketer. And, usually, when affiliate marketers use a blog to promote an affiliate advertiser's product – they are called Affiliate Publisher. 
Btw, Affiliate Marketers are the ones this guide is for. This guide is all about how you can start your affiliate marketing career and be a successful affiliate marketer.
C. Affiliate Platforms (Network / Software)
The affiliate platform is where both affiliate advertisers and marketers connect. It's the platform where affiliate advertisers can advertise their offers, benefits, and provide affiliates a way to sign up and promote their products.
This platform also tracks your sale to give you the commission earned. We'll talk a lot more in detail later in this guide about how the sales tracking system works, and how the system credits your sale.
There are two types of affiliate platforms. And we'll talk about both.
– Affiliate Networks
There are different marketplaces/networks for affiliate marketers and affiliate advertisers. These marketplaces have thousands of affiliate offers to promote and also affiliate marketers who are ready to promote.
This is an ideal place for both the affiliate advertisers and affiliate marketers to start. Affiliate Network is the perfect hub where they find each other easily.
There are more than 23 marketplaces (famous) and countless others.
And each of the marketplaces has its own pros and cons, and based on that, both the advertisers and marketers select a network to work with.
Here are a few good affiliate networks/marketplaces you can check out for more ideas. 
There are several other good marketplaces. Just do a google search if you need more.
Affiliates love affiliate marketplaces for one simple reason, the payment is guaranteed. The marketplace always makes sure you'll get paid on time, every time. 
And marketplaces always check the product/service, see if it's legit and if it's good. Marketplaces are typically loaded with good offers for affiliate marketers to promote.
For example, if you love yoga and want to promote a yoga course, you'll get 100's of good yoga products in marketplaces to promote and make money.
Just like yoga, you'll get a ton of all kinds of products in marketplaces, and can find something you really like and would love to promote it.
Affiliate advertisers love affiliate networks/ marketplaces for one simple reason. These networks have a massive database of affiliates, and it's easier for them to start and recruit some good affiliates fast.
Advertisers also love marketplaces because it takes the hassle of identifying bad or fraud affiliates and processing them. So they are not paying for any fake made-up sales. 
(Yes, there are some guys who use their super awesome brain to hack the system and make some quick money overusing the same awesome brain to come up with a marketing plan, promote and make legit money!)
– Affiliate Softwares
Many advertisers prefer an affiliate setup of their own, where they can be in charge of everything. With software, they don't have to pay a big commission to network for every sale they get.
There are much software that allows affiliate advertisers to have the major features of an affiliate network, have their own branding, and have their full control.
Some of the most popular affiliate software is idevaffiliate, firstpromoter, hasoffers, post affiliate pro, leaddyno, etc.
Affiliates love these in-house software-based offers for one simple reason – these affiliate advertisers are more intimate with their affiliate compared to a marketplace-based offer. 
Affiliates can expect excellent support, backup, better commission on a direct connection over a network.
Also, networks tend to ban affiliates on many occasions where you have very few chances of getting your account back, where in direct connection you are in touch with your advertisers, or with your affiliate manager (the manager who manages all affiliate things for affiliate advertiser) and you can ask for many additional benefits – such as – a request for an early payout.
Affiliate advertisers love these affiliate software for the flexible start, ability to network with their affiliates directly, own the database, no per-transaction fee, ability to set their own terms about the payout, etc.
Both affiliate networks and software have their pros and cons, and as a result, both are growing significantly.
And if you want to be a good affiliate marketer, make big, you need to open yourself to offers and don't limit yourself to only networks. 
D. Customers
Customers are the blood of this whole system. You surely know who customers are, so I'm not going to explain. But usually, you should know this – affiliates refer traffic – aka visitors to the offer page, and the advertisers must convert them into customers.
A good visitor to customer conversion rate is needed to make a good profit.
E. Affiliate Companies
Now, this is something I'll say in addition to every other one's reference. Nail Patel said, three parties, wiki says four parties, hubpost says three parties and all.
But, we are gonna say five parties, and one of the crucial parts of the game is affiliate companies.
There are literally 100's of companies around who are not affiliate marketers, are not affiliate advertisers, are not an affiliate but actively work around the industry.
There are many companies that offer training, services, traffic generation, etc. options for affiliate marketers, advertisers, and are a very important part of the whole ecosystem.
For example – we MonsterClaw LLC is an Affiliate Company, and we help different advertisers set up their campaigns, and also we find affiliates find these companies. 
Say, clickfunnels; they play a major role in the affiliate ecosystem; thousands of companies are able to set up affiliate enabled sales funnel with their software.
Or, udimi. Affiliates can find on-demand traffic to promote their affiliate offer, build a list, and more.
These different companies that help the entire industry grow are collective "affiliate companies" – as per my view.
We'll talk about a lot of affiliate companies in the guide, who can help you do many things faster. 
Now, let me show you how everything connects, and the money is being made. See the image below for a better understanding –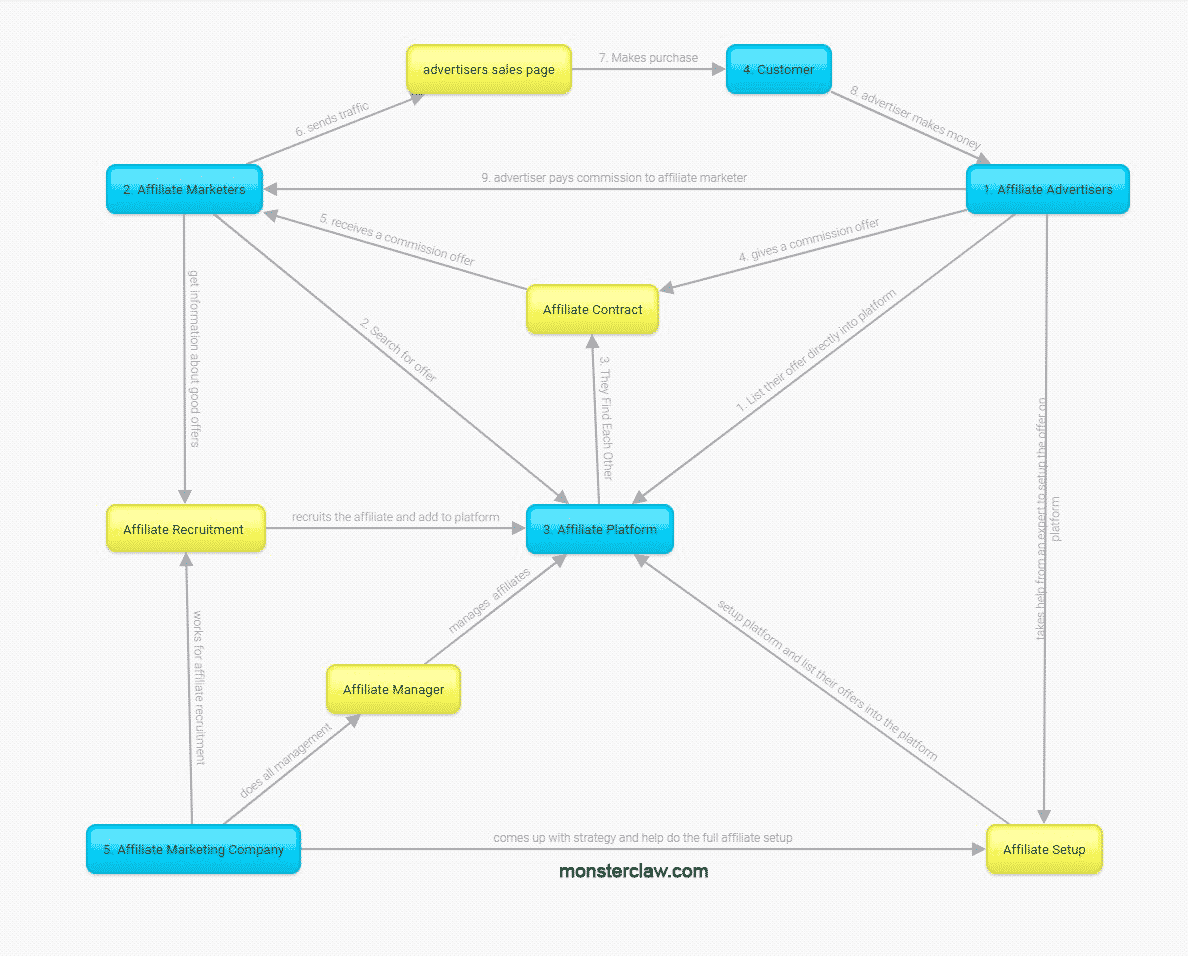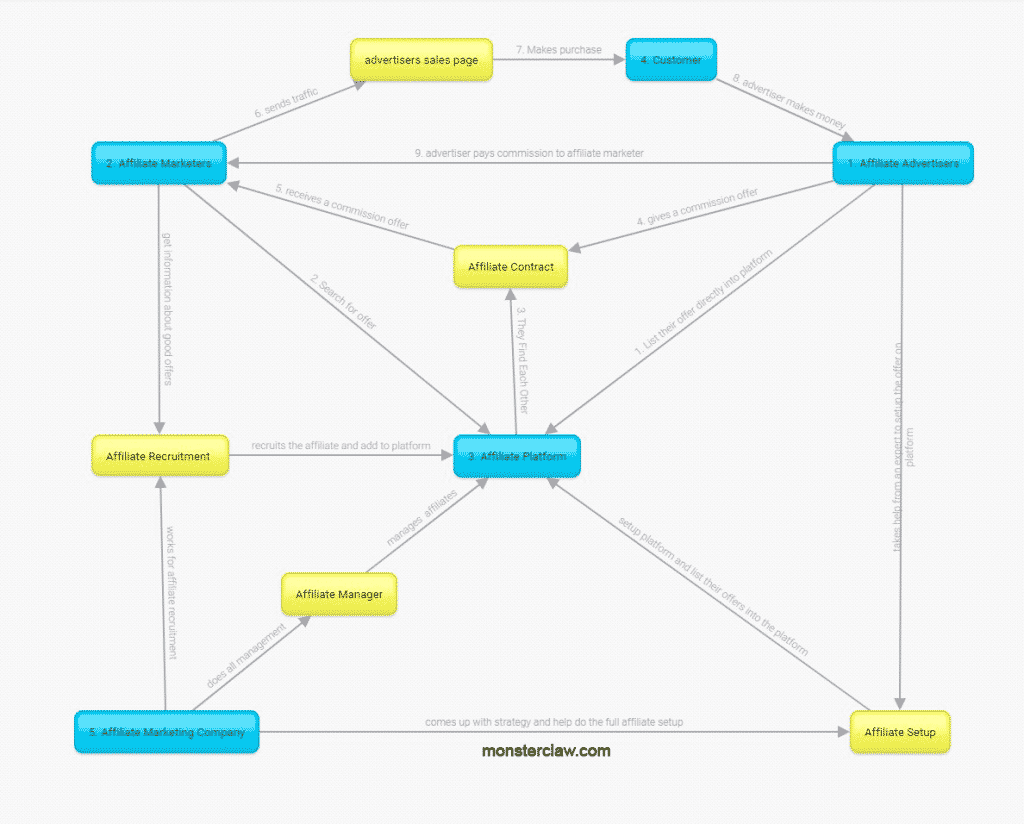 And here are the steps for how this business model works – 
Step 1: Affiliate Advertisers list their offers on affiliate platforms by themselves or with help from an affiliate marketing company like us.
Step 2: Affiliate Marketers find that offer within the affiliate platform, or an affiliate company like us sources and recruits them for the advertiser.
Step 3: When they find each other, an affiliate initially agrees to promote, and advertiser sees the affiliate as a good fit, they approve themselves or an affiliate manager approves the affiliate to promote, and the affiliate contract starts.
Step 4: Advertisers offer a commission to affiliate marketers. For example, – 25% commission for every sale you refer.
Step 5: Affiliates accept the commission term and agree to promote.
Step 6: Affiliate sends traffic / potential customers to the advertiser's sales page
Step 7: Advertiser's sales page captures the traffic and turns them into customers and makes revenue. Affiliate companies like us typically work here actively to help the sales page convert more by optimizing. So both parties can benefit more from the same effort.
This term is called Conversion Rate Optimization and is a widely used method for growth hacking.
Step 8: Advertisers pay affiliates commission for all the customers they get from the affiliate's traffic. The payroll is hectic, and normally an affiliate marketing agency like us handles these payouts. Some networks have automated payouts – so fraud affiliates tend to scam in these places. Affiliate companies work with advertisers in this part to actively monitor frauds and ban them to keep the offer profitable for both advertisers and marketers.
I hope now you have a clear understanding of how the whole affiliate marketing business works, all parts of it, and how they connect with each other.
These are my personal experiences; you may see a slight difference in few places based on the offering. 
Anyway, if you have a question or confusion, feel free to ask me in the comment section. I'll make sure to reply to all the relevant questions I get.
The Basics of Affiliate Marketing – The Grammar
Now, as you have a deeper understanding of the whole affiliate business model, I'll go with the basics, AKA grammars, for affiliate marketing. These few things/terms will come over and over and over and over … (say it like 100 times) .. so as you can understand – it's really important to know them all.
The best thing to do is – bookmark this page, so you can always come later and use it as a reference.
Before I get into the technical things, I would love to answer one simple thing (that so many people asked)…
Why someone will buy from you
I have often faced this exact same question. Why will someone buy from me? Well, no one buys from me, they buy from the original service provider or the company who is selling.
I am just promoting the product to the right audience so that they can buy it.
And I have a tracking link implemented, so when someone buys that product after hearing from or on my influence – I can get a commission.
So – plain answer – no one has to buy anything from you, you will just help someone in need to get what they want, from someone who is good and willing to give you a cut from their profit.
Simple as that.
Now, let's get into the different affiliate terms, aka Grammar, in my sense.
A. Different technical terms related to affiliate marketing
1. Traffic / Visitor:
You are a traffic/visitor to this post now. When someone visits a web page, then they are a visitor. We call them "traffic." 
There are three types of traffic.
New / Unique traffic: First-time visitors
Returning Traffic: Came again to your page
Robot: Different robot visitors like google's crawling bot.
2. Lead:
When a "traffic" or "visitor" gives their information such as email address, or name, or phone – a way to connect back to them – then they become lead.
Leads are traffic with contact info. And ideally, they consent to receive what the website has to offer. For example, if I offer a marketing guide book for download, and I ask for your name and email to download that – then if you do – you'll be a lead to me.
As, I can later email you, sell you stuff.
3. Impression:
The impression is "how many times someone has seen it." More of a like "reach" on facebook. If one of your images or advertisements has been seen by 100 people, a total of 300 times, that includes new, returning, bot, etc. – then your ad or image has 300 impressions.
The impression is an important metric for advertisement or traffic generation, which you'll learn more later in this guide.
According to different studies, and my personal experience, people are more likely to take action at 7th or 8th time. If I offer a guide for free download, only a small part of it will download at first. And most of them will download it when they see the same on their facebook for 7th or 8th time.
Good Affiliate marketers always plan "impression distribution" for each action.
For example, in Facebook ads, I can set how many times I want to show my ad to every single person. So, for example, if I set 100 impressions per person, every person will see the ad 100 times, and then they won't see it anymore.
Similarly, when they send someone an email – they track how many times they have seen the email and can plan how many more emails to send. (Good news: I have a plan to cover email marketing automation training, later on, follow us on Facebook, or Linkedin to get the update)
Using this metric properly can maximize the conversion, at the same time can reduce the wastage on ad spend. 
4. Click
When a traffic "clicks" into something, it's "click." Normally we track clicks on ads, buttons, different calls to action, website links, etc.
It's a very important metric for affiliate marketers.
5. CTR
CTR refers to Click Through Rate. If an ad gets 100 impressions, and three clicks, then the click-through rate is 3%.
CTR is basically measured to judge the ads or content quality. Better ad copy or content will result in higher CTR. It's a key indicator of your ads or content quality.
Some sh**y marketers use fake claims to get a higher CTR as they think more clicks = more visitors to their website = more sales.
It's not true, it's not 2000, it's 2019, and everyone is well aware of scams around. So never go for fake claims to raise CTR rate, instead work on a better ad copy or better content which will naturally convert more impressions to click. 
(See, I already started to talk technical, and later on, this guide will be full of these technical terms, so it better to go at least two times through these technical things to have a better understanding later on)
6. CPC 
CPC refers to the cost per click. How much you are paying to get each click. On Facebook, if you are paying for an impression – and if your CTR is low, you'll see high CPC. If your CTR is high, you'll see a low CPC.
Getting high-quality traffic (click) on a small budget is the ultimate secret of any marketer. This is how you can drive an insane amount of traffic in a small budget, leading toward a good profit.
Also, it's important to calculate your CPC or Cost Per Click; then, you can understand how much you need to spend to send 100 to 200 visitors to an offer.
CPC is ideally calculated on impression-based ads where you can not directly put a cost for each click. So after the ad spends, you need to generate a report about your CPC.
7. EPC
EPC refers to earning per click. If you send 100 clicks to an offer, and if you make $300 from that, then your EPC is 300 / 100 = $3.
It means you are earning an average of $3 each click.
In affiliate marketing, we always calculate EPC – CPC = Profit. We always try to figure out what can be our CPC, and we talk with affiliate advertisers and get an idea about what can be the EPC, and then we plan our campaign.
Marketplaces like ClickBank, Jvzoo, etc. already provide EPC for each offer, so you can just calculate your possible CPC and start to promote.
8. PPC
You may think PPC is kind of the same as CPC, but actually, they are different. PPC is Pay Per Click, where CPC is Cost Per Click. Still, sounds the same? Okay, here is the difference.
Both are the cost of a click, but one can be controlled, others you can not.
PPC is Pay Per Click; it's more of a when you can set a fixed amount you are willing to spend for every click – it's PPC. For example, on google adword, you can set a max payment per click.
Same, if you buy Solo Ads (you'll learn more about solo ads later on in this guide) – you can pay for each click, and that is Pay Per Click.
But if you are buying an impression and doing a traffic campaign where you can not set an exact payment for each click, you need to calculate it yourself from the metrics – then it's the cost per click.
Tip: PPC methods are often more expensive compared to CPC methods. 
9. CPA
CPA is Cost Per Action. Now, pay close attention as this action can be a bit confusing. CPA term is used by both affiliate marketers and affiliate advertisers.
And it means something different for each of them.
Because the "Action" of "Cost Per Action" can be different, and based on the action, you need to understand what this CPA is referring to.
CPA – Cost Per Acquisition (customer)
If you spend $100 on a marketing campaign, and you get four sales, then your Cost Per (Customer) Acquisition is $25. 
In the advertisers' world, they can set an "action" to make a fixed CPA payment to its affiliate. For example, if someone has a mobile app, they can offer $2 per free app download.
So in here – CPA will refer to Cost Per Action (mobile app download), and you'll get $2 for each CPA.
CPA is widely popular, and have different marketplace only for CPA offers, such as CPAlead.com
10. CPL / PPL
CPL is the cost per lead; PPL is Pay per lead. Both are the same, but it's like the PPC vs. CPC. On CPL, you calculate how much your cost is for every lead. And on PPL, you can pay for your lead.
There are marketplaces like peerfly.com who will pay for your every lead you send. If your CPL is lower than PPL, you can make a good profit.
11. ACoS
ACoS is a widely used term on amazon based affiliate campaigns. ACoS is the Acquisition Cost of Sales. It's calculated on %. Like if ACoS is 20%, that means the cost of generating a $1000 sale is $200.
It's essential on mainly margin-based physical products campaigns.
12. Conversion & Conversion Rate
Conversion is conversion. I don't know how I can make you understand. It's the % of people that make the second step of your plan. And it's used widely on every step. And the conversion rate is one of the most crucial data any marketer can ever have.
Example – 
100 visitors, 3 purchases. 3% Visitor To Sales Conversion rate.
100 visitors, 37 leads. 37% Visitor To Lead Conversion Rate.
I think these 12 technical terms will cover you all the way for your beginners' level journey towards affiliate marketing. There are several deeper terms that you will learn gradually if you work in the industry.
B. Affiliate Payment models – the payment guide
Before you start making money, you need to know the payment models and everything related. So you know what to expect and what not to expect.

Normally, you can receive payments via Payoneer, or PayPal. You can also get the payment directly at your bank using swift code.
There are 2 Major Payment Models.
1. Fixed Commission Model – CPA Model
When advertisers offer a "fixed" commission for any action, you help complete it is called Fixed Payment or Fixed Commission Offer, or CPA.
Now, the fixed payment can be for many different 'actions.' Such as – 
– For every sale, you refer (Pay Per Sale)
– For every lead, you refer (Pay Per Lead)
– For every call, you refer (Pay Per Call)
– For every app download, you refer ( Pay Per App Download)
– For every trial account, you refer (Pay Per Trial)
– For every inquiry, you generate (Pay Per Inquiry)
– For every survey taker you can refer (Pay Per Survey)
It can be anything.
Advertisers can set a commission for any specific action they want, and offer a fixed commission for that.
If you can deliver that, you'll get a fixed commission for every result you bring in.
You know what, in my early days, I have even seen pay per visitor affiliate offers. They used to pay for every visitor you can send! Now those
2. Revenue Share Commission Model
Revenue share is a % basis. You get paid a % of the revenue you bring in. For example, if you send $300 in the sale, if you have a 30% RevShare agreement, you'll get $90 commission. If you can generate $600 in the sale, you'll get $180 in commission.
Revenue Share model is two types – 
One Time RevShare: If you get paid once, ideally the first time only – it's one time revenue share commission, model.
Recurring RevShare: If you have a recurring revenue share agreement, you'll keep getting paid every month for the one sale you referred to. Ideally, different software with monthly membership offers recurring revenue.
An example is Aweber, ScraperAPI, etc.
If you can give them one sale (customer) as long as the customer will pay the company, you'll keep getting a commission for that every month!
This is my personal favorite commission model. As it brings stability, and the income grows over time significantly. Also, even if I stop working for a while, the income doesn't go down.
3. Funnel Wide Payment
If you have bought a new phone, you are likely gonna buy a cover as well. At a later date, maybe you'll buy a BlueTooth headphone, and a power bank too.
People often buy similar or related products. And, advertisers always come up with sales funnel ideas to sell more products to the same customer.
You need to know how many products are there in the funnel, and if they are gonna pay for all the sales, they will be made to the customer you referred to.
Some advertisers may set payment as 50% first sale, 10% next sales ( on fixed ), the same way they can advertise 80% commission on the first month, 10% ongoing (recurring).
If there is more than one product in the funnel (you can always ask the affiliate manager about it), you are most likely gonna make more commission working with this kind of affiliate offers.
But, sometimes, the advertisers pay a very high commission on fixed payment – like Hostgator pays $123 commission for selling a few $ hosting! 
It's because they will make money back later by selling more or getting more payment in the long run from the same customer, and they are paying you a calculated upfront fixed commission for the whole.
To offer a commission like this needs a serious good converting product, with tons of data. And usually, they are very good to offer to promote.
4. Payment Cycle
You'll see terms like NET 30, NET 15, NET 45, etc. If you are at the NET 30 payment model, you'll receive your commission after 30 days of sending the sale.
Some companies prefer to pay on a monthly basis. 
Also, some marketplaces like jvzoo have instant payment facilities. You send the sale; you get the payment – all instant.
But normally it's hard to get approval for this kinda offer, as advertisers make sure that the affiliate is someone they can trust with payments to deal with refund situations later on.
C. Affiliate Marketing related things You Should know
Well, you already learned a lot of things around affiliate marketing basics. Before we go into the big guide, you need to know a few more additional things. It's something you should know, but not like you must have to know.
– Cookie Period
Not talking about freshly baked cookies from your oven, this cookie is a bit of code that is placed on computers. This is how an affiliate platform tracks who's sale it is.
When someone clicks your affiliate link, the affiliate platform generates a unique click I.D., places that I.D. within code and saves it as "cookie" on the potential customer's computer.
And when the customer makes a purchase, the affiliate platform checks if the customer has any cookies in his computer – if they have they find the click I.D., associated affiliate with that click I.D., and credits the sale to that affiliate. This is how the sale is tracked in general, and this is why you should know about cookies.
Now, every cookie has an "expiry date." For example, you are promoting a product that has a 30 day cookie period. 
So if the customer clicks today and makes a purchase on the 35th day, you are not going to get that sale.
And also, if a user uses software like CCleaner and cleans cookies from his or her browser, then also you'll not get the sales.
So it's crucial to understand how long a buyer can take to make a decision about purchasing something, and if the advertiser offered enough cookie period to cover that decision-making time.
Ideally, a 60 day cookie period will cover most of the things.
 – Click Model / Attribution
It's a very crucial fact. There is a first click and a last-click model. Collectively, they are called Attribution. For example, you sent an email about an X.Y. social media tool discount offer to your friend. You have your affiliate link in the email.
Now, if he clicks the link and goes to the discount offer page – a click will be recorded on the affiliate platform. Now, this is the first click model.
Now imagine, your friend does a google search "X.Y. social media tool review," and he finds a review article. And that review has been written by another affiliate.
And your friend clicks on his affiliate link and then goes to the offer page again. This is the last-click model. Your affiliate tracking cookie will be replaced by your friend's cookie on the customer's computer, and he will receive the commission.
Most of the affiliate programs are the last-click model commission. Some are the first click model. And it's important to know to make sure if your strategy supports the attribution model.

For example, if you write a review for a first click model affiliate offer, you are probably never gonna get very small sales. As a big part of the traffic is coming from possibly some other affiliate, and you are not going to get the sale for these as the advertiser is not paying for the last click.

It can be a bit confusing I know but read the section again and you'll hopefully understand. If you are still confused, let me know in the comments and I'll try to clear out your confusion.
 – Coupons
Customers love coupons. A big part of customers has the tendency to search for a coupon before making purchases. Coupons are also a major part of the affiliate. 
Coupons can track affiliate sales, and normally it works as the "last click model".
So if you are promoting something which has a coupon offer, make sure to include the best coupon, else a big part of your customers are gonna find other coupons and use that – causing you to lose the sale.
 – Affiliate link
The affiliate link is the specific unique link that tracks your commissions. Regardless of affiliate marketplace or affiliate software – they will always give you a unique "link" to track your sales and commission.
These unique links are "affiliate links", and you should ONLY send traffic via your affiliate link.
If you forget to add your affiliate link, then the software won't be able to track your sales.
 – Landing page / Sales Page
Different affiliate offers have multiple landing pages/sales pages. For example, there can be 3 or 4 landing pages in different languages.
So if you are promoting to English-speaking countries, you can use the English landing page. Or if you are promoting to Spanish audience you can use the Spanish language landing page.
Some times, for example, a weight loss product can have a landing page with only female testimonials, pictures to target female audiences. Can have a male version of it, and also can have a unisex version.
You should always check for landing pages, and pick the one that suits your traffic type.
D. How The Sale is Tracked
This is a bit technical. Again, it's not needed to know, but better if you know. And if this section is hard to understand for you, you can just skip it.
There are different methods for tracking sales. But the most common is pixel-based. This is how the sales are tracked normally –
1. Customer clicks on your affiliate link – a "click id" is generated and recorded on the affiliate software.
2. After the click, the customer visits the offer page. Then the sales page saves a cookie on the customer's device with the "click id".
3. When the customer makes a purchase, they are taken to the payment confirmation page.
4. On the payment confirmation page, after receiving payment – affiliate software checks the user's device for a cookie with click id.
5. If they find a click ID on the customer's device – they identify the affiliate with the click ID and they credit the sale that affiliates account.
This is how sales are tracked. There are a lot of hackers who try to con the system and record fake sales. That's why now good advertisers are using smart software, powerful networks with extensive fraud detection options.
How to start affiliate marketing
(THE Ultimate Guide You Are Here For)
I hope you already got a very good understanding of what is affiliate marketing, how it works, the business model, different terms and other good things. 
So, at this point – you are ready to start affiliate marketing. 
Please understand, if you are new to this, it may sound too much to learn, but trust me, if you stick around, it won't feel the same anymore in a few months. 
Here is your Step By Step Guide To Start Affiliate Marketing –
A. Setting up the right mindset
Having the right mindset is very crucial for any business. And, in affiliate marketing – it's a must. Without a proper mindset, you will get frustrated.

When I started affiliate marketing, I struggled a lot. I have tried my best, I have tried so hard but I failed miserably – every time.
At a certain point, when I was desperate to make it work, I slowed down and thought deeply, what am I doing wrong.
Well, I figured it out soon after, and I had a clear idea of why I failed.

When I started learning, everyone was saying "easy money", "earn while you sleep", "quick passive income", "if you know how to use a computer you can do it" and all those things.

A lot of Guru's(!) gave me the same idea – it's VERY easy, so I had in my mind that it's easy, so I don't have to put that much effort. Simple campaigns and I should be getting money out of it.

So, I did that over and over and over, I kept on doing multiple campaigns instead of one good campaign, and I failed, I got frustrated.

You should not make the same mistake.

Affiliate Marketing is easy, but it needs dedication, attention to detail, and perfection. Unless you are some super-intelligent dude with years of experience in marketing, you can't make your campaign successful at first.
You need to set your mind in 3 steps –
One: Your first few campaigns will fail miserably. And, it's perfectly OK. Your goal should be "learning" via the first few campaigns. So if you can just run the campaigns you are good.

If you aim for money over learning in the first campaign, you'll be frustrated. 
Set your mind for learning, testing, improving and experimenting with different products, traffics, etc to have a proper grip of affiliate marketing.

Two: Understand this, if you don't work consistently, you'll fail. So before getting into affiliate marketing, make your mind work at least a few hours, every day for a few months. 
Three: You can't make money overnight. You need to set your mind to work for at least 3 months. I have seen most of my good students did well in the first 3 months, and 80% failed who wanted to succeed in the first month.

And, then there are some students who couldn't make any money for several months, but they didn't quit, and later when they got a hold of affiliate marketing, they did the best among all students.

So, here is the myth buster – Affiliate Marketing is not easy money. It takes time. And it takes serious dedication.

Talk to yourself, ask yourself – if you can put your time in for months, stay focused, and can you do campaigns to learn affiliate marketing, instead of earning to start.

If you can set your mind like that, drop me a line below in the comment, and I will wish you all the best.
B. Selecting a niche that you love and know
First thing first – you need to select a niche you love, and you know. 
Let me explain the niche selection in detail first –
So, what is a niche?

Niche is simply the industry or category. For example – the pet industry is a "pet niche". Or say, Health niche, Skin Care Niche, etc.
I'll say these are broad niches. You need to go deeper into the niche and select one.
Dog Niche can be a deep niche for "pet niche". And "Dog Food", "Dog Costumes", "Dog Accessories" can be a deeper niche.

The deeper you go, the more defined your audience, and the easier to find them and make your sales.
How you should NOT select a niche
Don't select a niche because you think it's good. Or because you have heard it's good.
Also, never go for a niche where you see a friend or someone you know doing good. They are doing good because they know that niche ins and outs, do you know the same as they do? If no – then stay away.
Also, you should not select a niche just to test out how it is. It will be a waste, trust me. 
How Should you select a niche?
When you work on any campaign, you need to work with ad copy, email copy, sales copy, etc, etc, etc around that niche. If you pick a niche you already know, then it's easier for you to start.

Even if you know the niche, during your affiliate marketing work, you need to study a lot of the topic. Check 100's of contents. So if you pick something you don't like – then the work will be very stressful for you.

No one loves reading something they don't like on a daily basis for months.

So, select a niche based on what you know or what you can study with passion. Also, make sure the niche is deep but still has a good number of customers.

Personal Tip: I have always monetized my life situation. Like a few months ago, I was overweight and I needed to lose weight. I did hit the gym, I did cardio, I studied a lot around how I can lose weight (as the study was helping me).

A few months later, now I know a lot about weight loss, and I'm setting up a campaign for muscle building supplements.

You can do the same. You can either pick a niche you know or pick a niche you would really love to study or pick a niche you have first-hand experience with.

Married and Happy? "Happy married life" is a great niche! You have no idea how many products you can sell to a wife who loves her husband!

Recently broke up? Tried some trick to get back? "Get your ex back" is hot.
Just giving you ideas – there are so many life events around you. You may think you don't know about any niche, but you actually do. Think more and select your niche.

Selecting a niche is THE most important part of the affiliate campaign. 
So, do not rush, keep taking notes of every niche idea you get, then study all and finalize one.

I would suggest you take a full week just to figure out your niche.
C. Find the perfect products to promote
Once you have got your niche, you can select a product to promote on that niche. There are two different kinds of products. Physical and Digital.

If you have picked the "weight loss" niche, then weight loss pills can be "physical products" and "weight loss ebook" can be a digital product.
If you are new, then you can start your product search in ClickBank or FlexOffers.  Clickbank is full of digital products, and FlexOffer is full of physical products.

Both are newbie-friendly and have a great selection of products.

And if you are into Business Niche, try Jvzoo.com
Now, let's talk about the perfect product.

Normally, I'll look for these before I promote a product.
– The product has verified reviews and is good.
– People love it
– It solves a real problem
– Have a video sales page (video converts 78% more on average)
– Price is competitive 
– They collect email and sends follow up emails
– Provides good marketing materials
– They collect email and sends follow up emails
– Provides good marketing materials
– They offer good commission
– Respond to my emails within 48hr.
And the most important factor I personally check is – if I would personally buy it, or not.
Pro Tip: If you email the affiliate manager, he may give you demo access or send free samples for you to check the quality and decide if you are happy to promote it or not.
D. Getting Your Promotional Assets
Once you have selected a product to promote, it's time to get your promotional assets ready.
First – apply for promoting the product.
Second – once approved, get your affiliate link.
Third – check for additional promotional materials (if) and collect the ones you like.

Save all these in a doc file, so you don't have to go back and forth.
You should visit your affiliate link from an incognito window and see if clicks are tracking.

If clicks are tracking then – it's good to go.
You are ready to send traffic & make sales.
F. Drive Traffic to Your Affiliate Link
You can drive traffic at your offer in several ways. I am going to give you a few creative traffic ideas that are best for newbies.

Understand one thing – you don't need to learn more than one traffic method to start, just master any one method for now and start the sales.

Later, you can learn other ways to grow your sales.

1. YouTube: I'd say, youtube is the best way to generate traffic for your affiliate offer. You can simply talk about the product, or talk about your niche and recommend the product.

You don't have to do a very professional video, just grab your phone, and make a video of yourself talking about the topic/product, or if it's a software – record your screen and show how to use it.

You know youtube, you love youtube, you have seen 100's of videos. So go make one for your offer and add the affiliate link in the description.

Tip: You can also add a valuable comment on related videos with your link for some easy sales.
2. Recommendation: It worked like magic for me. I've personally got, tons of sales. For example, I'm into many Facebook groups where people ask on a daily basis – what hosting will be best, what email marketing tool will be best, how they can track their sales, etc.
For every problem, there is a solution with an affiliate link! Don't spam, help people. Find what is the real solution to their problem and help them solve it.

They'll be happy to buy through your link. You can also inbox them and talk, and offer your support then recommend the product with your affiliate link.

Other than Facebook, there are quora, there are forums, there are LinkedIn groups and you can find more where people ask about their problems and you can recommend a solution.

Tip: The best way for this is to find 3 or more relevant products, write a review/comparison article, and post it somewhere like medium.com. Then instead of a direct affiliate link, you can recommend your article link.

It often raises your sales, as people have more options to pick from.

3. Solo Ads: Solo ads are amazing. It's basically paying someone to send you high quality super relevant traffic for only $.40 to $0.60 per click.

There are many websites/marketers who collect leads. And they will send an email with your affiliate link, in their email list on a pay per click model.

You can buy solo from facebook solo ads groups, udimi.com, warrior forum, and many other places.

My personal favorite is udimi.

Tip: This industry is full of scammers, so be aware of who you buy. You should check reviews, talk to the seller, show him what you are going to promote.

Also, you can ask the seller about what types of email work best for his list, and if he has promoted the same product yet.
4. Media Buy: If you visit BuySellAds.com, you'll see a list of blogs with the rate of their advertisement. They all support affiliate links.

For example, if you are doing affiliate marketing for a product, you can find a fitness blog and show a banner ad for $3 to $5 / 1000 impressions.

If your selected affiliate offer comes up with affiliate banners (check your affiliate dashboard / or ask your affiliate manager for that) you should use that.

Or, you can also get new better banners done on $5 to $10 from a marketplace like fiverr.com

Tip: Media buy is not limited to only blogs now. You can also buy different Facebook groups' "cover picture" positions with your link. Just reach out to the admins and negotiate.
5. Content Marketing: Content marketing is huge. It doesn't bring immediate results, but it brings constant daily sales if you can execute it properly.

For content marketing, you need to write content on the topic and post it somewhere first. Don't bother creating a website/blog – as it's gonna take a lot of time and effort and will slow down your learning.

Just, post it on any free blogging platform like WordPress, blogger, medium, Linkedin, etc.

Then, you can use a site like taboola, or outbrain to bring thousands of highly targeted traffic to the article on a daily basis.

You can also open a facebook page, share the content and boost it targeting the right audience.

Now – who is your right audience? 
If you have selected a deep niche, then you already know. If you have picked a big niche – you still have time to narrow down and pick a deeper related niche – else you can't use any paid methods efficiently.

Now, there are a few traffic methods. I have avoided SEO, Facebook Ads, Google Ads, etc purposefully, as these are not very newbie-friendly.

Start around any of the above traffic methods, except #5 they all are easy to start, you can learn in no time and can see some results.

Later, when you start making sales, then you can learn other traffic methods that are more complex, yet bring in faster revenue. 
G. Track, Measure & Improve
If you can't track your traffic, and measure who is doing good and who is doing bad, then you really can't grow your sales.

If you are on any marketplace – when you create an affiliate link, look for an option called sub-id. You can create multiple affiliate links for the same product using sub-id.

For example – you can add youtube as a sub-id and create a link and use it for youtube marketing. And say you created another sub id named "solo" and create a link, and you will use that for solo ads.

Later you can see, from where you are getting how many clicks, and which traffic source is bringing in sales.
Use an excel file to track weekly reports of everything going on, and within a month you'll know where you should focus more and where you should put more effort.

Use sub-ids for every kind of link, and track all the traffic sources for sales.
You can also use bit.ly to see from where you are getting how many clicks.
How you can start affiliate marketing on a small scale
Start Small
I know I have loaded your head with a bunch of information and you are probably confused. So here is my suggestion around how you should start –
A. Select two niches
B. Get approved for 2 products each niche
C. Drive some traffic to each product using any of the traffic methods you like
D. Measure & Improve where you can, and see which one started to convert.
E. Once you see any campaign started to convert, stop others and focus fully on that.
F. Start to calculate cost vs return, and kill the campaign if on loss, and plan your next campaign.
G. Grow the campaign if it's on profit.
ScaleUP your affiliate marketing income
Once you find the profit point, then you can scale up your affiliate marketing income.
Let me tell you how I scaled my affiliate marketing income so you can model it.

Step 1: At the first stage, I noted down every step of my successful campaign
Step 2: I did study my campaign and figured out where I can improve for better profit
Step 3: Once I found the improvements – I immediately implemented those.
Step 4: I started to hire freelancers to improve my campaign even more. I got designers to do better banners, I hired top writers to get better articles, I have hired an assistant to help me with recommendation works.
Step 5: When I started using freelancers my workload dropped significantly, and I started to plan another campaign.
Step 6: In a few months, I had several campaigns running and I could grow my income significantly.

Tip: When it's time to outsource a team, don't reach out to friends, instead – hire professionals who you can pressurize for better results, and if he's bad fire without ruining any friendships.
Affiliate Marketing PRO Tips
Additional tips for extra serious guys
Here are some PRO tips for affiliate marketing. If you are really serious and dedicated, you can think about these. Don't do these to start, but you should study and check and when it feels right you can start.
Have a Niche Blog
Having a niche blog can benefit you in so many ways. And, if you can find a really good deep niche with low competition keywords, you can rank these blogs easily.

You can find good SEO experts at upwork who can help you rank your website. 
Learn to negotiate
If you know how to negotiate, you can make 20% more every month! Normally, people tend to promote a product at it's given commission rate. But if you are serious and have a good campaign plan, you should reach out to the affiliate manager, explain your plan and ask for a better commission rate.

8 out of 10 will give you a better and higher commission.
Capture leads
I spoke about recommendation/review articles. You can also write small PDF reports on these and offer for free download in exchange for their email address.

You can use Getresponse to build out a nice landing page, send automated emails and a lot more for free (30 day free trial). This software is cheap, only $15, so even 1 sale in the 30 days can earn for next month's payment and keep it growing.

Tip: download "how to build your online business" by Nail Patel from that link for a deeper understanding of how you can use this method.
Coupon
Coupons do not need an affiliate link, and it also replaces the existing affiliate cookie. Also, the coupon has a better conversion rate over a direct affiliate link.

Try to incorporate a good coupon strategy on your every affiliate campaign.
Identify Winning Offers
You need to be super active on different affiliate-related forums. Whenever there is a winning product, there gotta be chatter going on.

Be a part of the Warrior Forum war room and Affiliatefix forum. Both will help you to identify winning products.

Also, normally if you see all of a sudden, so many people are promoting the same product – that's a winning product.
And typically, when someone with a huge following on social media – brings a product, in most of the cases it becomes a winning product.
How to spot scam offers
Use these few tricks to identify fake or scam offers.

– Find out the product owner, and do deep research. If you can't find who owns it, or what company owns it – it's a scam for sure.
– If you see testimonial videos – take a screenshot of that person from the video, and use that photo on google search. See if that is a real person or someone at Fiverr selling testimonials.
– Too much of a claim is often a scam. Good products never claim they are this and that with a bunch of rented Ferraris and shiny watches, they simply show you why they are good.
So, that's all for the guide. I hope you have had a few cups of good coffee, and you have a clear idea of what affiliate marketing is and how to start an affiliate marketing business.
FAQ – Some questions you might ask.
I'm done, but realized I should add these frequently asked questions.
– How much money can you make doing affiliate marketing?
It depends, the opportunity is endless. I can not tell you any number, but you can make enough money for a decent living.
– Best affiliate marketing course?
Try ClickBank University 2.0, Affilorama, ClickFunnels 30 Day Challenge.
– How to find a high ticket affiliate program
You can find high ticket affiliate programs at CJ.com
– Where to find affiliate programs that pay daily
You can sign up on any instant payment platform like Jvzoo or Payspree for instant commission.
– Best affiliate programs to make money
Go for recurring payment affiliate programs. Right now the hottest is – social media tools, influencer marketing tools, dropshipping software, Shopify apps, etc.
– Top paying affiliate programs
Real estate, Finance are normally high-paying affiliate programs. But there are many private coaching programs that are willing to pay you $1000 to $2000 for each sale!
– Can I make money while I sleep
If you spend several sleepless nights setting up the campaign, yes later you can make money while you sleep!
Feeling nerdy? Still, want to study more?
Here are some awesome "must-read" contents on affiliate marketing.
– Affiliate Marketing Made Simple – A Step by Step Guide by Nail Patel.
– How To Find A Profitable Niche in Affiliate Marketing By Nail Patel
– Epic Guide To Affiliate Marketing By Patt Flynn
– Affiliate Marketing for Beginners By Affilorama 
– The Ultimate Guide to Affiliate Marketing By Hubspot
– Affiliate Marketing Made Simple By Aaron Brooks
So, that's it my friends…

For more articles like this – you can like our page, or you can follow me on my Facebook or LinkedIn.
You surely can understand, I have taken a lot of time and given good effort to bring this guide to you. I'll be really happy to know your feedback, and will be glad if you share this guide on your social media with your friends.
You can re-use or post parts of this article on your blog/page if you give proper credit.

And if you own a company and are interested in exploring affiliate marketing channels, you can get in touch.
And, let me know if you liked this guide, and if you more like this.
Also, If you have questions, feel free to ask in the comment section below.